Will NYC's Construction Safety Act Make Work Sites Safer?
A new package of proposed laws to enhance worker safety at construction sites in New York City is generating some heated controversy.
According to the New York Daily News, thirty accidental deaths have been reported at construction sites in New York City in only the last two years.
Over that period, the construction of new residential, office, retail, and institutional buildings throughout the five boroughs has boomed.
And although the Department of Buildings has routinely promised better oversight, injuries and deaths have continued to rise.
The New York Committee for Occupational Safety and Health ("NYCOSH") reports that 80 percent of those thirty construction-related deaths happened at non-union construction sites.
Unionized construction workers in New York City are required to have comprehensive safety training.
Non-union construction workers are not. The proposed Construction Safety Act now under consideration in New York City would establish a number of new regulations meant to curb deaths and injuries at construction sites.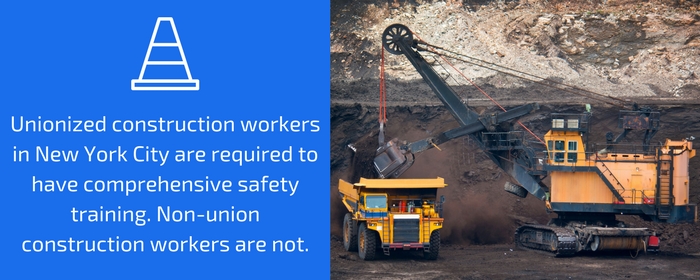 The Construction Safety Act is actually a package which includes more than twenty separate, specific laws. As a team of New York construction accident attorneys, we are well aware of how this affects workers in the five boroughs.
If adopted in its entirety, the Construction Safety Act would substantially change the way construction companies in New York City hire and manage construction workers.
The New York City Council website says, "The Construction Safety Act aims to address the longstanding issues of lax compliance with local construction codes and carelessness on the behalf of contractors."
WHY IS THE CONSTRUCTION SAFETY ACT CONTROVERSIAL?
NYCOSH, which supports the proposed new rules, said more stringent training is imperative to reduce and prevent injuries and fatalities.
Council Speaker Melissa Mark-Viverito said, "The Construction Safety Act will not only help prevent accidents, it will make sure that contractors who violate site safety laws are held fully accountable."
However, several provisions of the act are likely to generate antagonism between construction unions, which want the city to require construction apprenticeship programs, and developers who oppose that requirement.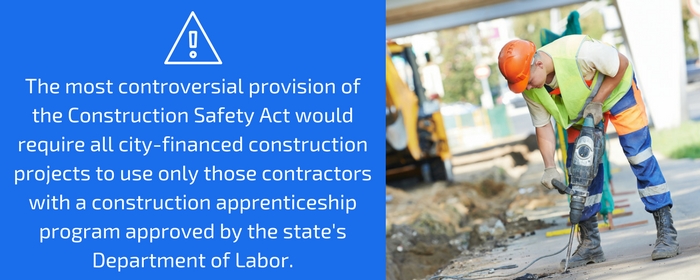 The most controversial provision of the Construction Safety Act would require all city-financed construction projects to use only those contractors with a construction apprenticeship program approved by the state's Department of Labor.
Another provision requires apprenticeship programs for construction workers on all major building projects (defined as ten stories or higher) in the city.
Various groups are calling the proposals to require apprenticeship programs a threat to minority construction workers as well as minority- and female-owned construction businesses.
WHAT ARE OPPONENTS OF THE CONSTRUCTION SAFETY ACT SAYING?
Within a week of the Construction Safety Act's introduction on January 18th, a letter opposing the proposed apprenticeship requirement was signed by over sixty New York City Housing Authority (NYCHA) tenant presidents who represent over 100,000 residents of the city.
In part, the letter states: "We strongly urge you to withdraw your support from legislation that would require apprenticeship on construction sites of 10 stories or more. This apprenticeship mandate would exclude many black and Hispanic public housing residents from construction jobs created by NYCHA's ongoing capital improvement projects."
"The apprenticeship programs have nothing to do with safety – they have to do with the training of individuals on site to do a trade," according to Lance Franklin, a co-chief executive officer of Triton Construction and a co-chairman of the New York Construction Alliance, a group of seven construction firms with a combined revenue of $1.5 billion. Franklin said that an apprenticeship program "doesn't make a worker safer."
Charlene Nimmons, the executive director of the nonprofit Public Housing Communities group said, "We are not opposed to training, we are opposed to people trying to imply that their program is the only answer."
New York City Mayor Bill de Blasio is also opposing the apprenticeship requirement. He says that the city should instead increase the number of its construction site safety inspections, adopt stricter safety regulations, and impose harsher penalties for violations.
Spokespersons for the construction unions say that nonunion construction sites are more dangerous than union sites – statistics verify this claim – and the construction unions support the apprenticeship program proposal.
The proposal's opponents counter that argument by saying that union support for the apprenticeship proposal is motivated simply by a desire to increase union membership.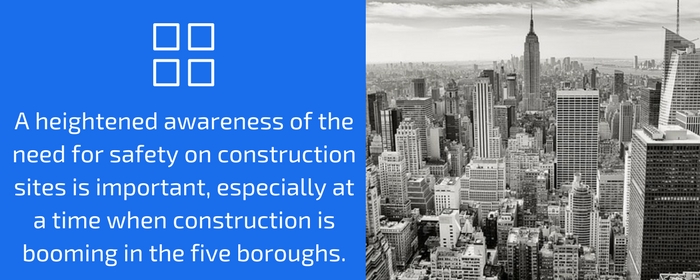 A heightened awareness of the need for safety on construction sites is important, especially at a time when construction is booming in the five boroughs.
A lax attitude toward safety practices, inexperienced employees, dangerous on-site conditions, and defective or outdated tools, machinery, and equipment are just some of the reasons that construction site accidents happen far too frequently.
New York City personal injury attorney Michael S. Lamonsoff says, "Although the Construction Safety Act is a step in the right direction, sustained improvements will not occur until preventive measures are taken and enforced to ensure the safety of our city's construction workers. It's about time we address this crisis. Violations should not be swept under the rug. We are dealing with people's lives and they must be protected by ensuring that these government agencies – federal, state, and municipal – work together to prevent further catastrophes."
WHAT LEGAL RECOURSE DO INJURED CONSTRUCTION WORKERS HAVE?
Anyone who is employed and injured on a New York City construction site will probably qualify to receive workers' compensation benefits, but injured construction workers should also arrange to speak with a personal injury attorney who has experience defending the rights of injury victims.
A construction-related injury can be quite serious – and sometimes even permanently disabling – but legally speaking, it can also be exceedingly complicated.
The construction industry in New York City is regulated by a variety of federal and state laws, local regulations, and safety rules established and enforced by OSHA, the Occupational Safety and Health Administration.
A New York City personal injury attorney can help any injured construction worker clear the legal fog and understand his or her legal situation, legal rights, and legal options.
Apart from workers' compensation, some injured construction workers may qualify to file a third-party personal injury claim if a negligent contractor, property owner, or equipment manufacturer was wholly or partially responsible for injuries.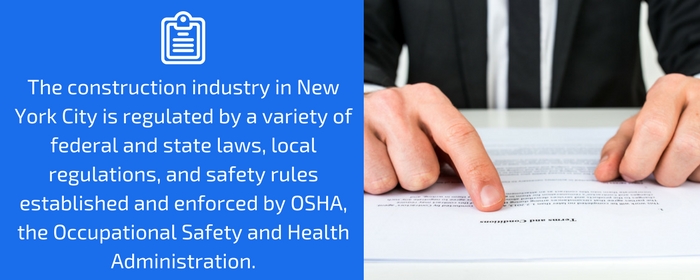 The New York Building Congress is asking the New York City Council to establish a task force to examine the various proposals to improve safety on New York City construction sites.
The group wants the opposing sides to "collaborate and cooperate." Carlo Scissura, who is the president of the New York Building Congress, issued a statement which said: "The ongoing safety of our construction workforce and the general public is of paramount importance, and it requires collaboration and cooperation from all sectors of the design, construction and real estate industry, along with our partners in government."