As a team of personal injury lawyers, we know that vehicle accidents in New York City are becoming more commonplace as the population explodes. These accidents involve other motorists, bicyclists, and even pedestrians at times.
When the person who caused the accident leaves the scene rather than staying to help the injured, victims are left to suffer the consequences. If the perpetrator cannot be identified, then there is no criminal hit and run penalty.
The victims in the accident, however, will likely still have many medical bills, necessary car repairs, or both ahead of them. Victims of a hit and run in New York need an attorney who can help them get the compensation they deserve.
If you or a loved one have been the victim of a New York hit and run, call the Law Offices of Michael S. Lamonsoff, PLLC, immediately. The longer you wait, the more evidence is lost.
The attorneys at our firm have extensive experience fighting aggressively for victims of hit and run accidents in New York.
We understand that this can be a delicate and confusing time, and you are likely experiencing a flood of emotions along with your physical injuries. We will help you navigate the legal system as well as the insurance companies and get you the compensation that you deserve.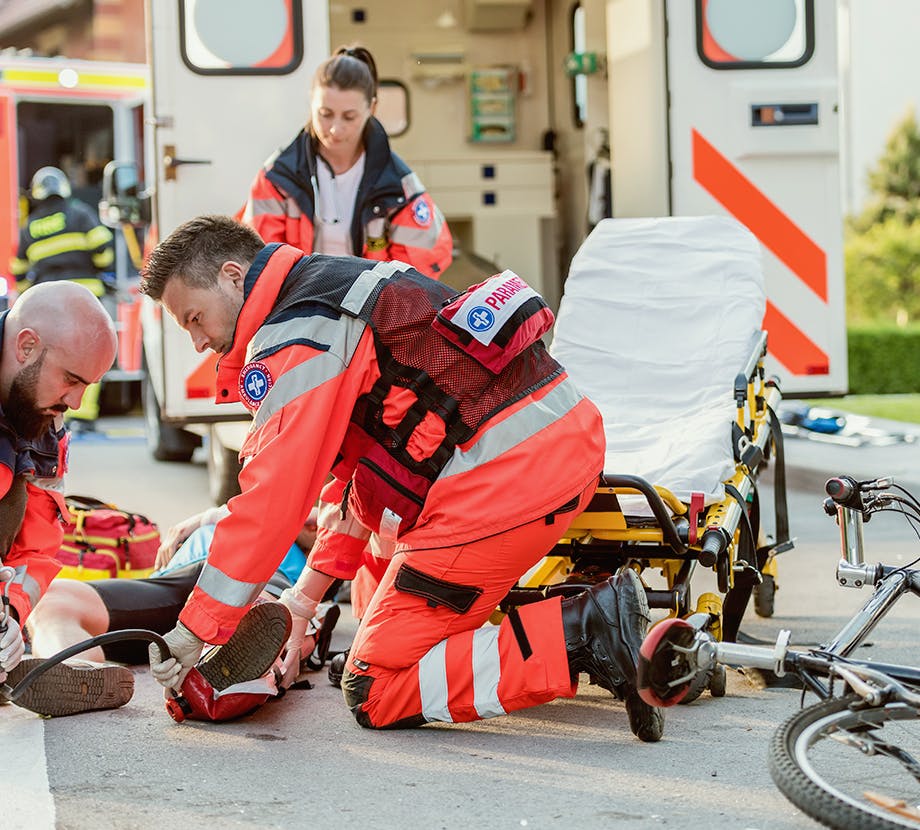 Why would a hit and run driver choose to leave the scene of an accident?
In just about every case, drivers are fleeing to avoid taking responsibility for the damage that they have caused. Sometimes they are also trying to avoid facing criminal charges and spending time in jail.
Drivers sometimes simply panic after they have caused an accident, and they choose to flee in order to avoid apprehension. Other times they may have a suspended driver's license or no license at all and wish to avoid further criminal charges. Worst of all, a driver may be under the influence of drugs and/or alcohol when the accident occurred, and aware that he or she could face substantial criminal penalties.
Every accident is different, and drivers flee for all kinds of reasons. These are only some of the most common reasons that we have seen.
Why is it so important to
file a lawsuit in a hit and run right away?
There are several reasons why it is important not to wait to seek legal counsel or even to file a lawsuit.
The first reason is that there will be more evidence in the beginning, as physical evidence may dissipate with time. It may get lost or damaged, and important witnesses may move or change their contact information.
Additionally, if you are filing a suit, you will want your hit and run accident lawyer to work with the police and their investigation as well. Joint efforts are more likely to achieve positive results.
You will likely have medical expenses that need to be covered, and your vehicle may also need repair. If you do not file suit, you may be left responsible for all of those expenses.
Client testimonial: Excellent results after a frightening hit and run
Chris and Amora Rust were injured in a hit and run accident that flipped their car into a ditch. When the Rusts came to the Law Offices of Michael S. Lamonsoff, they had already been brushed off by another law firm. We investigated their case thoroughly, litigated it, and got them three times the amount of the insurance company's first settlement offer.
Watch Video
Who will pay for my
medical expenses and lost wages?
New York has a "No-Fault" insurance provision that protects accident victims, meaning that the expenses resulting from your hit and run accident injuries are supposed to be covered by the insurance carrier of the car that caused your accident.
If you are the victim of a New York hit and run accident, then your attorney should file a no-fault claim with the insurance company of the car that caused the accident rapidly. It is important to file this claim within thirty days of the accident, or you may give up your legal right to no-fault compensation. No-fault coverage will pay for medical expenses, lost wages, prescriptions costs, and even transportation to and from medical providers if needed.
In addition to your no-fault benefits, your attorney may advise you to bring a lawsuit for compensation of all of your present and future expenses that were not adequately covered by the benefits as well as pain, suffering and mental anguish.
Even if the other driver is never found, you may still be able to collect full damage compensation. It is likely that your car insurance has a provision called Supplemental Uninsured Motorist (SUM) coverage that will still allow you to collect for pain and suffering if you sustained a serious injury in an accident that was not your fault. What should I do if I am the victim of a hit and run accident in New York?
First and foremost, seek medical attention. If there are witnesses, they can help call 911 if you are unable to do so.
Take photographs. Ask a family member to help photograph your injuries. Get any photos that you can of the accident scene. You may, unfortunately, forget what you saw, but photographs are always helpful in court.
Try to take a mental note of the color and make of the hit and run car. If you are able to write down the license plate number or get a witness to do so, it is always helpful. If you are unable to do that, just write down any details that you can remember as soon as you can.
Do not speak to an insurance company, give any recorded statements, or sign anything without speaking to a hit and run accident lawyer first. Doing so could void, or significantly reduce, your right to financial compensation.
Seek experienced legal counsel by calling the Law Offices of Michael S. Lamonsoff, PLLC, as soon as you are able to do so.
Contact us to learn how we can
help you after your hit and run accident
If you sustained a serious injury because someone else chose to leave the scene of an accident, the team at the Law Offices of Michael S. Lamonsoff, PLLC will fight fiercely for your rights and represent your best interests so that you can concentrate on recovering.
We invite you to contact us for a no-cost consultation. We are available 24 hours a day, 7 days a week.
Contact our office at 212-962-1020 for a FREE CONSULTATION any time.
Prior results do not guarantee a similar outcome. The information on this website is for general information purposes only. Nothing on this site should be taken as legal advice for any individual case or situation. This information is not intended to create, and receipt or viewing does not constitute, an attorney-client relationship.