The mass transit system in New York City is one of the most used and extensive transportation services in the world. As a motor vehicle accident law firm, we can tell you that for people with disabilities, getting around the City can be extremely difficult.
They are often prevented from using public transportation services like subways and buses because of their conditions. The Americans with Disabilities Act requires public entities that operate a subway or bus system, like those in New York City, to provide an equivalent system, known as paratransit, for disabled people who are unable to use those modes of transportation.
Access-A-Ride (AAR) is NYC's paratransit system that provides shared ride, door-to-door transportation for those who are unable to use mass transit. The Metropolitan Transportation Authority (MTA) operates AAR service, and private carriers like black-car and private taxi companies are able to contract with the MTA in order to provide similar services to those in need.
ACCESS-A-Ride Eligibility
Generally, when a disabled person is unable to take the subway or bus, they will be eligible for AAR use. Eligibility is not limited to physical disabilities; people with mental disabilities may also be qualified.
Even those suffering from temporary disabilities may be eligible during the time that they are disabled. Common disabilities that allow for AAR participation include, but are not limited to:
People that are unable to board, ride, or get off of a subway or bus without help from someone else.
A person with a mental disability who does not know which subway or bus stop to get off at.
A person with severe anxiety when riding the bus or subway.
A wheelchair user who is unable to get on or off subways or buses.
A person with limited mobility who cannot walk to a bus or subway stop due to hills, stairs, or other similar circumstances.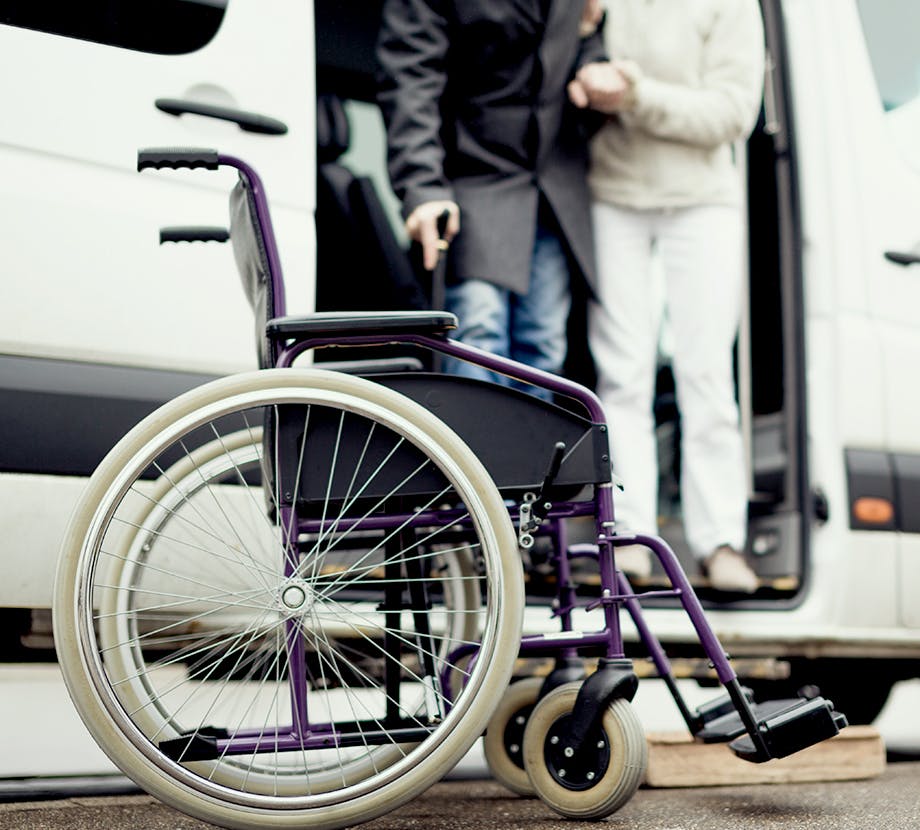 Common accidents that may occur
In 2015, there were around 5.1 million trips provided by the AAR service and their private contractors. Unfortunately, because of the number of AAR vehicles on the road, they are frequently involved in accidents throughout New York City and the surrounding area.
The New York State Office of the State Comptroller reported that there were more than 2,300 Access-A-Ride accidents and incidents in 2015 alone. Due to the age and conditions of passengers, even minor accidents can lead to serious or catastrophic injury.
Oftentimes, the negligence of the driver is the main cause of an accident, for example, when a pedestrian is struck by an AAR vehicle, or passengers are injured when an AAR vehicle collides with another vehicle. There are, however, other common accidents that can occur, such as:
Falls caused by an improperly secured wheelchair.
An AAR vehicle collides with another motor vehicle due to the negligence of another driver
Falls caused by malfunctioning wheelchair ramp or operator negligence.
Getting caught in the door of an Access-A-Ride vehicle.
Common Injuries and what can be recovered
On the busy streets of New York City, the chances of an accident occurring are disastrously high. It is just as likely to be in an accident involving an AAR vehicle as any other vehicle on the road, however, because AAR vehicles are more massive, the damage that they cause to vehicles, buildings, and people can be devastating. The most common injuries resulting from an accident include:
Concussions
Skull fractures
Hearing loss
Vision problems
Back injuries, like a herniated disk or muscle weakness
Whiplash
Broken or fractured bones
This is not an exhaustive list of all possible injuries. In reality, there is a vast range of injuries that may be suffered in an accident. If a passenger is injured in an Access-A-Ride accident caused by the negligence, recklessness, or carelessness of the driver or another person, the injured party may be entitled to pursue financial compensation for their injuries. Compensation that may be recovered may include:
Physical pain and suffering
Medical expenses
Physical therapy costs
Emotional distress
Lost Wages
How we can help
There are a large number of agencies and independent contractors involved in AAR's operations, so there may be multiple liable parties. This can cause confusion for those unaware of the laws and regulations surrounding Access-A-Ride operations. The attorneys at the Law Offices of Michael S. Lamonsoff are well versed in these laws and will set up an independent investigation of the accident in order to get witness statements, take photographs and videos, and hire experts.
Our experienced personal injury attorneys that litigate Access-A-Ride accidents will determine who is at fault and hold those parties accountable for the injuries they caused. They will aggressively and uncompromisingly seek compensation from all negligent parties to ensure that the injured person and their family receive the compensation that they deserve.
If you or someone you know was injured because of an Access-A-Ride accident, contact us immediately for a free consultation with one of our experienced car accident lawyers. The lawyers at the Law Offices of Michael S. Lamonsoff have over 100 years of combined experience and are ready to assist you today.
What to do in the event of an accident
If an accident occurs while in an Access-A-Ride vehicle, there are some steps to take in order to make sure any injuries are taken care of and to strengthen the case for compensation. For example:
It is essential to first seek medical attention as soon as possible to address the injuries that have occurred and have a doctor diagnose their cause.
At the scene of the accident, if possible, take pictures of the surrounding area, the injuries sustained, and damage that resulted from the incident.
The police will arrive quickly at the scene and write a police report on the incident. It is important to tell them what happened from the point of view of the injured party so as to get that chain of events on record.
Finally, seek out a highly qualified attorney like one from the Law Offices of Michael S. Lamonsoff in order to receive the highest quality of care and attention when litigating the case.
Tips for Access-A-Ride participants
The rules and regulations surrounding AAR are extensive and complex. While our firm litigates injuries that result from accidents, it is useful for all AAR participants to know some additional information in order to receive the best service possible.
Proving a disability
In order to help establish a disability with AAR, it will be helpful to provide specific details that prove the connection between the disability and why the applicant is unable to use the subway or bus system.
Be sure to have supporting documents, for example, a letter from a doctor that explains the disability and how it causes to inability to travel. Also, prepare notes that provide a list of the barriers faced while traveling.
What to do if an application has been denied
If AAR denies an application, they must mail a denial letter to the applicant. The letter should explain why the application was denied, as well as state that there is a right to appeal that decision. Applicants have 60 days from the date of the letter to appeal by mail or request an in-person hearing.
Generally, if an applicant has been denied, applicants will still able to reapply.
While a lawyer is not required at an in-person appeal hearing, it is highly recommended to have an experienced attorney there to advocate on the applicant's behalf.
If it has been more than 30 minutes after the scheduled pick up time, call a Customer Care Associate (CCA) to find out the vehicle location, estimated time of arrival, the carrier's name, the vehicle number, and if the caller is next to be picked up.
If there is no AAR vehicle in the area that can pick a client up within a reasonable amount of time, the use of a taxi or car service can be authorized by the CCA and the client can be reimbursed for that ride. Be sure to keep the receipt and do not give more than a 15% tip.
When scheduling a ride, be sure to label the ride as an "appointment" in order to let the dispatcher know that the destination needs to have arrived at a specific time.
Also, give specific details about where to be picked up and dropped off, for example, the location of an entrance to the building if it is not at the main street address.
AAR participants are eligible to receive a Metro Card that includes 4 free rides a day.
Contact our motor vehicle
accident law firm today
At the Law Offices of Michael S. Lamonsoff PLLC, we have a proven track record of success handling automobile accident claims in New York. Whether you were a driver or passenger in a vehicle, walking down the road, or riding a bicycle when your accident occurred, MSL will fight for your rights and represent your best interests, so you can concentrate on your recovery.
Contact our office for a FREE CONSULTATION any time.
Prior results do not guarantee a similar outcome. The information on this website is for general information purposes only. Nothing on this site should be taken as legal advice for any individual case or situation. This information is not intended to create, and receipt or viewing does not constitute, an attorney-client relationship.