Chainsaws and other heavy gear used in the logging industry can cause devastating injuries in the event of an accident. One contributing factor is that many logging sites are located in remote areas, far from medical facilities. Tragedies like limb loss or death might occur when people don't get medical help immediately.
You might be entitled to financial compensation for your injuries, if they were brought on by faulty, poorly maintained, or otherwise negligently handled equipment. You might also have a case against your employer if they knew about the dangers on the site but did nothing to warn you or fix them.
At the Law Offices of Michael S. Lamonsoff, our logging accident attorneys in New York City can evaluate your situation and provide counsel on how to proceed legally. In the event of a construction accident, we can advise you on the best way to pursue maximum financial compensation. Call now to learn more about how we can help and get your questions answered during your initial free consultation.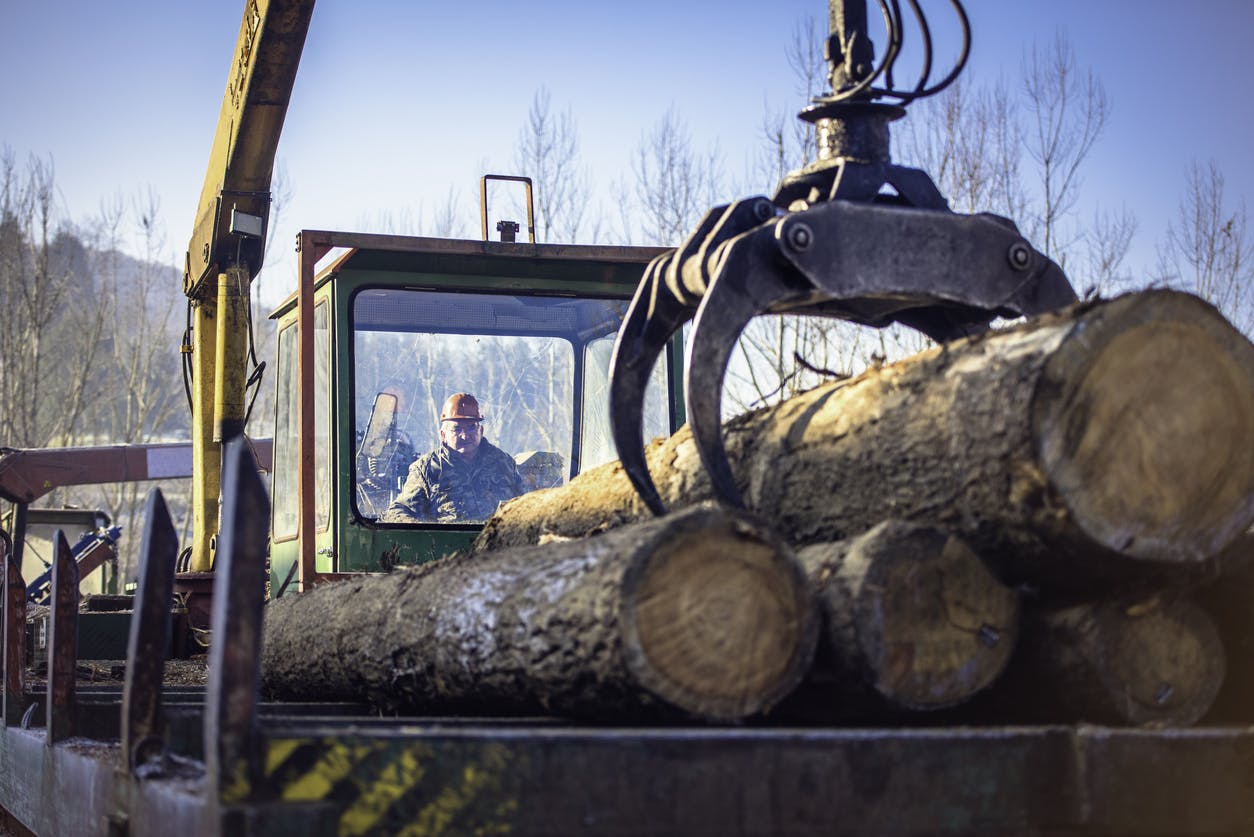 The Logging Site
A logging site is typically a busy place with multiple activities like felling, hauling, securing, and transportation simultaneously in progress. Our NYC logging accident lawyers and accident reconstructionist will evaluate:
Various aspects of the logging team's assigned work (and any additional crews on the site)
How they are transporting the logs
How the trees being felled
What type of tools and equipment are being used
Whether safety gear, training and warning systems are in place
Third-party personal injury claims allow injured loggers to pursue compensation for their injuries in full instead of the reduced amount provided by workers' compensation if an entity/company's (other than their employer's) negligence or oversight caused the accident.
Factors that Increase the Risk of a Logging Injury
OSHA rates logging as the one of most dangerous occupations in the United States. It is a well-known fact that the equipment used in this line of work is hazardous. Due to the immense mass and unstoppable motion of tumbling, sliding, or falling logs, any logging accident can have catastrophic consequences. The risk increases when you consider the typical natural conditions encountered by loggers. Examples of these are:
Rough, unstable, and uneven ground
Inclement weather, such as extreme temperatures, high winds, ice, snow, rain, and lightning
Remote worksites that make access to emergency medical treatment challenging
Logging Accidents Caused by Negligence
Employer irresponsibility frequently leads to logging accidents, allowing injured parties to claim workers' compensation payouts. Pertaining to this, other parties are often to blame for logging accidents.
Personal injury lawsuits and third-party workers' compensation claims can help you obtain higher compensation if you're injured on the job because of someone else's negligence. Get in touch with an experienced lawyer, someone who has been through the legal battlefields before, to help you weigh your options.
Typical examples of negligence in logging accidents include:
Truck Accidents Caused by Another Driver or Safety Defect
Overloaded or excessively long logging trucks significantly contribute to roadway accidents and serious injuries resulting from truck accidents. Logging truck accidents can be deadly if loose items fall off the vehicles and hit passing motorcyclists or cars.
Injuries Caused by Defective Equipment
Chainsaws, bulldozers, forklifts, and skidders, are all essential equipment in the logging industry. Brain and head trauma, fractured bones, burns, and other serious injuries might result from a flaw in the machinery that causes a component to fly off or the gear itself to malfunction. Depending on the circumstances, you can file a construction accident claim for damages with the manufacturer of the defective equipment or parts.
Injuries Caused by your Employer
These are injuries sustained as a consequence of known hazards in the workplace. Accidents resulting from an employer's failure to instruct workers in safe working practices, to enforce such rules, or to provide adequate safety gear may result in legal action against the employer. These claims are notoriously difficult to establish and need the skill of an experienced personal injury lawyer who can research the incident extensively. Our experienced logging injury lawyers in New York City can help you.
Injuries Caused by a Contractor at the Logging Site
Independent contractors may also be responsible for hauling equipment, loading, and unloading trucks and other similar tasks related to logging operations. If a contractor's negligence harms you, you may be able to file a claim for third-party workers' compensation benefits or a personal injury lawsuit against the contractor and/or their company.
OSHA's Safety Standards for Logging Activity
When it comes to logging, OSHA mandates a wide variety of safety measures, such as:
A thorough inspection for falling branches, loose bark, and other potential hazards must precede each logging activity.
Every day, before any work begins, the site must undergo a comprehensive safety inspection.
Careful assignment of work zones to reduce the risk of a tree falling onto a busy spot.
Employers must provide necessary safety gear, like as goggles, helmets, gloves, boots, and safety harnesses, to employees.
Employers must conduct frequent inspections of tools to ensure their employee's safety
The employer must eliminate or mitigate any dangers in the workplace
Stricter regulations on the installation of rollover and falling object protection systems
All employees at the logging site must be properly trained to do their jobs, including step-by-step manual felling techniques training for loggers (including proper techniques for back cuts and undercuts to prevent large trees from twisting off the stump prematurely)
You may have a claim under OSHA if you were injured on the job and your employer either knew about the danger but did nothing to address it or concealed it from you.
Speak to Experienced and Resourceful Logging Accident Attorneys in New York
At the Law Offices of Michael S. Lamonsoff, our logging injury attorneys in New York have successfully advocated for the rights of numerous injured clients and secured maximum compensation. We have the proper outlook and resources to help you get the compensation you deserve for your injuries and get you on the road to recovery as soon as possible.
Those who have suffered a logging injury can count on our law office to provide them with sound and effective counsel. If you need clarification on whether or not you have a case, our no-cost consultation will help you learn more about the legal process and your options.
We are here for you if you have any questions or want a detailed evaluation of your claim. For a free and confidential consultation on the best legal strategies and approach in your case, call the Law Offices of Michael S. Lamonsoff at 212-962-1020 or contact us online.