Having a baby can be one of the most precious times in someone's life. The thought of bringing a new life into the world and all the responsibility that comes with it brings feelings of great joy.
Unfortunately, those dreams and feelings of joy are often shattered by errors and tragedy when an innocent life is born with unnecessary brain damage. Parents experience a rush of emotions as all of their wonderful plans wilt upon hearing the news that their loved one is showing signs of brain damage. This is where a medical malpractice lawyer can help.
This is an event that should never take place, but unfortunately, it can sometimes happen. Oxygen deprivation occurs at some point during the pregnancy or delivery and goes unnoticed, and now an angelic little life must endure hardship and pain. Parents often have no choice but to go searching for answers and for justice.
The Law Offices of Michael S. Lamonsoff, PLLC, fights for these victims and their families. We give a voice to those who cannot speak for themselves as we seek financial compensation for the undue hardship and the medical care that they will likely need.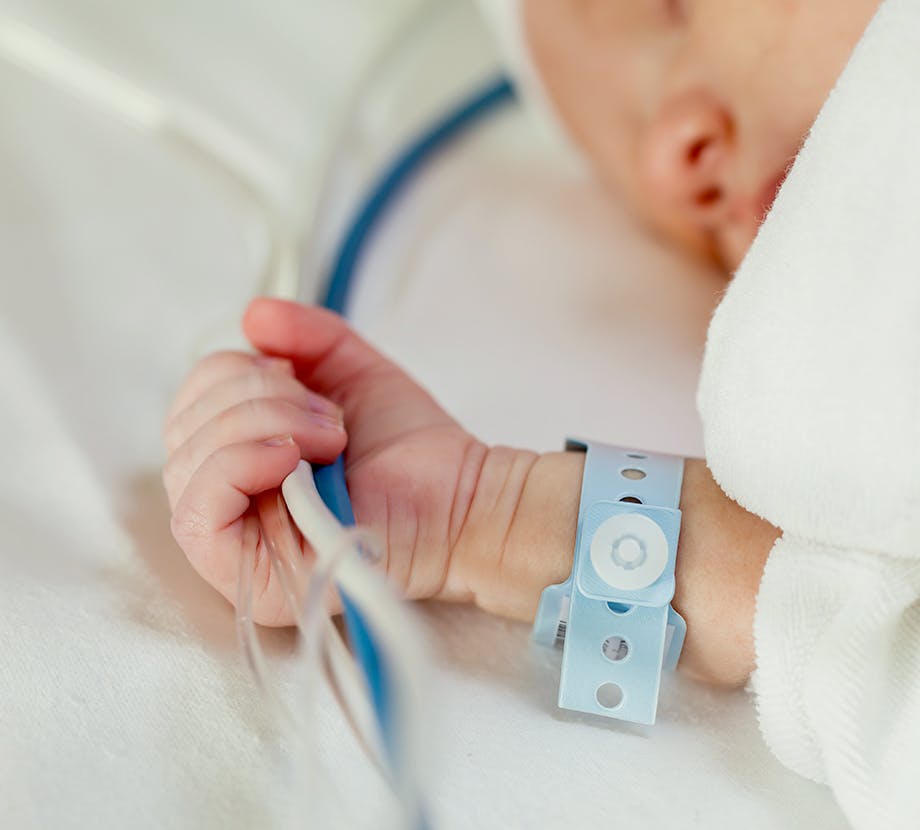 What are the results
of infant brain damage?
The results of infant brain damage are tragic. Your child could have lifelong physical and cognitive development issues.
The medical care costs can be quite extensive. Many times adaptive equipment or continuing physical therapy is necessary to improve the quality of life for the child. What causes unexpected
infant brain damage?
There are many causes of unexpected infant brain damage. Ultimately, most of them stem from a lack of oxygen to the brain. Hypoxia is partial oxygen deprivation and anoxia is complete oxygen deprivation. They are both tragic in nature with severe or even catastrophic outcomes.
Brain damage is usually irreparable and carries a lifetime of consequences. A baby can suffer oxygen deprivation if it becomes lodged in the birth canal, or when the umbilical cord gets wrapped around their neck during birth. Other circumstances may also lead to brain damage or fetal oxygen deprivation, such as a doctor failing to diagnose fetal distress, as well as some types of infections.
How long do I
have to file a claim?
Of course, it is always best to file a claim as soon as possible. This will give your attorney ample time to investigate thoroughly and ensure that they have access to all available information. There are sometimes when you may not be able to do this. Certain symptoms may not be immediately apparent until a later date, such as when a child starts missing developmental markers.
In the state of New York, a medical malpractice claim for birth injuries must be filed within ten years of the birth of the child. Finding out that your child suffered brain damage during delivery can be devastating and it is important to act swiftly to ensure that he or she gets the medical attention they need.
If my baby was deprived of oxygen, do I have a brain damage lawsuit?
Not necessarily. Accidents can still happen even in the most capable and careful hands. Not every child born with brain damage is cause for a lawsuit. The real question is whether or not the doctor exercised good judgment and provided proper care under the circumstances. Or did the doctor fail to take appropriate action when it was necessary which led to your baby's current condition?
If your healthcare provider was negligent and his negligence ultimately led to your baby's brain damage, then you may have a claim. If you have a child who was unexpectedly born with brain damage, but you are not sure if you have a claim, you should seek legal counsel immediately.
The experienced attorneys at The Law Offices of Michael S. Lamonsoff, PLLC, will listen to you intently and present you with all of your options.
What are the brain
damage symptoms for babies?
There are many different symptoms you can look for that may indicate your baby has suffered brain damage or oxygen deprivation. Here are some of the most common signs:
Trouble sucking or feeding
Suffering from a seizure shortly after birth
Exhibiting excessive drooling
Your baby stops breathing
Blue tone to the baby's skin
The hospital wants your baby to stay in the hospital for observation, but send you home
If you feel this may be the case, it is always best to get a second opinion, immediately. If you choose to get a second opinion, be sure to visit a pediatrician you trust.
How can a medical
malpractice lawyer help?
These types of cases can be quite complex, and it can be hard to establish responsibility. A New York brain damage attorney with extensive experience can conduct a thorough investigation to help get that done.
Many times they will also have access to medical records that the average person cannot get. For instance, an experienced brain damage attorney will probably know to look for low pH levels in the baby because they are usually linked to fetal distress.
Additionally, a medical malpractice attorney with experience in infant brain damage will help you maximize your claim to ensure that you are fully compensated to the extent of the law. It is hard enough to find out that your child was deprived of oxygen and suffered unnecessary brain damage, the last thing you want to do is try to navigate the legal system alone.

Contact our New York
medical malpractice law firm today
If your precious little one came into the world unexpectedly with brain damage, call The Law Offices of Michael S. Lamonsoff, PLLC, immediately. As you begin to care for your new addition to the family, you need a New York brain damage lawyer looking out for your best interest. The attorneys at The Law Offices of Michael S. Lamonsoff, PLLC, understand how devastating this can be and they will be there for you every step of the way. They will concentrate on maximizing your claim so that you can afford the necessary medical treatment your little one needs.
We will take the time to listen to you, review the medical records, and diligently investigate your case. Our attorneys are excellent New York personal injury lawyers who specialize in birth injuries and draw from more than a century of experience.
Contact our office for a FREE CONSULTATION any time.
Prior results do not guarantee a similar outcome. The information on this website is for general information purposes only. Nothing on this site should be taken as legal advice for any individual case or situation. This information is not intended to create, and receipt or viewing does not constitute an attorney-client relationship.