Scaffolding Safety In NYC – What Are OSHA's Laws?
In 2017, according to the U.S. Bureau of Labor Statistics, more than six million men and women were working in the construction industry in the United States. Every year, about 150,000 of these construction workers sustain serious work-related injuries. This is where a NYC construction accident law firm can help.
We all know that construction workers do exceedingly dangerous work. Over two million construction workers, for example, use scaffolding almost every day. Scaffolding accidents alone are responsible for about 4,500 serious construction site injuries every year in the United States.
WHAT RULES AND REGULATIONS GOVERN THE USE OF SCAFFOLDING?
What are the rules regarding the use of scaffolding at construction sites in New York? If you are a construction worker and you are injured in a scaffolding accident, what are your rights? What is your recourse?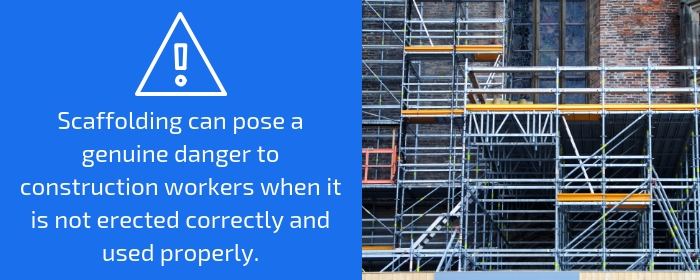 Scaffolding can pose a genuine danger to construction workers when it is not erected correctly and used properly. The U.S. Occupational Safety and Health Administration (OSHA) has established a number of extensive regulations for the safe use of scaffolding. For example:
1. Scaffolding must support at least four times the weight than it will actually bear.
2. All scaffolding and related equipment must be inspected before use.
3. All employees must be trained to recognize the hazards associated with scaffolding.
WHAT ELSE DO SAFETY EXPERTS RECOMMEND?
Construction safety experts also offer these safety recommendations for the use of scaffolding:
1. Scaffolding must be sound and rigid with no settling or displacement.
2. Scaffolding must be erected, moved, altered, and dismantled by trained personnel.
3. Scaffolding must be inspected and repeatedly reinspected by trained personnel.
4. Scaffolds must be fitted with guardrails, midrails, and toeboards.
5. Any damaged or weakened scaffold part or accessory should be replaced at once.
And for construction workers, the New York City Department of Buildings recommends that workers who use scaffolding must also:
1. wear an OSHA-approved safety harness at all times
2. be secured to an individual lifeline at all times
3. have an anchor point independent and separate from the outrigger tiebacks
Construction workers need to make absolutely certain that drop lines, lanyards, belts, and anchor points are safe and functional before using them.
WHO IS RESPONSIBLE FOR CONSTRUCTION SITE SAFETY?
Everyone who works at a construction site is responsible for the safety of the site. If you are a construction worker and your own employer is violating the OSHA regulations, talk to the employer, or talk to your foreman, manager, or supervisor.
If the safety issue is not quickly and satisfactorily resolved, you can contact the New York City Department of Buildings (if the construction site is in New York City), or you can speak directly to an experienced construction accident attorney.
Under Section 240 of the New York Labor Law, employers in this state assume absolute liability for any scaffolding injury that occurs on a construction site. In fact, New York is the only state that holds employers "absolutely" liable for scaffolding-related accidents and injuries.
DO INJURED CONSTRUCTION WORKERS QUALIFY FOR WORKERS' COMP IN NEW YORK?
Of course, the details of every construction accident are unique, so a construction worker who is injured on the job in New York will need the personalized advice that only a personal injury lawyer can offer after that lawyer reviews the facts in your case.
Most construction workers who are injured on the job in New York – because of a scaffolding accident or for any other reason – will qualify to receive workers' compensation benefits.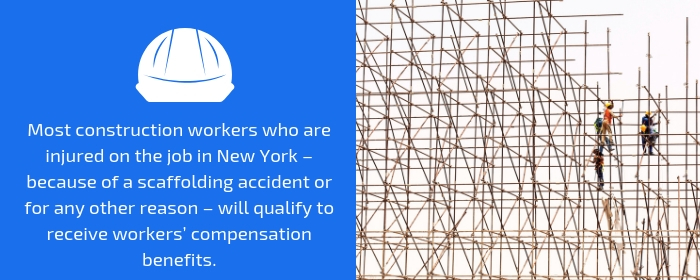 If you need to take more than seven days off from your work to recover from a work-related injury, workers' compensation will – in most cases – pay for your medical expenses and will reimburse a percentage of your lost wages.
WILL WORKERS' COMP BENEFITS BE SUFFICIENT?
The amount of temporary disability benefits (partial reimbursement for lost wages) that you receive will depend on your average weekly earnings during the year before your injury as well as the extent of your personal injury or injuries.
However, if you've been catastrophically injured, workers' comp payments probably will not be enough to meet all of your financial obligations and still provide for your family.
Even with help from workers' compensation, your medical bills and other financial obligations can pile up swiftly after a serious injury. Construction accidents can cause severe injuries that include traumatic brain injuries, serious spinal cord injuries, and injuries that require amputation.
WHEN SHOULD YOU SPEAK TO A NYC CONSTRUCTION ACCIDENT LAWYER?
If you are injured while you're working on a construction site in New York, as soon as you've been treated by a doctor or by another healthcare professional, you should arrange immediately to speak with a construction injury attorney.
Your accident attorney can assist you when you file for workers' compensation benefits by ensuring that all of your paperwork is accurate and complete so that no misunderstandings or mistakes delay your workers' comp benefit payments.
If your workers' compensation claim is denied for any reason, your attorney can help you appeal that decision to the New York State Workers' Compensation Board.
Your attorney can also help you to determine if a third party – that is, someone other than your employer or your co-workers – has any liability for your accident and injury.
WHAT IS A "THIRD-PARTY" PERSONAL INJURY CLAIM?
You may have a third-party personal injury claim if a party who is not your employer shares the liability for your injury. In construction accidents, third parties might include negligent property owners, contractors, equipment operators, equipment manufacturers, or delivery persons.
After a scaffolding accident or any other accident that injures a New York construction worker, that worker should immediately consult a New York accident lawyer. An accident lawyer can investigate the accident and injury and will then explain your legal rights and options.
If a third party's negligence was a direct cause of your personal injury or injuries, you are entitled by law to full compensation for all of your current and future medical costs, lost wages and lost earning capacity, personal pain and suffering, and all other related damages and losses.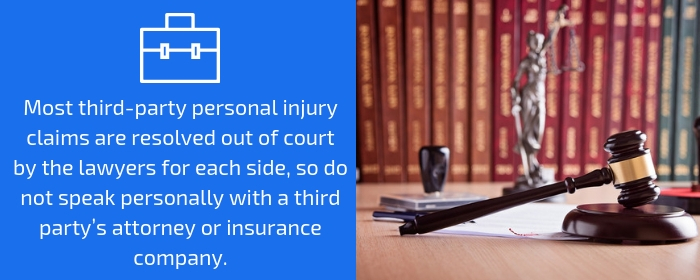 Most third-party personal injury claims are resolved out of court by the lawyers for each side, so do not speak personally with a third party's attorney or insurance company. Instead, refer those inquiries to your injury attorney, who will do the talking and negotiating on your behalf.
HOW ARE MOST THIRD-PARTY INJURY CLAIMS RESOLVED?
Most injured construction employees will not even be required to appear in court for a third-party claim, but if no resolution is possible outside of the courtroom, your attorney may advise you to take the case to trial, where you'll ask a jury to order the payment of your compensation.
In New York, employers and co-workers may not be sued with a third-party claim. Workers' comp protects those parties from personal injury lawsuits, and in return, injured construction workers may receive workers' comp benefits without having to take any legal action.
WHY ARE CONSTRUCTION INJURY CASES SO COMPLICATED?
Construction-related injuries can be catastrophic or even permanently disabling, and to complicate things, a construction injury case is going to be exceedingly complex and confusing. Federal, state, and local laws and safety regulations often overlap or appear to be in conflict.
For example, the U.S. Department of Labor enforces more than 180 federal regulations covering workplace accidents and jobsite safety. The state of New York imposes its own regulations, and so does the New York City Department of Buildings.
That is one more reason why, if you are injured while you're working on a construction site, you must discuss your accident and injury as quickly as possible with a skilled NY construction injury attorney.
WHAT WILL IT COST AN INJURY VICTIM TO SEEK JUSTICE?
Of course, if you're injured and out of work – and your bills are piling up – you may be wondering how you can afford an attorney's help. The good news is that it will not cost you anything to meet with an attorney and to learn more about how the law applies to your own case.
Construction injury lawyers in New York will provide a free, first legal consultation to injured construction workers. The attorney will review your case, explain your rights and options, and help you determine if you qualify for worker's comp, a third-party injury claim, or both.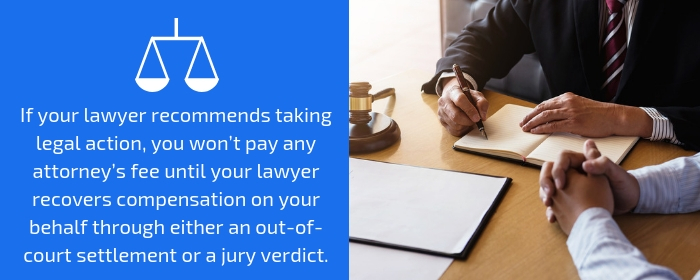 If your lawyer recommends taking legal action, you won't pay any attorney's fee until your lawyer recovers compensation on your behalf through either an out-of-court settlement or a jury verdict.
IS THERE A DEADLINE FOR TAKING LEGAL ACTION?
But you can't procrastinate. New York's statute of limitations gives injured construction workers three years from the date of an injury to go to court and file a third-party personal injury lawsuit, but you must not wait three years – or even three weeks – to speak with an attorney.
In fact, the sooner you put your injury case in the hands of an accident attorney, the better. Evidence deteriorates quickly. Eyewitnesses forget quickly. If you are seeking justice, you need to act right away.
A serious scaffolding injury can threaten your career, your family, and your future. If you are injured doing any kind of construction work in New York, an experienced construction injury lawyer can represent you and fight for justice on your behalf.
If you've been injured by another person's negligence in the state of New York – at your jobsite or anywhere else – a good lawyer's help is your right. In fact, your future could depend on it.