New Law Protecting New York Sanitation Workers Goes Into Effect
New York City motorists no doubt believe that they have more than enough traffic laws to deal with already, but as of November 1, the state of New York now also enforces a "Slow Down to Get Around" law for waste collection and sanitation vehicles.
The new requirement is an extension of the original "Move Over" law that already applies to road construction sites and emergency vehicles. That 2012 measure compels New York drivers to reduce their speed when passing a public safety vehicle with its lights flashing or when passing a construction zone.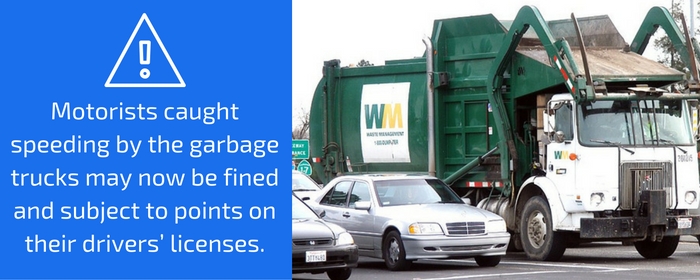 As wrongful death lawyers, we can tell you that by reclassifying waste collection vehicles and garbage trucks, New York now requires motorists to reduce their speed or to stop completely if needed when nearing a recycling or garbage truck in front of them. Motorists caught speeding by the garbage trucks may now be fined and subject to points on their drivers' licenses. Moreover, speeding motorists responsible for injuring a sanitation worker – or injuring anyone else – could find themselves on the wrong end of a personal injury lawsuit.
WHAT IS REQUIRED OF DRIVERS BY THE NEW LAW?
Jeff Schneggenburger, a manager for Modern Disposal, a waste and recycling operation in the Buffalo area, says the extension of the Move Over law is "all about getting people home safe." New York drivers are now required to give sanitation workers standing adjacent to the trucks a safety cushion of about fifty feet. Motorists may be fined for a violation and may have three points placed on their licenses for "failing to move over for emergency vehicles and hazard vehicles."
The new provision for sanitation trucks is a reaction by New York legislators to the death of Sean Tilghman, a 27-year-old sanitation worker for Taylor Garbage Services in Tioga County, in 2015. Tilghman was at work behind a sanitation truck in the rural community of Apalachin when he was struck and killed by Donald Ulmer, a Pennsylvania man who was driving with a suspended license. Ulmer had been involved in a fatal accident in the same community only fifteen months earlier.
U.S. Labor Department and Transportation Department statistics confirm that waste and recycling work is one of the nation's most dangerous jobs, with about ninety job-related deaths every year for every 100,000 workers in the industry. Mayor Mike Spano of Yonkers says, "It doesn't need to be that way, and it is because people don't treat blue garbage trucks with the same respect that they treat the school bus, firetruck, ambulance or police car."
Yonkers sanitation worker John Calise was struck by a car while working behind a garbage truck in 2015. Calise told CBS, "I remember tightening up, closing my eyes and then waking up in an ambulance." Calise sustained a broken clavicle, a broken finger, herniated discs, and he was unable to work for ten months. "The new law, it'll help us all out," Calise says. "We want the public to know we're out there, keep an eye out for us. It only takes another minute."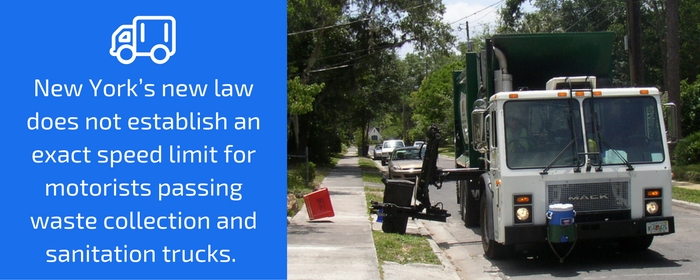 New York's new law does not establish an exact speed limit for motorists passing waste collection and sanitation trucks. Drivers should reduce their speed as if passing an emergency vehicle or construction zone.
Police departments across the state have announced that they will publicize the new requirement with verbal warnings, TV and radio publicity, and through social media before writing tickets to motorists.
WHAT ELSE SHOULD MOTORISTS KNOW ABOUT DRIVING IN NEW YORK?
Commonly in New York, a motorist charged with "failing to move over for emergency vehicles and hazard vehicles" will also be cited for a violation such as improper passing, reckless driving, speeding, failure to yield the right of way, or making an unsafe lane change. New York's Department of Motor Vehicles assigns points for violations.
If a driver receives six points or more over eighteen months, the driver must pay a Driver Responsibility fee. A driver with eleven or more points over eighteen months will face a driver's license suspension. Every New York traffic ticket must inevitably be resolved or the driver's license will eventually be suspended.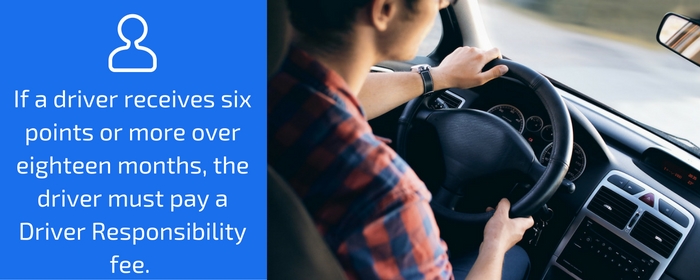 It remains to be seen how drivers in New York City will respond to the new safety regulation, but there will always be collisions with serious injuries in the city, and if you end up injured by the negligence of another driver, you will want to discuss your legal rights and options with an experienced New York City personal injury attorney. Of course, the new statute should in time reduce the number of accidents and injuries related to garbage and waste collection vehicles in New York.
It doesn't matter who you are or what time or season it is; anyone can be injured in a traffic accident in New York City, any time of the day or year. You don't even have to be in a vehicle; 134 pedestrians died in traffic accidents in New York City in 2014. If you are injured in traffic and you pursue a personal injury claim, a personal injury lawyer will negotiate aggressively on your behalf, and if negotiation doesn't succeed, your lawyer can take the case to trial.
IS NEW YORK REDUCING TRAFFIC CRASHES, INJURIES, AND FATALITIES?
Overall, traffic fatalities across the five boroughs have incrementally declined in recent years. A decline in car-and-truck-accident fatalities in New York City has been the most substantial sign of progress.
In 2014, Mayor Bill de Blasio signed into law a set of new traffic regulations aimed at improving the safety of New York's residents and visitors as part of his "Vision Zero" plan to make New York City streets safer. The new measures established slow speed zones around schools and set harsher penalties for motorists who do not yield to pedestrians and bicyclists.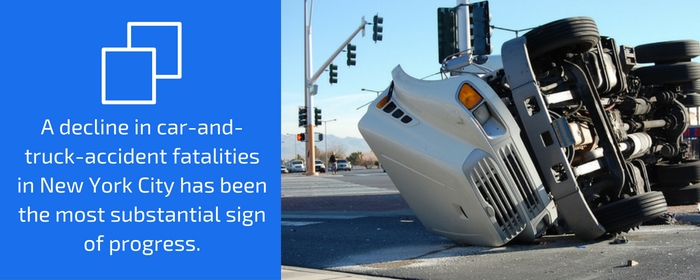 Still, you must use caution whenever you drive in New York City. If you are hurt in a traffic collision caused by a negligent driver, discuss your case with a New York City personal injury attorney. Victims of negligence in this state are entitled to full compensation for their medical treatment, lost income, and all other injury-related expenses. If you are injured in a collision in or near any of the five boroughs, an experienced personal injury lawyer can provide the legal advice you will need.