Construction Injuries Caused By Chemical Burns
If you are one of the thousands who work in the construction industry in New York City, you are well aware of the risks. As a construction accident law firm in NYC, we know that construction workers routinely deal with unstable scaffolding, old or defective tools and equipment, excavation cave-ins, and a variety of other construction site risks.
Construction workers also frequently suffer burn injuries: fires at construction sites, unsafe welding practices, explosions, pressurized steam, and live electrical wires cause most construction-related burn injuries. In fact, chemical burns cause some of the most severe and long-lasting construction-related injuries.
WHICH CHEMICALS CAUSE CHEMICAL BURNS?
A chemical burn usually happens when someone's skin comes into direct contact with particular alkaloids, acids, and other dangerous chemicals that may be present at a construction site.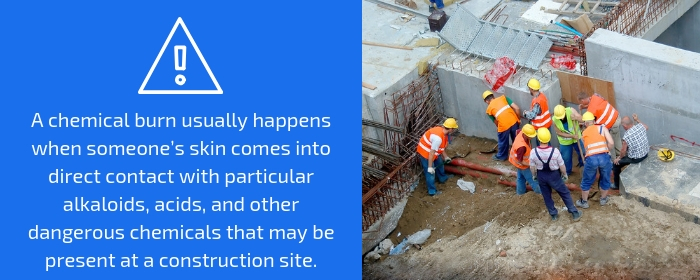 The hazardous chemicals that are often found at construction sites include but are not limited to:
1. cleaning supplies
2. glues
3. paints and paint thinners
4. solvents
5. wet cement
Chemical burns are different – and for this reason often more dangerous – than fire, steam, or electricity-related burns, because a chemical burn (and your body's reaction to it) may not be immediately apparent.
Chemical burns, in other words, can sometimes seem to be "slow-motion" burn injuries with delayed reactions and consequences.
HOW DO CHEMICAL BURNS HAPPEN?
A chemical burn is usually the result of an accidental splash, a spill, or a violent reaction when incompatible substances come into contact with one another.
Depending on the chemical(s) involved and the nature of the exposure, chemical burns can be extremely painful, damage tissues and muscles, and lead to scarring, disfigurement, and dangerous infections. A chemical burn can cause blindness, and in the most extreme cases, death.
According to OSHA (the Occupational Safety and Health Administration), about 32 million of us in the U.S. are routinely exposed at work to dangerous chemicals. Most work-related chemical burn injuries are preventable – when employers and workers take some basic safety precautions.
WHICH DANGEROUS CHEMICALS ARE FOUND ON NYC CONSTRUCTION JOB SITES?
These are the acids that are most likely to cause chemical burns on a construction site:
1. Hydrochloric acid is used in metal refining and dyes.
2. Hydrofluoric acid is used for rust removal, glass etching, and as a refrigerant.
3. Nitric acid is used in metal refining, engraving, and electroplating.
4. Phosphoric acid is found in detergents, rust proofers, and fertilizers.
5. Sulfuric acid is found in battery fluid, toilet cleaners, metal cleaners, and fertilizers.
These are the alkaline chemicals that are most likely to cause chemical burns on a construction site:
1. Calcium and sodium hypochlorite are found in bleach and pool chlorination materials.
2. Gaseous anhydrous ammonia is used to manufacture fertilizers.
3. Phosphates are found in many cleaners and detergents.
4. Sodium and potassium hydroxide are found in drain cleaners and oven cleaners.
WHAT ARE THE CONSEQUENCES OF A SERIOUS CHEMICAL BURN INJURY?
Depending on the severity of the burn and depending on which chemicals are involved, the resulting injuries can range from minor surface burns to severe, third-degree burns. If a worker is not wearing protective eye gear and is splashed in the face, it can cause permanent blindness.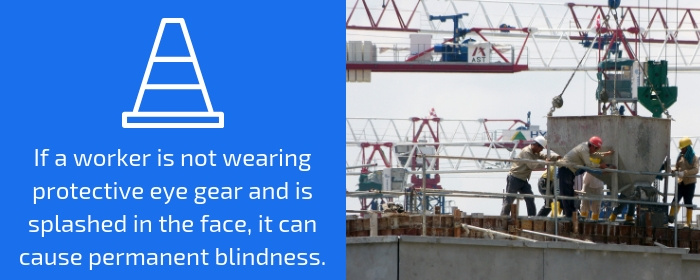 Chemical burn treatment may involve debridement, the painful process of cleaning and removing dead tissue and dirt. Healthy skin from another area of the body is in some cases grafted to the burn wound. Special bandages and antibiotics will be needed to treat a serious chemical burn.
WHAT IS AN EMPLOYER'S RESPONSIBILITY?
On a construction site, if the construction workers will be exposed to any of these dangerous chemicals, OSHA compels employers to provide the workers with personal protective equipment (PPE) and to adhere to all established safety standards.
Construction employers who are not compliant with safety standards or do not provide adequate PPE may be considered liable if an employee sustains an on-the-job chemical burn.
Most construction workers in New York City who suffer chemical burns on the job will be eligible for workers' compensation benefits. Under workers' comp, injury victims are not required to prove that an employer caused a work-related injury by being negligent.
WHAT IS REQUIRED TO QUALIFY FOR WORKERS' COMP BENEFITS IN NY?
In most instances, to obtain workers' comp payments, an injured construction worker only has to prove that a chemical burn injury happened in the "course and scope" of the worker's employment.
However, in some particular cases, an injured construction worker may also qualify to file a "third-party" personal injury claim apart from the worker's compensation system.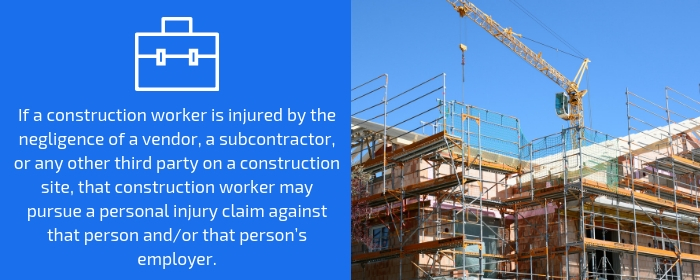 If a construction worker is injured by the negligence of a vendor, a subcontractor, or any other third party on a construction site, that construction worker may pursue a personal injury claim against that person and/or that person's employer.
HOW CAN A NEW YORK CONSTRUCTION ACCIDENT ATTORNEY HELP YOU?
Of course, the details of every construction accident are different, so if you are injured while doing construction work, you must have the sound legal advice and step-by-step guidance that an experienced NYC construction accident lawyer can offer.
If your employer is violating local, state, or federal safety rules, speak first with a manager, a foreman, or a supervisor. It may simply be that someone has overlooked the matter. If you get no satisfactory response, speak to an attorney who has experience with the construction industry.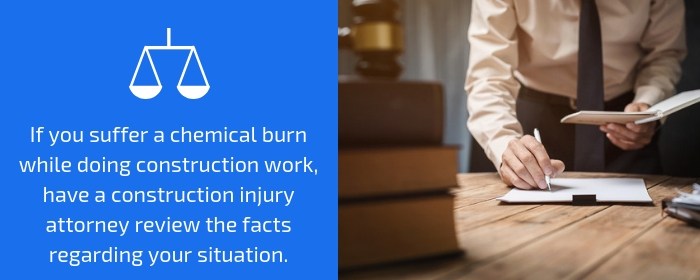 If you suffer a chemical burn while doing construction work, have a construction injury attorney review the facts regarding your situation. Construction accident lawyers in New York offer a free first legal consultation to injured construction workers.
IF YOU SUFFER A CHEMICAL BURN INJURY, WHAT ARE YOUR PRIORITIES?
Safety on a construction site is everyone's responsibility. Chemical burns can almost always be avoided if established safety standards are followed. If you become a chemical burn victim due to a construction site accident, you must take these three steps immediately:
1. Obtain medical treatment at once.
2. File for workers' compensation benefits.
3. Speak to a personal injury attorney.
The injured victims of negligence in New York – in most cases and with very few exceptions – are entitled by law to full compensation for their medical bills, lost wages, and more.
The law is on your side, a construction injury lawyer's help is your right, and if you've been injured by a chemical burn at a construction site, it will cost you nothing to learn more – but you must take the first step and make the call.