COVID-19 is Changing New York's Construction Industry. Here's How.
The coronavirus has undoubtedly changed the landscape of New York and America as a whole — as well as the very industry that builds that landscape, from its streetscapes to its skyscrapers and every structure in between. After a two-month-long, pandemic induced hiatus, construction could be one of the first portions of New York's economy to reopen.
As construction crews are reassembled and site gates are unlocked and reopened across New York, workers will be faced with aspects of a new normal industry-wide, ranging from a heightened focus on safety and social distancing, to projects that will evidently run longer and supply chains that will be in the midst of recalibration.
As construction workers return to job sites across New York, they return to an industry that, like so many others, has been drastically changed by the public health and economic effects of the pandemic. Guided by legislation, regulations, common sense and foresight, as workers return to their sites in New York, they'll face challenges that demand they redefine their workflows, protocols and projects. Here are 5 ways the coronavirus is changing the construction industry in New York.
1. Jobsite Safety Will Be Measured by a New Yardstick
New York's construction workers and management are well acquainted with safety measures and the risks and inherent dangers associated with heavy equipment, towering heights and fast-paced action on a construction site. An invisible virus, however, adds a whole new perspective to safety and new slew of guidelines that workers and their supervisors must quickly get used to, including:
Job site start and end times for crews will be staggered
Temperature checks for crews at the start of every day
Stringent disinfection protocol for equipment, tools and machinery.
Increased site security and perimeter control
Access to handwashing stations and hand sanitizer
Social distancing on-site and in transport to sites
In all, these changes are aimed on building cleaner, safer and less crowded construction sites in New York. More than that, they'll require the focus and commitment of both employees and employers long after this pandemic has passed. The "new normal" will necessitate construction companies to make safety plans and worker security a priority. In addition to the already hazardous working conditions on New York construction sites, these additional precautions require planning, monitoring and enforcement. It will be on the owners and contractors to provide construction workers with a safe place to work. A failure on their part will unquestionably risk hundreds, if not thousands, of New York's construction workers being injured on the job.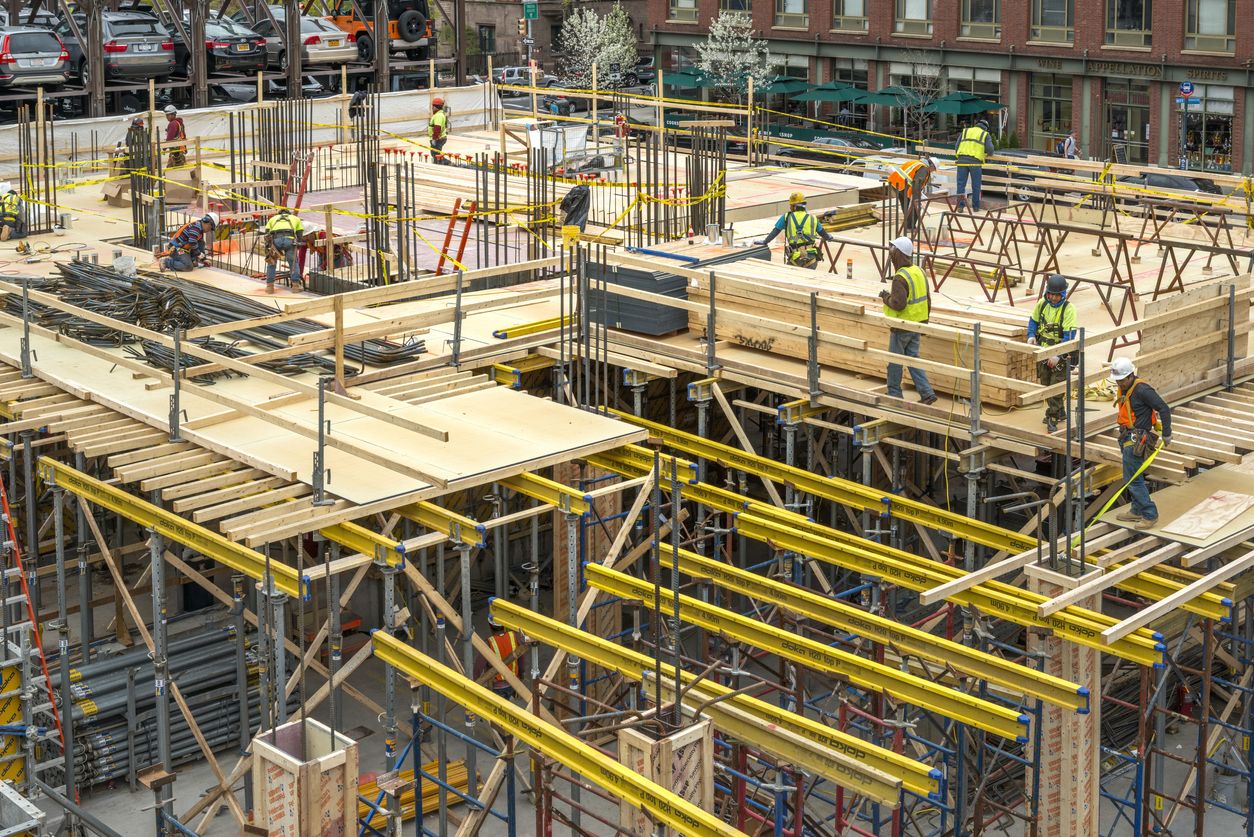 2. Projects Will Take Longer
Properly planning and implementing new safety measures will undeniably slow onsite progress and push back completion times for projects all across New York. New protocols such as suiting workers up with Personal Protective Equipment (PPE), fewer workers per project, staggering work shifts, possibly allowing only one trade onsite at a time, more cleaning and worksite preparation and keeping vast safety measures and protocols at the forefront. Bidding for new jobs will have to factor in the time and motion constraints. Fast tracking projects may no longer be a viable option, as violation of local, state and federal regulations may mean risk of forfeiting licenses and permits. However, the reality of longer completion times may nonetheless impact owners and contractors to choose speed over safety. Speed has always been a priority to owners and contractors at the expense of worker safety. Owners and contractors will have to learn to balance efficiency and profit with the new safety measures together with the requirements already required on every New York construction site prior to the COVID-19 outbreak.
3. Scope of Work and Project Type Will Shift
The pandemic has changed focus on the type of projects that will be built in New York, now and for years to come: construction demand on retail sites and entertainment venues will likely come down, as hospital and healthcare establishment construction skyrockets.
With companies bringing inventory management closer to home, warehouses and storage facilities will be in high demand. Open-office concepts will make way for a more controlled and individualized office environment.
There will also be less reliance on Chinese-made building products, predicted to create a surge in local manufacturing and supply chain related construction projects — factories, warehouses, storage depots.
Government funded infrastructure work is likely to be hit and miss as determined by locality. Experts are divided as to whether projects like road and bridge construction will suffer, given revenue declines and decreased fuel consumption and tax. Conversely, infrastructure projects that have boomed include aviation facilities countrywide, boosted by a $3.2 billion investment from the Airport Improvement Program. It remains to be seen how individual municipalities will allocate and respond to the pandemic, though some have already allocated toward the modernization of major public facilities and infrastructure.
4. Union Influence Will Continue to Grow
Throughout the pandemic, trade unions have taken on more prominent roles. The benefits of unionization have proven out as unions keep their crews off of New York jobsites where warranted by spread of the virus. Going forward, the appeal of unions will be even stronger. To better prepare themselves for this, general contractors will have to create a work environment that meets union standards for site health and safety. However, non-union workers have, and will continue to have, the same legal rights to recovery as union workers. In the eyes of the law, they are no different.
5. Supply Chains Will Finish Recalibrating
Long before the pandemic had even hit New York, global supply chains had been disrupted. With 30% of last year's U.S. building material coming from China, delays and shortages have been spurred on by factory shuts, containment efforts and quarantine. Manufacturers are already hesitant and are likely to tread slowly in resume ordering from Chinese suppliers, sending these orders elsewhere around the globe and, quite likely, keeping them right here on U.S. soil.
Supply chain disruptions, advances in prefab tech, and new workplace safety and social distancing measures will have many in the construction industry turning toward offsite construction, precasting and prefabrication.
The Law Offices of Michael S. Lamonsoff, PLLC are a dedicated and ferocious team of personal injury attorneys who have achieved a reputation for excellence for his work. Mr. Lamonsoff has earned the nickname "The Bull" because of his unwavering dedication to achieving justice for the people he represents. If you've suffered a construction injury, you can be confident that everything possible will be done, legally, to pursue the maximum in damages. Call our firm at (212) 962-1020 for a free initial consultation. Or click here for a virtual consultation from the comfort of home.