Trench Collapse Deaths Have Doubled in 2016
The Occupational Safety and Health Administration (OSHA) announced that the number of trench collapse related deaths reported in 2016 has more than doubled. This is a surprising and disturbing statistic. Deaths due to trench collapses can easily be prevented if the guidelines set out by OSHA have been followed. This is where a New York City trenching accident law firm can help.
So why are deaths caused by trench collapses on construction sites still on the rise?
There are several factors that contribute to these trench-related deaths and injuries. Often times, employers will attempt to work around or ignore safety rules and regulations set forth by OSHA. They will sacrifice the safety of the construction workers and prioritize deadlines and cut corners in order to save money.
T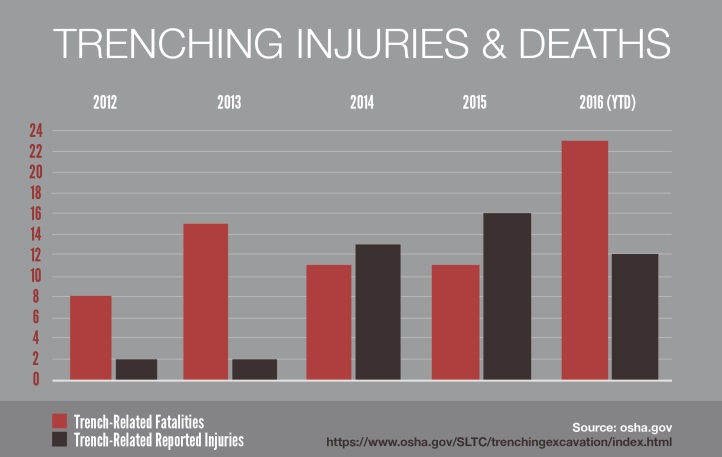 here are basic measures set out by OSHA to help prevent these accidents. First, trenches are to be inspected at the start of each shift. Trenches 5 feet deep or greater require a protective system, unless the excavation is made entirely of stable rock. Accordingly, trenches 20 feet or greater require a protective system which is designated by a registered professional engineer.
Additionally, there should be safe access and egress to all excavations (including ladders, steps, ramps, or other safe means of exit for employees working in trenches). Lastly, heavy equipment should not be kept near any of the trench edges.
What Can A Company Do To Ensure Worker Safety?
Construction companies/employers are responsible for adhering to the trench safety regulations set out by the OSHA. They're obligated to ensure that the employers at the construction site are adequately supervised.
A company should ensure that construction workers are equipped with proper trench cave-in protection and that they are trained in case of an emergency. If a construction company/employer isn't properly training and preparing rescue teams to handle a trench-cave in emergency, there fatal consequences if an accident were to occur.
These irresponsible practices are unacceptable and inexcusable. If you or someone you know has been injured in a trench accident, you should contact a personal injury attorney immediately.
Precautions should have been taken to ensure your safety, and the lack thereof may entitle you to proper compensations. The attorneys at the Law Offices of Michael S. Lamonsoff have extensive experience in personal injury cases that arise out of construction accidents. Please contact us today and get the justice you deserve.