NYC Deaths From Construction Accidents are on The Rise
At St. Patrick's Cathedral late in April, a bell tolled and echoed, and hard hats were placed next to sixteen roses on sixteen empty seats at the altar. The bell tolled for the sixteen construction workers who had died in the previous twelve months in New York City and for those who have died since 2008, when the building trades began observing an annual memorial Mass for fallen construction workers here. Since the observances began, 140 construction workers in New York City have been recognized and honored in this way.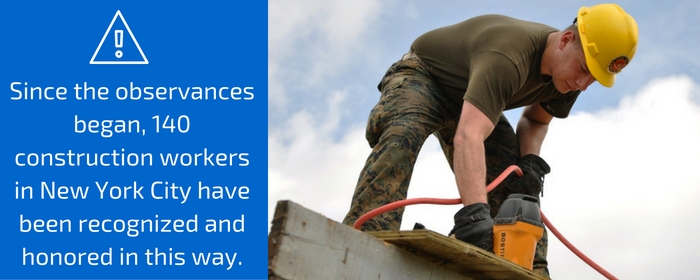 Our New York construction accident law firm can tell you that every weekday and sometimes on weekends, millions of people go to work at over a quarter of a million construction sites in the United States. Construction workers regularly find themselves working with and around risky scaffolding, excavations, plumbing systems, electrical wiring, and other job-related hazards.
On scaffolds alone, about 4,500 construction workers are injured every year, and about fifty of those injuries result in fatalities. The memorial at St. Patrick's has actually been held each year since 2000, when it was first observed at the Priory and Church of St. Francis of Assisi on West 31st Street.
When a crane collapsed on 51st Street in 2008 and took seven lives, the annual Mass was quickly moved to St. Patrick's and has remained there since. At the time, Mayor Michael Bloomberg called the crane collapse the worst construction accident in New York City in recent history. Twenty-four others were injured and eighteen adjacent homes were evacuated.
HAVE CONDITIONS IMPROVED FOR NYC CONSTRUCTION WORKERS?
Eight years later, construction workers in New York City continue to suffer injury and death on the job. The rush to expand New York City's skyline has meant a record number of construction accidents and injuries in just the last year. There were 433 construction accidents in the five boroughs in 2015 compared to 231 construction accidents in 2014.
A total of 471 construction workers and bystanders were injured in 2015, which is a 91 percent increase over the figure of 246 injuries in 2014, according to the city's Department of Buildings ("DOB"). Construction-related deaths haven't ceased in 2016, either. In February, a crane collapsed in Tribeca, killing a pedestrian and injuring three other people.
A day before that accident, another construction worker fell to his death at an East Harlem construction site. Eleven construction work deaths – six due to falls – were recorded in New York City in 2015, says the Department of Buildings. That's three more construction-related fatalities than New York City recorded in 2014.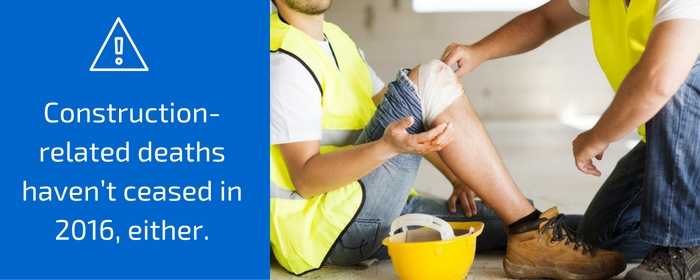 Even though New York City aggressively enforces precise, codified construction safety standards and has a lower rate of construction-related accidents and injuries than a number of other major cities, accidents and injuries are nevertheless inevitable in construction work. Inadequate safety practices, a lack of employee training, hazardous on-site conditions, and old or defective construction and safety equipment are just a few of the many reasons that construction accidents happen.
WHAT ARE THE CAUSES OF CONSTRUCTION ACCIDENTS?
Construction accidents in New York City declined immediately after the 2008 crane collapse, but that was primarily due to the recession. However, since 2009, construction is up by 300 percent in New York City; 88 million square feet of new building space was created in 2015, according to the DOB.
As real estate has boomed since 2009, construction-related injuries and fatalities have also risen. For construction workers, there's more work but also more danger. A DOB spokesperson has told the New York Post that the department is hiring one hundred additional inspectors. That may help.
Common violations that lead to construction site accidents include:
failure to train workers adequately
failure to warn workers about known hazards
inadequate scaffolding, guard rails, or stairs
insufficient protection from electrical equipment and wires
failure to maintain a hazard-free worksite
improper use or the failure to use safety equipment
A construction-related injury can be catastrophic or even permanently disabling, and it's also going to be quite complicated legally. The construction industry in New York City is governed by a mix of often-confusing state and federal laws, local ordinances and regulations, and OSHA (Occupational Safety and Health Administration) rules, so it's an understatement to say that personal injury cases arising from construction accidents in the five boroughs are complicated.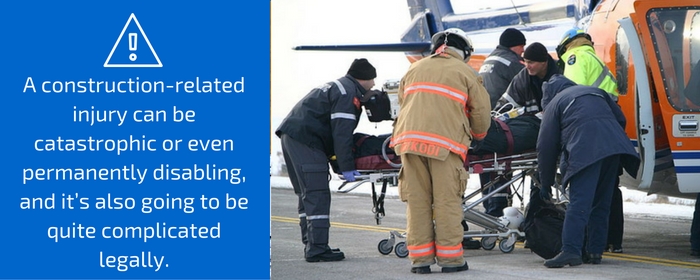 The United States Department of Labor alone enforces over 180 federal laws and regulations that govern construction site activities, construction site safety requirements, and construction accidents. An injured construction worker in the city will inevitably need to speak with an experienced New York City personal injury attorney – just to help an injury victim untangle and understand the particular legal situation he or she faces.
WHO IS ACCOUNTABLE FOR A CONSTRUCTION WORKER'S INJURIES?
In New York, the prime contractor is responsible for a construction site and for the safety of its workers, although some subcontractors may be at least partially responsible in some specific circumstances. Responsibility for the injuries of New York City construction workers may also be assigned in some cases to a safety equipment manufacturer who failed to provide the proper equipment, provided the wrong or defective safety equipment, or failed to offer the appropriate directions and precautions for using their equipment.
While most construction workers in New York City are covered by workers' compensation, those payments are seldom enough to cover the real cost of a construction-related injury, which can be considerable when the injury is catastrophic or disabling. Along with workers' comp, when someone other than the employer is liable for the injuries, injured construction workers may file a third-party personal injury claim.
Those third parties not only include the manufacturers of defective safety equipment but may also include negligent contractors or property owners, negligent equipment operators, or others with responsibility for injuries.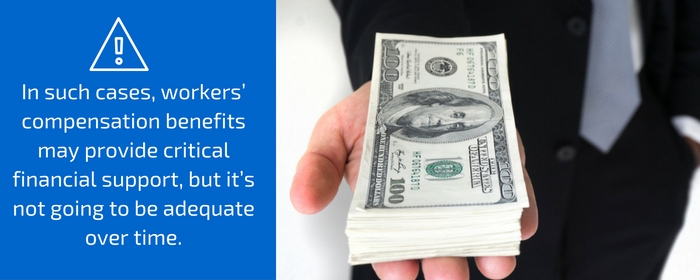 Negligence at construction sites can lead to accidents that cause traumatic brain injuries, spinal cord injuries, serious internal injuries, disfigurement, amputation, and other disabling conditions that often require lifelong care. In such cases, workers' compensation benefits may provide critical financial support, but it's not going to be adequate over time.
Injured construction workers in the five boroughs will almost certainly need to consult with an experienced New York City personal injury attorney who can help straighten out the legal mess that inevitably emerges after a New York City construction worker suffers a serious on-the-job injury.
Video Transcript:
Construction in New York City is growing at an unprecedental rate. There are buildings that are being constructed everywhere in New York, every borough, in every portion of New York City, there is new buildings and residence going up. The reason for this is the rebound on recession of construction that occurred in 2008.
In addition, there's been a major influx of new people and new residents in New York. People wanna make New York their home. As a result, there's been a need for more buildings to be built, for both residential and commercial use. Alarmingly, at the same time, there's been a 55% increase in the amount of serious and fatal construction accidents at construction sites.
This means that construction sites are more dangerous than ever. It means that people are five times more likely than five years ago to be injured at a construction site. So a big question is, why? Why have fatal and serious construction accidents skyrocketed in the last five years?
Well, we can't blame it on technology, because at the same time that the amount of construction has skyrocketed, so has the technology in safety equipment, in safety gear and safety protocols used at construction sites have also been greatly modernized.
According to every federal investigation that has come out in the last five years, most of these fatalities and serious accidents are avoidable. The prevalence of these accidents begs a question. Why is it? Why are they occurring at an alarming rate?
And the answer is that the owners and the contractors that build these buildings are not using the safety equipment and using the safety protocols that are available to them. They are not providing workers with the proper safety equipment, they're not providing workers with proper safety tools, they're not providing workers with the correct tools for the jobs.
They're not protecting their own workers. The reason for this is they are choosing profit through speed of construction over the safety of their own workers. If a construction worker is involved in a serious accident in which he's injured, there are many steps you should take other than seeking medical attention.
Of course, medical attention should take priority, but if he can, he should immediately report the accident to anybody who is in a superior position. He should immediately report the accident. He should not be persuaded by anybody at that construction site to change any of the facts surrounding how the accident happened.
Many times, what happens is the managers at the construction sites, and the owners, will try to shape the testimony or the evidence of how the accident happened. Will try to tell the construction worker to say the accident happened in a manner in which it did not.
Do not change what happened in your statement at all. Secondly, you should take pictures if you're able to, of what caused the accident, of the surroundings of where the accident happened, and try to preserve any evidence of the accident that you can. If you have a hammer or potentially a tool that you could hold onto, hold onto it, keep it.
Obviously, if there are witnesses to the accident, get their contact information, get their names, record them so that later on you can use them to refute any evidence that an owner or a contractor tries to use against you. Seek legal help. Get an attorney.
The insurance companies, along with their investigators and attorneys will immediately start working against you. They will do anything they can to limit their liability for any injury you may have suffered in that accident. So you need an attorney to immediately start working against them, to make sure that they don't hide evidence, they don't shape testimony of witnesses or they don't persuade witnesses not to testify on your behalf.