New York City's New Construction Safety Training Requirements
What are New York City's new construction safety training requirements? If you are a construction worker and become seriously injured at a construction site after the new requirements are implemented, can you still take legal action and be compensated? Can a construction attorney in New York help?
Now in its fourth year, New York City's construction boom has brought jobs to thousands of people in the industry. General contractors and construction companies are looking for more construction site workers to meet the demands faced by building industry labor and services.
At the same time, however, construction site fatalities and serious injuries have been steadily – and disturbingly – on the rise.
Construction is dangerous work and all construction workers must take every safety precaution, no matter how many years they have been on the job. The law requires employers of construction workers to provide appropriate safety equipment. Unfortunately, that safety equipment is forgotten or ignored far too frequently.
WHAT NEW CONSTRUCTION SAFETY RULES WERE RECENTLY APPROVED?
In response to growing safety concerns here in the five boroughs, the New York City Council late last year approved new construction safety regulations that include additional mandatory safety training for all construction workers in the city.
The city has also set aside $5 million to help qualifying construction contractors and workers offset the expense of additional training. The new rules also provide for additional penalties when a construction site is not in full compliance with the safety rules.
In a press release dated May 9th, the New York City Department of Buildings (DOB) announced the final details for the implementation of the city's new construction safety requirements.
The new requirements include a mandatory forty hours of safety training for all construction workers in the city and sixty-two hours of training for construction foremen and supervisors.
WHAT CONSTRUCTION SAFETY TRAINING IS NOW REQUIRED?
The new training requirements apply to all personnel at construction sites where the Department of Buildings requires onsite presence of a construction superintendent, a site safety manager, or a site safety coordinator. Under the new regulations:
1. By March 1, 2018, construction workers should already have had ten hours of safety training (or else prove that they had comparable training within the previous five years.)
2. By December 1, 2018, construction workers must have completed thirty hours of safety training, and supervisors must have completed sixty-two hours.
3. By May 1, 2019, construction workers must complete forty hours of safety training before they are finally and fully authorized to work at a construction site under the jurisdiction of the Department of Buildings.
HOW CAN NYC CONSTRUCTION WORKERS MEET THE NEW REQUIREMENTS?
New York construction workers can satisfy the new requirements in several ways:
1. Complete a thirty-hour OSHA (Occupational Safety and Health Administration) safety course along with fall prevention training (eight hours) and drug/alcohol awareness training (two hours).
2. Completing the comprehensive, DOB-approved 100-hour OSHA safety course that's comparable to the training received by union apprentices.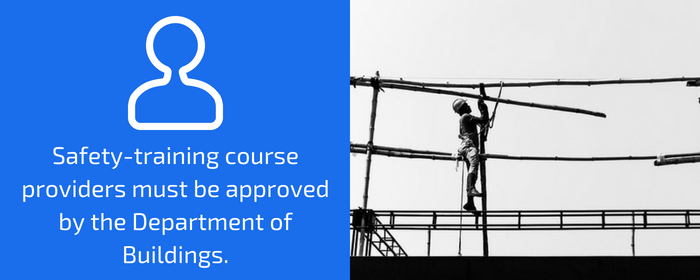 Safety-training course providers must be approved by the Department of Buildings.
WHAT'S THE HISTORY BEHIND THE NEW TRAINING REQUIREMENTS?
Since 2015, when the increasing number of construction accidents and fatalities in the city came to the public's attention, a number of controversial safety proposals have been suggested.
One plan, for example, would have required New York City construction workers to complete 59 hours of construction safety training as well as a construction apprenticeship course.
Mayor Bill de Blasio opposed the addition of the apprenticeship requirement. The mayor has contended that more safety inspections and stiffer fines for violations is the best way to protect construction workers from potential physical injury and life-threatening danger in building sites across New York City.
When the new safety training rules were approved in September, no apprenticeship requirement was included.
However, the additional training requirement may be waived for construction workers who have finished an apprenticeship equivalent to the required training.
After ten hours of training, a construction worker can be authorized to work and is allowed to complete safety training while working.
WHY ARE CONSTRUCTION SITE ACCIDENTS VIRTUALLY INEVITABLE?
The new training requirements are set to help protect all construction personnel from danger on the worksite. But no amount of training and safety awareness can entirely eliminate construction accidents, injuries, and fatalities.
Hazardous construction site conditions, worn or defective safety equipment and a lack of clear communication are the leading causes of construction accidents.
However, all construction workers in New York City have the right to reasonable protection from possibly becoming victims of construction site hazards and risks.
IF YOU ARE INJURED DOING CONSTRUCTION WORK, WHO CAN HELP?
If you are working for a construction company and have seriously injured yourself while working in the field, you should be able to qualify to receive temporary workers' compensation benefits.
If you are not sure about your benefits and what actions to take, you need to speak – as soon as possible after you've been injured – to an experienced New York construction accident attorney.
Every employer in New York is required to cover employees with workers' compensation insurance. Workers' compensation in our state typically covers an injured construction worker's medical expenses and partially replaces that construction worker's lost wages.
DO INJURED WORKERS HAVE OPTIONS BEYOND WORKERS' COMP?
In some cases, injured construction workers may bring a legal action entirely apart from workers' compensation benefits.
When a construction worker in New York is injured on the job by a third party – a party other than the employer or a co-employee – that construction worker may qualify to file a third-party personal injury lawsuit.
When a construction injury is catastrophic or disabling, the injured construction worker is likely going to require considerably more compensation than the New York workers' compensation system can offer.
If you suffer an injury working on the job as a construction worker in New York, first report the incident to your foreman, supervisor or site personnel. Next, seek proper medical treatment immediately. After that, you need to understand all the legal rights you are entitled to. Speak to an experienced New York construction accident attorney who will help you.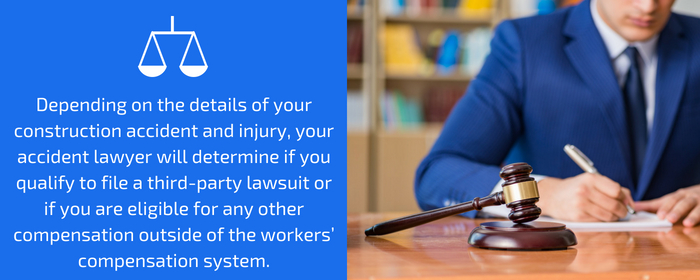 Depending on the details of your construction accident and injury, your accident lawyer will determine if you qualify to file a third-party lawsuit or if you are eligible for any other compensation outside of the workers' compensation system.
WHAT ARE YOUR RIGHTS AS AN INJURED VICTIM OF NEGLIGENCE?
You are entitled to compensation if you are injured by another person's negligence – on a construction site or anywhere else – in the state of New York.
If you are injured doing construction work, you may be entitled to benefits that you are not aware of, or you may have grounds for legal action and not know it. That's why a consultation with an injury lawyer, especially with an attorney with strong experience and success in winning construction injury lawsuits, will help New York construction workers change the outcome of any construction-related accident and injury.
An injured construction worker has the right to be compensated and has the right to sound legal advice. Exercise those rights if you need to, because your health and your future could be in the balance.