Does New York City Care About The Safety Of Construction Sites?
Is the New York City Council putting special interests ahead of the safety of New York City's construction workers? That is the opinion of the editorial writers at the New York Post regarding an acrimonious construction safety proposal that has publicly opened up verbal hostility between union and non-union construction interests in the five boroughs. Here is what our team of New York construction accident lawyers has recently learned:
The controversy began back in February when City Councilman Jumaane Williams offered Intro 1447, a proposal that is, according to the Post, "a bill to give unions control of even nonunion projects."
The proposal from Councilman Williams, also known as the "Apprenticeship Safety Bill," would require New York City's construction workers to complete 59 hours of training and an apprenticeship program before working in the city at any construction site ten stories or taller or doing any demolition work at sites four stories or taller.
The apprenticeship training mandated by Intro 1447 would force construction workers into exclusively union-run training programs.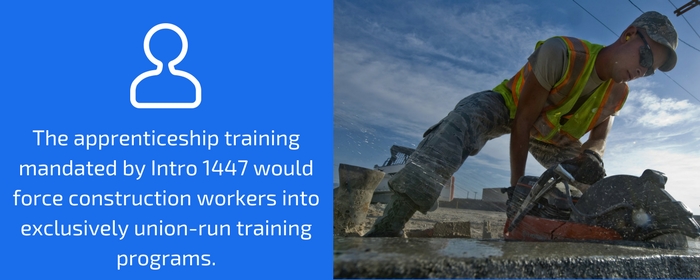 The Post editorial, published on August 6th, charges that the inevitable effect – and the underlying motive – of Intro 1447 "is to help the building trades regain a piece of the action they've largely lost, namely private-sector construction."
The Post also charges the supporters of Intro 1447 with "exploiting a real problem," the rising number of work-related fatalities on New York City construction sites.
Since 2015, 33 construction-related fatalities in the city have made construction site safety a matter of increasing public concern.
HAS ANYONE SUGGESTED ALTERNATIVES TO INTRO 1447?
The Real Estate Board of New York opposes Intro 1447 and instead offers another suggestion: requiring alcohol and drug testing for New York City's construction workers.
The Real Estate Board has said that Intro 1447 "targets" big developers even though construction accidents tend to happen more at smaller construction sites.
The Real Estate Board also suggests that a "broad-based task force" should be created to find solutions for construction site safety problems in New York City.
The Real Estate Board and the New York Post are not the only opponents of Intro 1447. Earlier in August, construction workers, business owners, and workers' rights advocates united outside of Councilman Williams' Brooklyn office to express their opposition to Intro 1447.
The protesters, mostly black and Hispanic construction workers, said that Intro 1447 targets non-union, minority workers already marginalized in the city's construction industry.
They added that by empowering unions, building costs will rise, and housing will be less affordable as a result.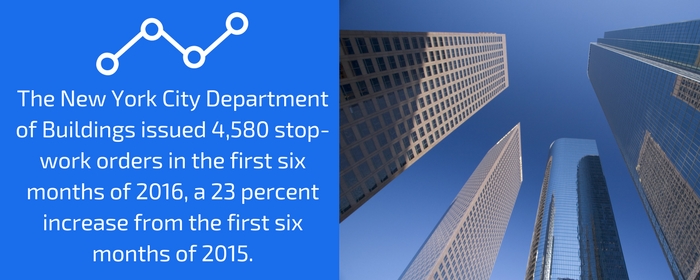 Intro 1447 is not the only attempt to respond to the rising number of fatalities at construction sites in the city.
The New York City Department of Buildings issued 4,580 stop-work orders in the first six months of 2016, a 23 percent increase from the first six months of 2015.
And the Manhattan district attorney's office created a construction fraud task force in 2015 to investigate illegal construction practices, including construction site safety violations, throughout Manhattan.
WHY ARE UNDOCUMENTED CONSTRUCTION WORKERS NOW A CONCERN?
Undocumented immigrants working at construction sites are also a cause for concern.
Workers who might not have legal status in the United States are more hesitant about reporting safety hazards and are more apt to work under hazardous conditions.
In April, Jose Cruz, a 59-year-old construction worker from the Dominican Republic, died when he fell from a second story and sustained a fatal head injury at a construction site in Times Square.
None of the appropriate safety gear was on-site when the incident occurred. New York City's Department of Buildings issued a statement saying that Mr. Cruz's death was "completely preventable."
If you are a New York City construction worker, you already know precisely how dangerous the work is.
Even so, construction workers have the right to expect that their job sites will be reasonably safe, and they have a right to expect protection from unnecessary dangers and preventable injuries and deaths.
If you suffer a construction-related injury in New York City, what is your legal recourse?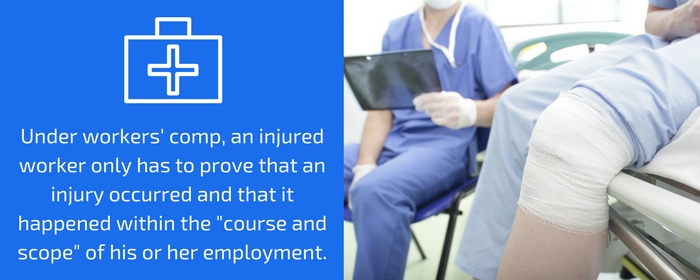 The particulars and details of every construction injury and accident are different, so a construction worker who is injured in New York City will need the accurate legal advice and personal guidance that a skilled New York construction accident lawyer can provide.
Many injured construction workers are eligible to receive workers' compensation benefits. Under workers' comp, an injured worker only has to prove that an injury occurred and that it happened within the "course and scope" of his or her employment.
DO INJURED WORKERS HAVE AN ALTERNATIVE TO WORKERS' COMP?
In some cases, however, an injured construction worker may have legal grounds to pursue a personal injury lawsuit separately from a worker's compensation claim.
If a construction worker has been injured on the job due to the negligence of a subcontractor, a delivery driver, or a vendor, or even by the carelessness of someone not physically at the site – an engineer, an architect, or an equipment manufacturer, for example – that construction worker may have grounds to pursue a personal injury claim and recover medical expenses, lost wages, and all other expenses and losses related to the injury.
An injury claim triggered by a construction mishap is handled similarly to an injury claim filed after a traffic collision. In the state of New York, an alleged injury victim (the "plaintiff") must demonstrate that some other person or persons (the "defendant" or defendants) had a duty of care owed to the plaintiff and breached that duty, directly resulting in the injury or injuries to the plaintiff.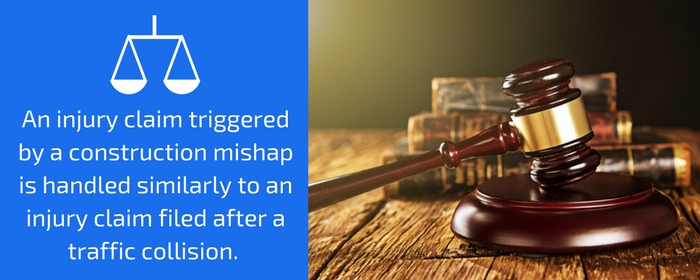 Many construction site injuries are catastrophic or disabling; traumatic brain injuries, severe spinal cord damage, injuries requiring amputations, serious internal injuries, and paralysis are just some of the tragedies that injured construction workers must deal with, sometimes for the rest of their lives.
These injuries and conditions will require the maximum available compensation – far more than the workers' comp system can provide.
Late in August, a final vote on Intro 1447 was postponed to allow more time for both sides to come to an agreement on its key provisions.
Whether or not Intro 1447 is the law in New York City by the time you read this, if you are injured doing construction work in the city and you have grounds for a personal injury claim apart from the worker's comp system, an experienced New York construction accident lawyer can fight aggressively for the justice you need and deserve.
Safety at New York City construction sites – now and in the future – depends on the commitment and the good will of everyone who is involved.