What Are The Main Causes Of Accidents On Construction Sites?
Across the United States, millions of wage-earners work in the construction industry and go to a construction site five or more days a week.
Construction is one of the most dangerous lines of work there is. In fact, construction workers sustain considerably more injuries than people in most other lines of work.
Insufficient safety practices, inadequate training, dangerous conditions, and flawed or outdated equipment are only some of the causes of construction site injuries.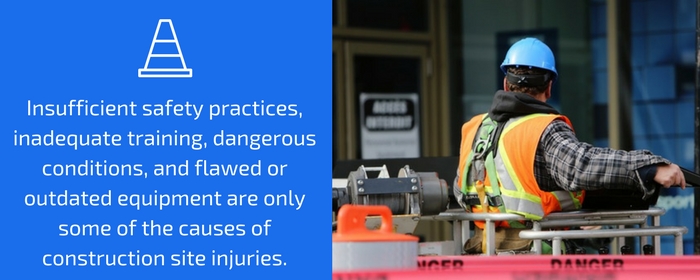 How dangerous is construction work? In the decade from 2002 through 2012, 19.5 percent of all on-the-job fatalities in the United States – almost one in five – were in the construction industry.
Thousands of more construction workers are severely injured every year. Anyone who is injured while doing construction work in or near the New York City area would be wise to consult with an experienced New York construction accident lawyer.
WHAT ARE THE "FATAL FOUR" CAUSES OF CONSTRUCTION ACCIDENTS?
New York construction accident lawyer Michael S. Lamonsoff says, "Construction accidents in New York are on the rise. Employers aren't following the regulations set out by OSHA, which are implemented to keep construction workers and their work environment safe. This poor practice is what led to the 'Fatal Four.' The 'Fatal Four' are the leading causes of fatalities in the construction industry and are known as electrical, fall, struck-by, and caught-in or –between hazards."
According to OSHA (the U.S. Occupational Safety and Health Administration), falls were the reason for 278 construction site fatalities in 2012 – 36 percent of the total fatalities that year in the construction industry.
Falls are by far the most common reason for construction work injuries. They can happen when construction workers step sideways or backwards without looking or use stairwells that lack guardrails.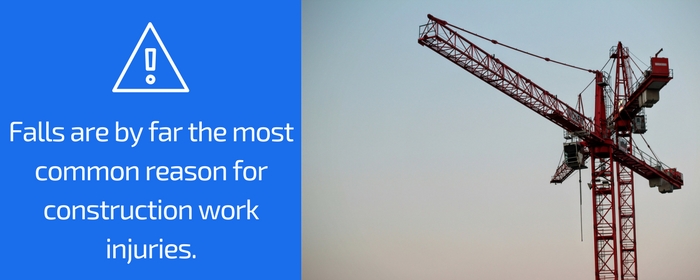 When protection against falls is insufficient or entirely absent at a construction site, the consequences can be catastrophic. Also in 2012, according to OSHA, 78 construction workers in the U.S. died after being struck by an object, typically a tool or a piece of heavy equipment.
Proper training and the proper operation of machinery and equipment could have prevented most of those 78 fatalities.
Electrocution can happen on a construction site when a person, a tool, or a piece of equipment comes into contact with exposed electrical sources or power lines.
Construction site electrocutions most often happen when workers do not know about all of the energized power sources at their location.
And sometimes, workers are so focused on their tasks, they don't realize that they may be in danger of being crushed, squeezed, caught, compressed, or pinched between two or more pieces of equipment or machinery or against a wall or a floor.
WHAT ARE THE OTHER REASONS FOR CONSTRUCTION ACCIDENTS?
Of course, the "Fatal Four" reasons are far from the only reasons why serious accidents happen at construction sites. Ladder and scaffolding accidents are also among the leading causes of construction site accidents and injuries.
Ladder accidents can happen when construction workers use the wrong type of ladder, use a damaged ladder, or set up a ladder unsafely. Ladders may also be manufactured defectively.
And despite rigorous safety regulations, scaffolding accidents also happen far too frequently on construction sites.
Every year, about 4,500 construction workers in the U.S. are injured in scaffolding accidents.
When they are not properly erected, scaffolds can be extremely dangerous. The New York City Department of Buildings recommends that all construction workers on scaffolds use an OSHA-approved safety harness at all times and be tied to an individual lifeline at all times.
Scaffolding should be erected, relocated, changed, and disassembled only by trained construction personnel.
Power tool and machinery accidents can happen on construction sites because of electrical failures, mechanical defects, insufficient training, or a lack of – or failure of – safety equipment.
Construction vehicle accidents can involve graders, backhoes, forklifts, and dump trucks.
Fires, explosions, and trench collapses also cause serious injuries at construction sites. Leaking gasses and partially completed electrical systems frequently cause construction site fires and explosions.
Trenches are often required on construction sites, and if a trench collapses with a construction worker inside, that worker could be injured by falling tools or even be buried alive in the surrounding soil.
Finally, an often-overlooked cause of construction site accidents is the physical condition and health of the construction workers themselves.
Fatigued construction workers and those who are already suffering serious aches and pains – especially in the summer heat – are far more likely to be injured or to cause construction site injuries.
WILL WORKERS' COMPENSATION BE ENOUGH?
Most construction workers in New York who are injured on the job will covered by workers' compensation benefits, but workers' comp may not be able to reimburse fully a construction worker's total medical expenses, lost wages, and the other injury-related damages that are so often the result of a construction site accident.
The families of injured construction workers can very quickly find themselves in risky financial circumstances. A top New York construction accident lawyer can often provide legal assistance to an injured construction worker who requires additional benefits.
A construction site accident can cause considerable hardships for a victim: astronomical medical expenses, weeks or more of lost wages, and considerable pain and suffering.
While a workers' comp claim may help at first, in many cases it won't be enough, and a third-party personal injury claim might be appropriate.
If someone other than the employer shares full or partial responsibility for a construction worker's injury – a sub-contractor, a property owner, or an equipment manufacturer, for example – the injury victim may be able to file a third-party personal injury claim with the help of a New York construction accident lawyer.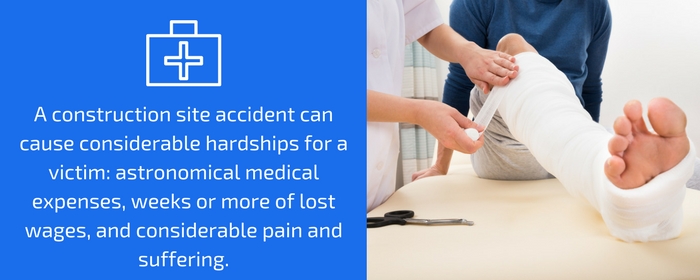 A serious on-the-job injury at a construction site may or may not be catastrophic, permanently disabling, or even fatal, but what's certain is that a construction injury can be quite complicated legally.
More than 180 federal laws regulating activities and accidents on the job are enforced by the U.S. Department of Labor alone – not to mention a multitude of state and local regulations enforced by a variety of government agencies.
That's another reason why you should discuss any construction site injury with an experienced New York construction accident lawyer.
While New York City enforces rigorous safety standards for its construction sites and has a low rate of construction site injuries compared with other major U.S. cities, it's up to employers and construction workers themselves to prevent construction site injuries on a day-to-day basis.
Safety at the construction site is everyone's obligation and responsibility. It begins with proper safety training, the right safety equipment, and a secure, properly maintained work environment.