What Are Your Legal Options For Accidents On New York Construction Work Sites?
Getting severely injured at your job can change your life in an instant, and not in a good way. Anyone can be unexpectedly, accidentally, severely injured, at any job.
Everyone knows that construction work is dangerous work. Construction involves heavy machinery, scaffolding, heights and trenches, and dangerous equipment and tools. What are your rights if you are a construction worker in New York, and you are injured on the job? Can a construction accident law firm help?
WHAT ARE THE BASIC RIGHTS OF CONSTRUCTION WORKERS IN NEW YORK?
Construction workers have the right to a construction site that is reasonably safe and the right to protection from onsite hazards.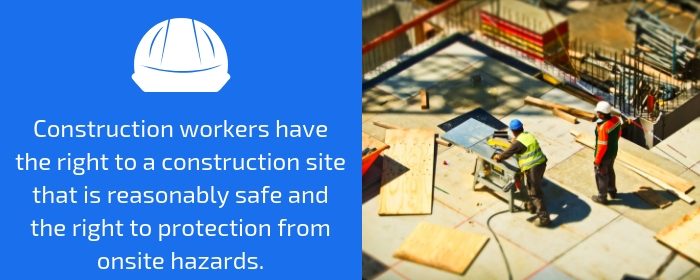 Nevertheless, construction workers are regularly injured by falls and by falling items, machinery, electricity, hazardous chemicals, and worn-out or defective tools or equipment.
Construction-related injuries are often quite serious injuries: traumatic brain injuries, severe spinal cord injuries, contusions, multiple fractures, and injuries that require amputation.
Injured construction workers in New York are legally entitled to compensation for their medical bills and lost wages, but how can a construction worker receive that compensation? And will it be enough if you've suffered a catastrophic injury?
WHO QUALIFIES FOR WORKERS' COMPENSATION BENEFITS?
The state of New York mandates workers' compensation. Every employer must carry workers' compensation insurance. Employees who are injured on the job in construction or any other occupation are, in most cases, eligible to receive workers' compensation payments.
To obtain workers' comp benefits, injured employees are not required to prove that a workplace injury happened because another person was negligent. A construction worker who is injured on the job has only to prove that the injury occurred within the "scope" of his or her job duties.
If you suffer a construction site injury that is covered by workers' compensation insurance, you cannot take any other legal steps against your employer. In return, you do not have to prove anything or take legal action.
WHAT DOES THE WORKERS' COMPENSATION SYSTEM PROVIDE?
If you require more than seven days to recover from a construction-related injury, you may receive temporary disability benefits through workers' comp to replace a portion of your wages.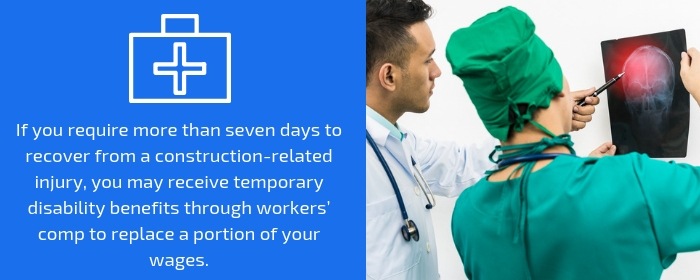 In most cases, workers' comp in New York will pay for an injured construction worker's medical expenses and for two-thirds of that person's average weekly wages (up to a weekly maximum of $904.74 for accidents that take place from July 2018 through June 2019).
The amount of the workers' comp temporary disability benefit payments that an injured worker receives will also hinge upon the disability "rating" or "level" that a doctor assigns to the case.
WHAT IF YOUR WORKERS' COMP CLAIM IS DISPUTED?
If your employer chooses to contest your claim by challenging your version of how you were injured, how seriously you were injured, or what benefits you should receive, you'll need to have an accident attorney with considerable workers' comp experience advocating on your behalf.
An injured construction worker should seek the advice of an experienced New York construction injury attorney if he or she disagrees with a doctor's diagnosis or has a workers' compensation claim that is being disputed, delayed, or denied for any reason.
A construction accident lawyer can help you clear up any misunderstandings, help you obtain a second, independent medical opinion, explain your options, and guide you through each step of the workers' compensation process.
IS WORKERS' COMPENSATION ENOUGH?
Every injured construction worker in New York is entitled to compensation and justice. Workers' compensation does not make anyone rich, but that's the trade-off for receiving the benefits without having to take legal action.
Realistically speaking, because construction-related injuries are so often catastrophic injuries, many construction workers and their families may genuinely need more than workers' comp provides – although it does provide some modest benefits for permanent total disability.
IS WORKERS' COMP AN INJURED CONSTRUCTION WORKER'S ONLY OPTION?
Some construction accidents and injuries are not caused – or are not caused directly – by a construction worker's employer. If a party other than your employer was negligent at your job site, and you were injured because of that negligence, you may have a personal injury claim.
What parties could have liability for an accident on a construction site? It could be a delivery driver, a contractor or subcontractor, a tool or equipment manufacturer, or even an architect or engineer, or in some cases, more than one of these parties.
Will you be able to file a personal injury claim if you are a construction worker in New York, and you're injured because of the negligence of any of these parties?
HOW CAN A CONSTRUCTION ACCIDENT ATTORNEY IN NEW YORK HELP?
Frankly, after any construction site accident that injures a construction worker, that worker should arrange a consultation with an experienced New York construction accident attorney. An accident attorney can review how you were injured and recommend your best path forward.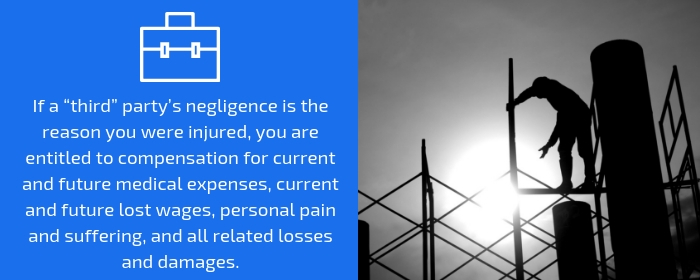 If a "third" party's negligence is the reason you were injured, you are entitled to compensation for current and future medical expenses, current and future lost wages, personal pain and suffering, and all related losses and damages.
HOW ARE "THIRD-PARTY" PERSONAL INJURY CASES RESOLVED?
Usually, these cases are resolved in private negotiations by the attorneys for both sides, so you shouldn't speak directly to a third party's insurance company or attorney. You'll need to refer those inquiries to your accident attorney – and let your attorney do the talking on your behalf.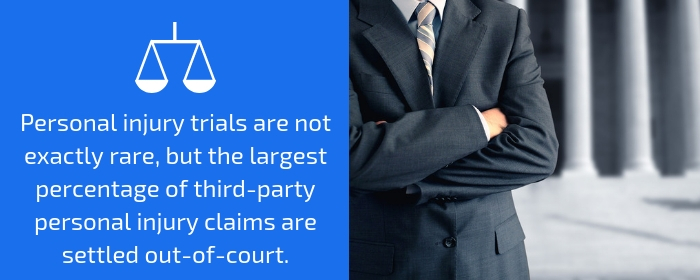 Personal injury trials are not exactly rare, but the largest percentage of third-party personal injury claims are settled out-of-court. Most injured construction workers won't have to appear in a courtroom to obtain justice.
However, if no agreement can be reached through out-of-court negotiations, your accident lawyer may recommend taking your case to trial and asking a jury to order the payment of the compensation you need.
HOW SOON SHOULD YOU SPEAK TO CONSTRUCTION INJURY LAW FIRM?
It's some of the hardest work there is, but all of us benefit from the efforts – and frankly, from the courage – of New York's construction workers. They deserve our appreciation, and when they are injured on the job, they deserve justice.
If you are a construction worker and you are injured at work in New York, as soon as you've received medical treatment, speak to a good construction accident lawyer about your rights and options, and do it at once. Your future could depend on it.