Ladder Hazards On NYC Construction Sites
Ladders are common and absolutely necessary at construction sites, yet despite their frequent use and familiarity, ladders can pose serious dangers.
If you work in the construction industry, or if you work anywhere ladders are used in New York, you need to know your risks and more about your legal rights if injured.
In New York, falling from a ladder is one of the most frequently-reported work-related accidents. Ladders also fall on workers – less frequently, but often with serious consequences. This is where an NYC ladder injury attorney comes in.
HOW DO LADDER ACCIDENTS HAPPEN?
Ladder accidents can happen when a worker uses the wrong ladder for the job, uses a defective or a damaged ladder, or erects and secures a ladder unsafely or improperly. Some ladders are manufactured defectively.
Employers must ensure that every ladder they provide is in good working condition and is the right ladder for the job. For safety's sake, ladders must be replaced as necessary.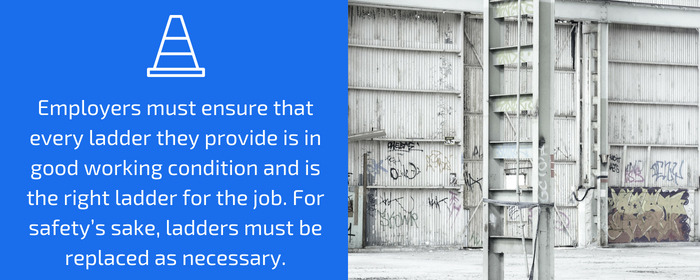 Any failure to adhere to these simple and basic guidelines can lead to serious accidents and to catastrophic on-the-job injuries or even fatalities.
If you are injured on the job because you fell off a ladder – or because a ladder fell on you – discuss the accident and your personal injury or injuries immediately with an experienced New York construction accident attorney. A first consultation won't cost you anything.
WHO IS RESPONSIBLE FOR ON-THE-JOB LADDER SAFETY?
Everyone on the job site is responsible for ladder safety. When management and employees work as a team, most preventable injuries can in fact be prevented.
1. For employees: Workers are responsible for their own conduct and behavior when they use ladders, so it is imperative to follow standard safety practices. Report any malfunctioning ladder or any related safety issue at once to your employer.
2. For employers: Appropriate safety training for all employees is imperative, and in some cases and jurisdictions, required by law. Employers must ensure that every ladder is in proper working order and is the right ladder for the job.
Ladders must be designed to handle whatever load a worker might be carrying. A ladder that cannot be firmly and properly secured should be replaced immediately.
WHAT KINDS OF ON-THE-JOB ACCIDENTS HAPPEN WITH LADDERS?
Work-related ladder accidents can be categorized in three ways:
1. Falls off ladders: As a rule of thumb, the higher someone is when falling off a ladder, the more serious the injury.
2. Collapsing ladder accidents: If a ladder is damaged or defective, improperly secured, or not designed for the load it is supporting, the ladder can collapse and potentially injure multiple victims.
3. Falling object accidents: Too frequently, falling objects from a ladder – hammers, drills, buckets of paint, and even cell phones – become a dangerous hazard to those underneath. To reduce accidental injuries, everything used on a ladder at a job site must be secured.
WHAT KINDS OF INJURIES HAPPEN IN LADDER ACCIDENTS?
The injuries that are commonly sustained in ladder accidents include but are not limited to:
1. Brain injuries: Any blow or jolt to the head may result in a brain injury that can change someone's life permanently. Brain injuries that are not fatal may require life-long medical treatment and care.
2. Spinal cord, back, and neck injuries: These injuries can be mild, moderate, or catastrophic. Permanent paralysis is one possible consequence.
3. Injuries to internal organs: A fall off a ladder or a ladder collapse can cause a lung to be punctured or a spleen to be ruptured. Immediate, emergency treatment is imperative in such cases.
4. Ladder accidents can also cause multiple broken bones, lacerations, sprains, and scarring.
CAN SERIOUS LADDER ACCIDENTS BE PREVENTED?
Safety protection on ladders, for most tasks at most construction sites, will include harnesses and ropes. Tall ladders should use cages or some other proven protection against serious injury.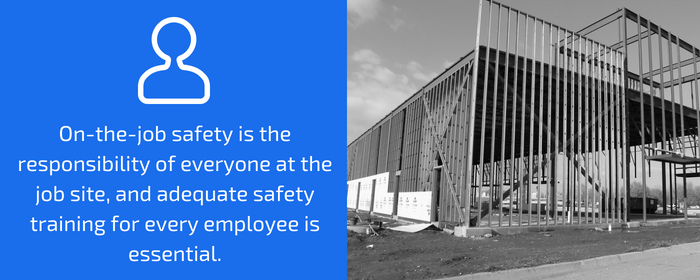 On-the-job safety is the responsibility of everyone at the job site, and adequate safety training for every employee is essential.
When ladders are combined with scaffolding or with other construction equipment, it is absolutely imperative to take extra safety precautions.
If you are injured at a construction site or at any other job site in New York while using a ladder – or because of a ladder – discuss your rights and options immediately with a New York City personal injury attorney.
WHAT BENEFITS CAN INJURED WORKERS RECEIVE?
In some cases, workers' compensation will be the only recourse for those injured on the job, but in many cases – particularly those arising from ladder-related accidents – an injury victim may have a strong third-party injury claim and may be entitled to additional compensation.
Workers' compensation provides benefits to injured workers in New York. In most cases, merely being injured at work will qualify an employee to receive workers' comp benefits. You don't have to prove that your employer was negligent or take any legal action.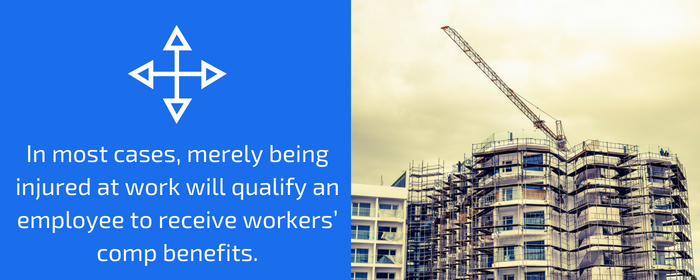 However, workers' compensation will not sufficiently compensate you for the expenses that will arise with catastrophic injuries such as permanent brain or spinal cord injuries, injuries that require amputation, and other permanent and/or disabling injuries.
Steep medical bills for such injuries pile up quickly, but an experienced personal injury lawyer may be able to help.
WHAT ARE "THIRD-PARTY" PERSONAL INJURY CASES?
If anyone other than an employee's own employer has any role in an employee's injury, that party could become a defendant in a "third-party" personal injury case.
In ladder accidents, if a ladder was supplied by anyone other than the injury victim's employer – an equipment rental business, for example – that business might have liability. If a ladder accident happens because a ladder was defectively made, the manufacturer may have liability.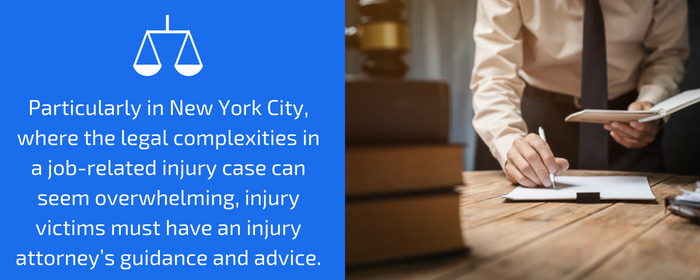 Particularly in New York City, where the legal complexities in a job-related injury case can seem overwhelming, injury victims must have an injury attorney's guidance and advice.
Especially when a severe injury requires multiple surgeries and ongoing treatment and rehabilitation, an experienced New York construction accident attorney can frequently help injury victims and their loved ones obtain the compensation they need.
If you work routinely with ladders, it can become too easy over time to take safety for granted. Don't. But if you're injured using a ladder at work, put your health first.
Most accident attorneys offer a free initial consultation, so it costs nothing to learn more about your options and rights. Get medical attention immediately after an on-the-job accident, and then get the legal advice you need.