How To File A Construction Injury Claim In New York City
Thousands are employed at New York construction sites. It's dangerous work. If you need to file a construction injury claim in this state, our construction accident attorneys in New York will offer you some tips.
Despite all of the laws, regulations, safety programs, and inspections, construction injuries – and deaths – still happen far too frequently.
Falls constituted 59 percent of the fatalities arising from construction site accidents in New York City in the period from 2011 through 2015.
WHAT ARE THE CAUSES OF CONSTRUCTION SITE ACCIDENTS?
Construction workers are injured by falls and also by falling items, electricity, dangerous machinery, dangerous chemicals, and defective equipment.
If you are injured as a construction worker in New York – or anywhere else – you are entitled to compensation, but how do you obtain that compensation?
Several options are briefly discussed below, but every injury case will be different in the details, so you will need the advice of an experienced New York construction accident attorney.
CAN CONSTRUCTION INJURIES BE PREVENTED?
Most construction accidents and injuries can be prevented. The Occupational Safety & Health Administration (OSHA) requires those who employ construction workers to:
1. keep construction sites free of known hazards
2. provide equipment and tools that are safe and in proper working order
3. educate workers regarding OSHA regulations; post and display those regulations
4. establish a "safety and hazard communication" procedure
5. print a safety training manual and distribute it to all employees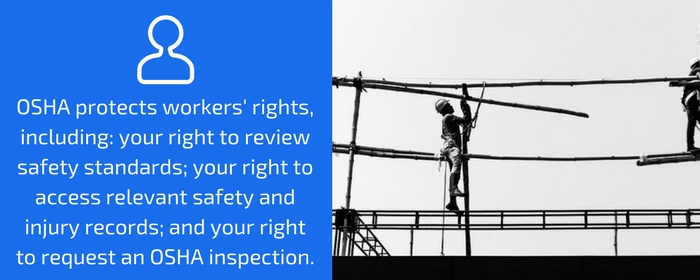 OSHA protects workers' rights, including: your right to review safety standards; your right to access relevant safety and injury records; and your right to request an OSHA inspection.
CONSTRUCTION SITE SAFETY IS EVERYONE'S RESPONSIBILITY
If you work at a construction site that is not in compliance with OSHA safety standards, make a report to your foreman or manager.
If the situation does not improve, or if your safety concerns are ignored or overlooked, you can contact OSHA directly or even go online to the OSHA website to report a safety violation.
HOW DO YOU FILE A CONSTRUCTION INJURY CLAIM?
If you are injured doing construction work, seek medical attention immediately.
After you've been examined by a healthcare professional, draw up a written injury report to submit to your employer, and make an extra copy for yourself.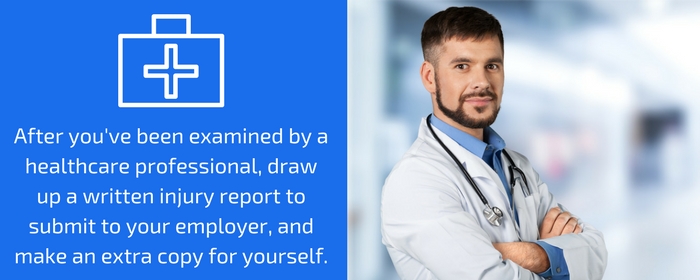 It's also best to consult an experienced accident attorney as soon as possible after you've been examined by a healthcare professional.
The legal ramifications of a construction site injury can be quite complicated, so you will need to know exactly where you stand. You'll need sound legal advice.
WHAT INJURIES ARE COVERED BY WORKERS' COMPENSATION?
In New York, injuries on construction sites are usually covered by the state's workers' compensation system. New York requires every employer to carry workers' comp insurance.
Under workers' compensation, an injured construction worker does not have to prove that the injury was caused by someone else's negligence.
An injured construction worker only has to prove that an injury happened within the scope of that worker's job duties. That's all that is required to obtain workers' compensation benefits.
If your injury at a construction site is covered by workers' comp, you may not be allowed to take additional legal action – that is, to file a personal injury claim against your employer.
A construction injury lawyer can explain your options and determine if you qualify for workers' compensation and/or if you qualify to file a personal injury claim.
WHAT DOES WORKERS' COMPENSATION PAY?
Workers' compensation is a legally-mandated insurance system that pays benefits to injured workers without regard to fault or liability. It covers an injured construction worker's:
1. medical treatment
2. temporary disability (partial wage replacement)
3. permanent disability (if needed)
4. vocational retraining (if needed)
Workers' compensation limits the benefits it pays, and it blocks injured construction workers from filing a personal injury claim against an employer or against a co-worker.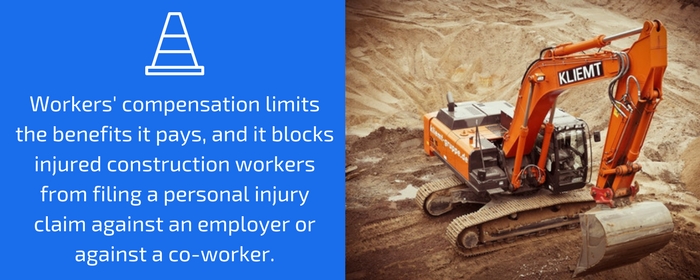 In fact, worker's compensation exists to protect both employers and employees, and it also functions to keep the courts from being flooded by employees suing their employers.
IS WORKER'S COMP AN INJURED CONSTRUCTION WORKER'S ONLY OPTION?
However, unless a third party had responsibility for your construction injury – for example, the manufacturer of defective equipment that injures you – worker's comp may be your only option.
In some cases, that's just not fair. When a construction worker's injuries are catastrophic or permanently disabling, workers' compensation simply is not going to be enough.
Life-long treatment for severe spinal cord injuries, traumatic brain injuries, and other catastrophic medical conditions can cost several million dollars – and sometimes more.
Even if you've sustained a moderate injury, and you'll recover, medical bills can pile up quickly, and if you are not working, you and your family could quickly face financial hardship.
HOW CAN AN ACCIDENT ATTORNEY HELP?
An experienced New York construction accident attorney can review the details of a construction accident and may be able to help an injured worker find another source of compensation.
If your injury was caused by someone who is not your employer or co-worker, or if you were injured by a defective tool or piece of equipment, you may be able to file a personal injury claim.
Who might be a third party in a construction site accident? Other contractors and subcontractors, and in some cases, even the architects and engineers who conceived and designed the project.
Construction in New York is governed by local, state, and federal regulations and statutes. These regulations can overlap and may even sometimes seem to contradict each other.
That's another reason why, if you are injured doing construction, you'll need a lawyer's help.
WHAT DOES IT TAKE TO WIN A THIRD-PARTY PERSONAL INJURY CLAIM?
An injured construction worker will need legal direction from a lawyer who knows construction, knows the law, and knows how to win third-party claims for injured construction workers.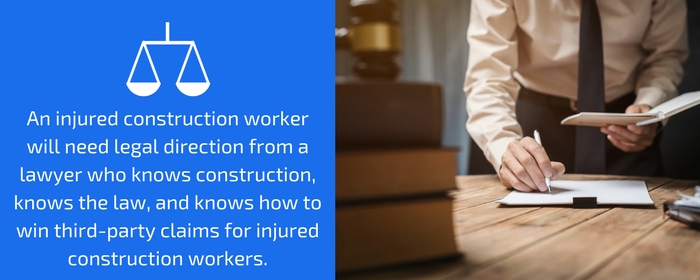 For a third-party, personal injury lawsuit to prevail, the injury victim – called the "plaintiff" – must prove that the party accused of negligence – called the "defendant":
1. had a legal "duty of care" to act reasonably and cautiously
2. failed to act reasonably and cautiously and instead was negligent
3. caused the plaintiff's injury as a result of that negligence
Some injured construction workers will be able to qualify for worker's compensation benefits while simultaneously pursuing a third-party personal injury claim.
WHY YOU MUST ACT AT ONCE
If you are injured doing construction work in New York, you must act at once. You'll have a limited amount of time to take legal action.
Victims of negligence are entitled by law to full compensation in New York, but if you're the one who's injured, you must take the first step, exercise your rights, and obtain the legal help you need.