Can An Expert Witness Can Help With A Construction Accident Lawsuit?
The construction industry here in New York City employs thousands of construction workers. It's a dangerous way to make a living. And as NY construction accident lawyers, we know that if you're injured on a construction site, it may not be easy to obtain the compensation that you'll need for your medical bills and lost wages.
Despite a multitude of state, federal, and local laws, regulations, rules, guidelines, safety programs, and inspections, construction site injuries and fatalities still happen too frequently.
WHAT POTENTIAL DANGERS ARE POSED BY CONSTRUCTION WORK?
Construction sites can be riddled with hazards and defects. Substandard construction materials, defective tools or equipment, or even the negligence of an architect or an engineer could put a construction worker at risk for a serious injury – or worse.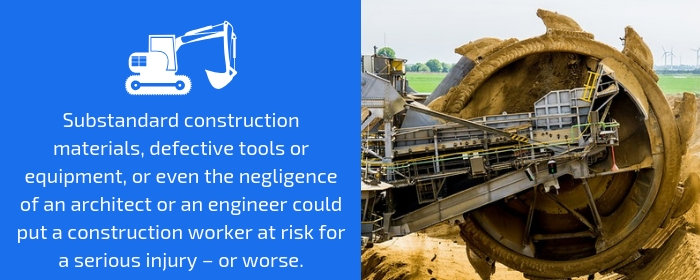 Construction workers in New York are injured by falls, falling items, electricity, dangerous machinery, dangerous chemicals, and dangerous or defective tools and equipment.
Historically, the construction industry in New York has always struggled with the dangers inherent in substandard building materials.
Back in 1988, Congress was told that organized crime had infiltrated the city's construction industry and was predominantly responsible for the use of substandard building materials in New York.
IF YOU ARE INJURED ON A CONSTRUCTION SITE, WHO CAN HELP?
But whether an injury is caused by substandard materials, defective equipment, or some other cause, it may take an expert to connect the dots and determine precisely which party is responsible for the injury.
If you are injured on a construction site in New York, an experienced construction accident attorney can review the details of your accident and injury and may be able to help you obtain the compensation you need for your medical bills and lost wages.
HOW ARE INJURED CONSTRUCTION WORKERS USUALLY COMPENSATED?
Injuries sustained on-the-job by construction workers are typically covered by New York's workers' compensation system. Every employer in the state is required by law to carry workers' compensation insurance.
To acquire workers' comp benefits, an injured worker needs only to prove that the injury occurred within the "course and scope" of the construction worker's employment duties.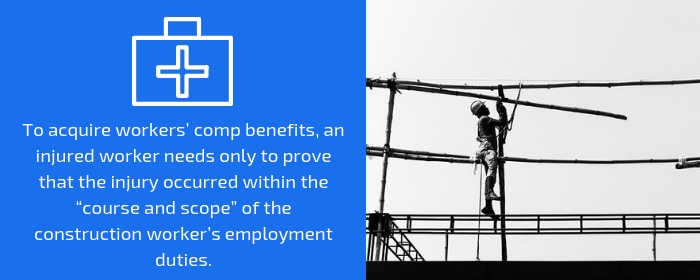 Under workers' comp, an injured employee doesn't have to prove that an injury was caused by another person's negligence.
However, unless a party other than your employer had liability for your construction site accident, worker's compensation will probably be your only compensation.
WHAT'S THE PROBLEM WITH WORKERS' COMPENSATION?
If your construction injury qualifies you for workers' comp benefits, you will not be permitted to bring a personal injury lawsuit against your employer.
Here's the problem with workers' comp: If you are a construction worker and you are catastrophically injured or permanently disabled in a job-related accident, workers' compensation will not be adequate to meet your needs.
However, if a party other than your employer has any liability for your personal injury or injuries, you should speak at once with a construction accident lawyer here in New York about filing a third-party personal injury claim.
HOW DO "THIRD-PARTY" INJURY CLAIMS WORK?
A construction accident law firm can explain your rights and determine if you qualify to file a third-party personal injury claim.
Who other than an employer might have liability for a construction site accident?
1. other contractors and/or subcontractors
2. equipment, machinery, tool, and/or materials manufacturers
3. engineers and/or architects
4. property owners
If you file a third-party personal injury claim arising from a construction site accident, you may need an expert's help to prove your claim. Especially if your case cannot be settled out-of-court and goes to a jury, an expert's testimony can be invaluable.
HOW CAN AN EXPERT WITNESS HELP?
Experts can give jurors the insights, details, and background knowledge that the average person may not possess regarding construction equipment and machinery, building materials, and the other hazards that may cause an accident on a construction site.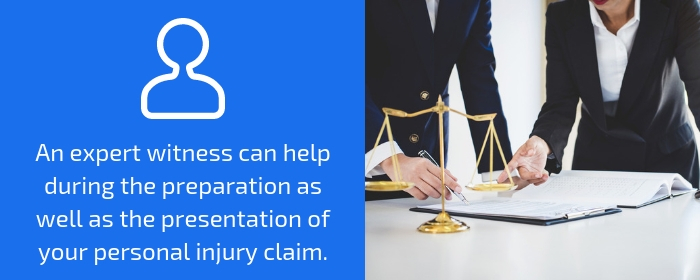 An expert witness can help during the preparation as well as the presentation of your personal injury claim. In the private negotiations prior to a trial – where most personal injury cases are settled – an expert may be able to help the parties reach a mutually acceptable settlement.
Accident attorneys routinely solicit professionals for expert testimony in construction accident cases: architects, civil engineers, manufacturing experts, medical examiners, and others regularly testify at personal injury trials and depositions.
WHAT MAKES SOMEONE AN EXPERT WITNESS?
While there is no precise legal definition of who is and isn't an "expert," training, experience, education, and specialized knowledge or research experience are usually accepted by the courts as the signs of expertise in a specific field.
Experts witnesses in construction injury cases are distinguished from "lay" witnesses. Lay witnesses have a personal tie to the case and are generally asked to testify about what they have witnessed personally.
The lay witnesses in a personal injury trial might include other workers who were eyewitnesses, paramedics or doctors who treated the victim, and the defendant and victim themselves.
Experts, on the other hand, have no link to the case personally, but their objectivity and expertise means that their testimony can sometimes make all the difference in a personal injury trial.
WHAT DOES IT TAKE TO WIN A PERSONAL INJURY CASE?
Your injury attorney will know if you need an expert's testimony after reviewing the details of your accident and injury.
If you're injured in a construction accident, and you file a third-party lawsuit that goes to trial, winning may hinge on the details you provide and how well those details are explained. An expert witness can clear up confusion and emphasize the facts that are important to your case.
If you're injured on the job while working in construction in New York, you must reach out for legal help immediately. If you qualify to file a third-party personal injury lawsuit, you'll have a limited amount of time to take legal action.
WHAT ARE THE RIGHTS OF INJURED CONSTRUCTION WORKERS?
The injured victims of negligence in this state are entitled to compensation for medical expenses, lost wages, pain, suffering, and all other injury-related damages. But if you are the injury victim, you are the one who must take the first step.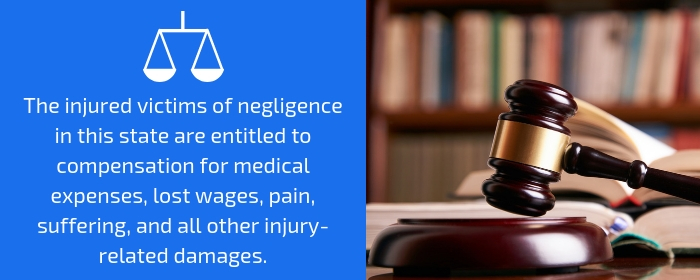 If you are injured doing construction work, speak immediately to a qualified New York City construction accident attorney. Your first consultation won't cost you anything.
If you've been injured on a construction site because of negligence, get the justice you deserve. That is your right.