Electrical Injuries On Construction Sites
If you've worked in construction for any length of time, you already know about the danger that electricity poses to construction workers.
What are the statistics on construction-related electrical injuries and deaths? What is the risk to construction workers in New York?
If a construction worker is injured by electricity, can that worker be compensated? Keep reading, and you'll learn some of those answers.
According to New York construction accident lawyer Michael S. Lamonsoff, "Electrocution is one of the leading causes of death in the construction industry. From 1992 to 2010, a total of 2,432 construction workers were killed from electrocution injuries at job sites.
The risk of electrocution is high not only for electrical workers, but also among non-electrical construction workers such as helpers, ironworkers, roofers, HVAC workers, and elevator mechanics."
HOW DO ELECTROCUTIONS HAPPEN ON CONSTRUCTION SITES?
Electrocution can happen on a construction site when someone has indirect or direct contact with live electrical wiring or equipment that may include light fixtures, junction boxes, control panels, circuit breakers, and transformers.
Other causes of electrocution for construction workers include contact with overhead power lines and defective electrical equipment such as power tools, portable lights, and extension cords.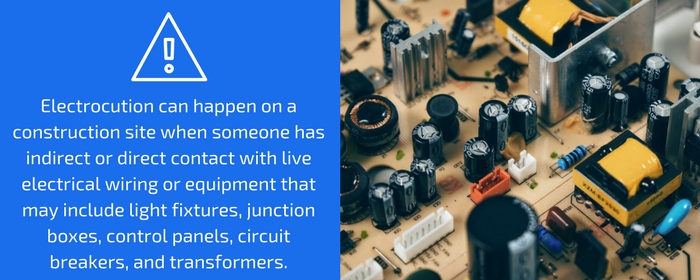 Electrocution fatalities on construction sites also happen when metal objects become electrified by contact with live electrical wiring or overhead power lines.
Standing in accumulated water – or letting lights or extension cords contact standing water – is also a contributing factor in a number of construction site electrocutions.
WHAT CAN BE DONE TO PREVENT CONSTRUCTION SITE ELECTROCUTIONS?
The Center for Construction Research and Training offers the following safety suggestions for contractors, electrical workers, and all other construction workers.
Contractors should ensure that all employees are provided with electrical safety training, ensure compliance with all OSHA electrical safety regulations, and contact utility companies in advance to confirm that overhead power lines are de-energized or insulated.
Electrical workers should always de-energize and tag out or lock out any electrical circuits or parts you are working on or near, always wear the proper personal safety equipment, and always use the proper tools when de-energizing or testing live electrical circuits or parts or otherwise working with live electricity.
All other workers at construction sites should:
– Ensure that you are trained in electrical safety.
– Ensure that power tools and machinery are properly grounded or double-insulated.
– Inspect all power and extension cords before using.
– Unplug machinery and power tools before repairing or inspecting.
– Keep all metal objects away from all live electrical parts and circuits.
– Stay at least ten feet from live overhead power lines, and at least an additional four inches for every 10,000 volts over 50,000 volts.
Electrical safety experts now recommend that construction workers should use ground fault circuit interrupters every time they are using a cord-and-plug tool while doing construction or maintenance work.
The ground fault circuit interrupter or GFCI trips the circuit at a low current threshold and is easily the best protection available to construction workers to defend against shock hazard.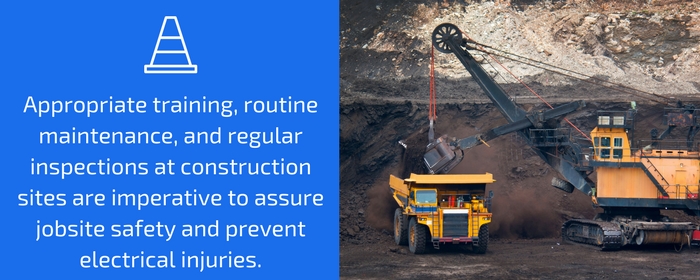 Most construction-related electrocution deaths are avoidable if circuits and equipment are properly locked out or de-energized before the work begins.
Appropriate training, routine maintenance, and regular inspections at construction sites are imperative to assure jobsite safety and prevent electrical injuries.
WHAT ARE THE RIGHTS OF ELECTRICAL INJURY VICTIMS?
In the state of New York, if you lose a family member to electrocution at a construction site, you may have grounds to bring a wrongful death lawsuit that, if successful, would compensate your family for the deceased's funeral costs, his or her lost future earning capacity, the loss of consortium, and all other related losses and damages.
In New York City, if a member of your family is the victim of a construction site electrocution, discuss your rights and options at once with an experienced New York construction accident lawyer.
Electrocution is the worst scenario, but OSHA also identifies three other categories of construction-related electrical injuries:
Shock: Only fifty volts is enough to cause muscle spasms, stop the heartbeat, and temporarily halt someone's breathing. The serious injury risk rises with higher voltages.
Burns: Electrical current burns tissue as it courses through the body.
Falls: The loss of muscle control due to electric shock may cause workers to fall from platforms and scaffolds.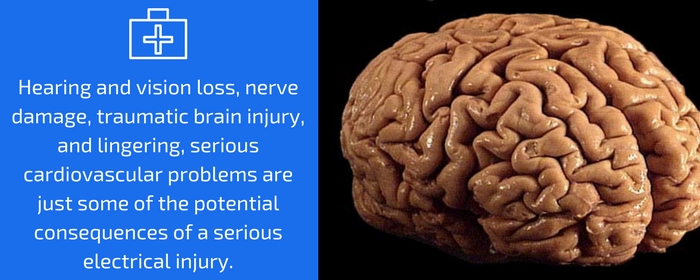 Construction workers who experience electrical shock or sustain electrical burns may never completely recuperate.
Hearing and vision loss, nerve damage, traumatic brain injury, and lingering, serious cardiovascular problems are just some of the potential consequences of a serious electrical injury.
The severity of construction site electrical injuries is determined the current's voltage, the length of time that the worker is exposed to the current, the presence and amount of conductive moisture in the environment or on the body, and the worker's health and medical condition at the time of the incident.
WHAT RECOURSE DO INJURED NEW YORK CONSTRUCTION WORKERS HAVE?
What recourse does an injured New York construction worker have? Every employer in New York is obligated by law to have workers' compensation insurance.
Workers' comp claims usually pay medical expenses and partial lost wages while a worker recovers from injury.
In some cases, however, an injured New York construction worker may file a personal injury claim apart from the worker's comp system.
Typically, a number of vendors and subcontractors are on a construction site, and even persons not at the site may have liability in an accident – engineers, architects, and equipment manufacturers.
If a worker is injured on a construction site due to the negligence of a party who is not that worker's employer, the worker may have a personal injury claim against that party or that party's employer.
In the state of New York, for a personal injury lawsuit to succeed, a "plaintiff" (the injury victim) must prove that another party – the "defendant" – had a duty to behave in a safe and reasonable manner, failed to behave in that manner, instead was negligent, and as a result of the negligence, the plaintiff sustained injury.
WHO IS RESPONSIBLE FOR CONSTRUCTION SITE SAFETY?
Safety at a construction site is the responsibility of every person on the site. If your employer violates federal, state, or local safety regulations, file a formal complaint with a foreman, a manager, or a supervisor.
If that doesn't resolve the matter, contact the New York City Department of Buildings or speak to a personal injury attorney who has experience dealing with the construction industry.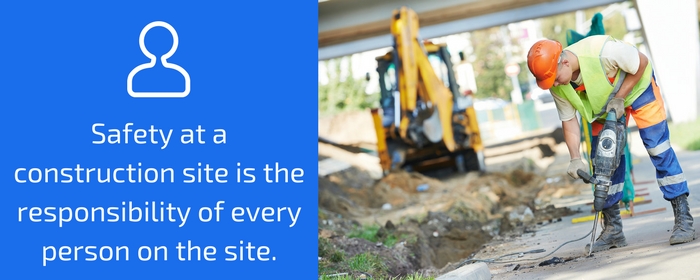 Finally, if you lose a loved one in a construction accident in New York, or if you are seriously injured doing construction work, discuss your rights and options with an experienced New York construction accident lawyer.
If you've lost a loved one, you may be able to obtain compensation through a wrongful death lawsuit.
Many injured construction workers will also qualify to file a personal injury lawsuit and receive complete compensation for their injuries, lost wages, pain and suffering, and all related damages.
If you are injured on the job in New York, obtain a lawyer's advice and insights right away. It's your right.