Dangers Of Trench And Excavation Operations In NYC
Construction work is dangerous work. More construction workers are injured on the job in the United States than workers in any other employment field.
Construction workers fall from ladders and scaffolds. They often deal with live electricity. Tools and machinery can also cause injuries. But at a construction site, trench and excavation work is probably the most dangerous kind of construction work.
As a NYC construction worker, what are the risks? What is your recourse if you are injured doing trench and excavation work?Can a NYC construction accident lawyer help? And if you become involved in an accident and are injured while working in the trench and are unable to work, how can you protect your rights and benefits that can help support your family?
THE STATISTICS TELL US ABOUT THE REAL DANGER TO TRENCH AND EXCAVATION WORK
When you are working in trenches and excavations, the risk of becoming severely injured or even dying on the job is much higher than other construction work. OSHA (U.S. Occupational Safety and Health Administration) reports that a construction worker engaged in trenching and excavation work is more than twice as likely to die or to be severely injured on the job as other construction workers.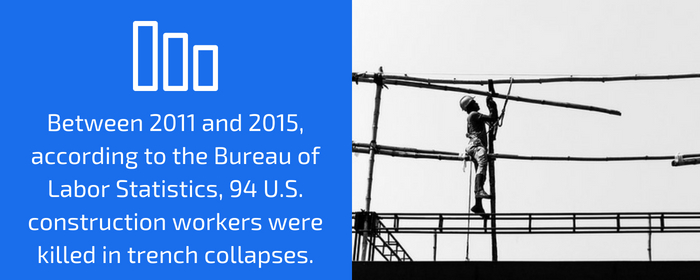 Between 2011 and 2015, according to the Bureau of Labor Statistics, 94 U.S. construction workers were killed in trench collapses. In 2016 alone, the death toll was 23.
This is only the number of reported deaths. Hundreds of other workers have and are likely to suffer severe and catastrophic injuries in trench and excavation accidents at construction sites.
WHY ARE TRENCHES AT CONSTRUCTION SITES SO DANGEROUS?
Trenches are frequently necessary at construction sites, and when a trench collapse happens with a construction worker in the trench, that worker can be injured by falling tools or by falling equipment – or even buried alive.
A cubic yard of soil can weigh more than a car – about three thousand pounds. The massive weight can cause trench collapses and cave-ins, flooding and drownings – all of which have happened.
ARE INJURED CONSTRUCTION WORKERS ENTITLED TO ANY BENEFITS?
In most cases, however, the construction workers who are injured doing trench and excavation work in New York will qualify to receive workers' compensation benefits.
Typically, workers' comp will cover an injured worker's medical bills and will partially replace a worker's lost wages, but it is not always the only option that injured construction workers have – especially when they are severely injured and need serious and/or lengthy medical treatment.
The injuries that construction workers sustain in trench collapses include traumatic brain injuries, severe spinal cord injuries, bone fractures, nerve damage, internal injuries, and injuries that require amputation.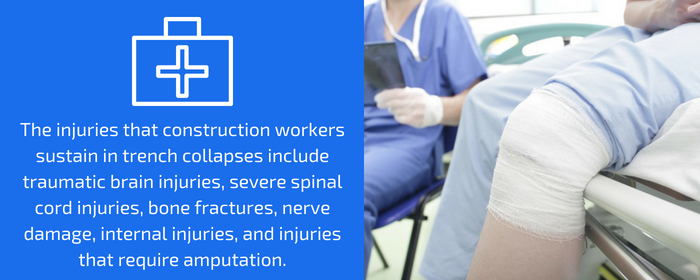 And when a construction worker is catastrophically injured – or permanently disabled – workers' compensation simply isn't going to be enough for a worker's family and their long-term needs.
HOW CAN A CONSTRUCTION INJURY ATTORNEY HELP?
If you are injured doing any kind of construction work in or near New York City, it is imperative for you to speak at once with an experienced construction accident attorney who has litigated and won cases involving construction accidents and injuries in New York.
This is especially true if you have been injured while performing trenching and excavation work, because you may be able to file a third-party personal injury lawsuit. If so, your attorney can fight for the full amount of compensation you need and deserve.
If you lose a loved one in a trench collapse or in any other type of construction accident, speak as soon as you can with an accident attorney about your family's rights under New York's wrongful death laws.
Trench collapses happen fast and are almost always devastating. Workers may have no time to move to safety. Yet, the hazards of trench and excavation work are almost entirely preventable.
WHEN ARE TRENCH PROTECTIVE SYSTEMS REQUIRED?
The first rule of thumb for working on trenches: never enter a trench that is unprotected.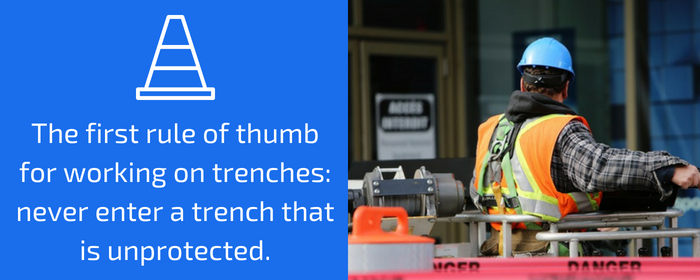 Trenches five feet deep or greater require protection unless the excavation is entirely in stable rock. Trenches that are twenty feet deep or greater must have a protective system designed or approved by a registered professional field engineer.
Designing the right protective system can be complicated because of what must be taken into account, including soil classification and water content, the depth of the cut, and other construction operations nearby.
HOW DO BASIC TRENCH PROTECTION SYSTEMS WORK?
What are the three basic kinds of trench protection systems, and how do they work?
1. Sloping means cutting the trench wall at an angle away from the excavation.
2. Shoring means installing supports to halt soil movement and prevent cave-ins.
3. Shielding means using trench boxes, steel or aluminum structures that protect workers from cave-ins.
HOW CAN CONSTRUCTION WORKERS PROTECT THEMSELVES?
As a responsible construction worker, be sure to learn how you can protect yourself on the job. Here are OSHA's recommendations for keeping construction workers safe when they are performing trenching and excavation work:
1. Trenches must be inspected before every shift and after every rain.
2. Heavy equipment must be kept away from any trench edges.
3. Surcharge loads must be kept two feet or more from trench edges.
4. Never work under raised loads.
5. Know where the underground utilities are.
6. Trenches must be tested routinely for toxic gas, fumes, and low oxygen.
WHO IS RESPONSIBLE FOR CONSTRUCTION SITE SAFETY?
Contractors and all other construction industry employers have the duty to ensure that trenches and excavation sites are properly designed, compliant with regulations, and equipped with effective protection systems.
If you are a construction worker involved in trenching and excavation work, and if you believe that something may be wrong with a trench, take no chances. Tell your foreman or supervisor at once.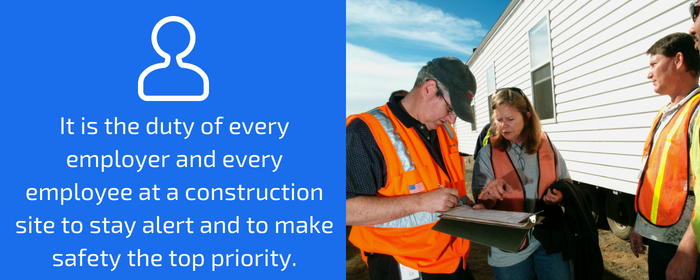 It is the duty of every employer and every employee at a construction site to stay alert and to make safety the top priority.
WHY WILL AN INJURED CONSTRUCTION WORKER NEED LEGAL HELP?
A third-party personal injury case arising from a trench collapse can get complicated quickly. Construction work in this state is governed by hundreds of overlapping federal, state, and local guidelines and regulations.
In New York City, an injured construction worker will need legal representation by a lawyer who knows the construction industry and routinely fights on behalf of injured construction workers.
If you've been injured doing construction work, you may be entitled to more than worker's compensation benefits, and you are going to need an experienced construction injury lawyer's advice.
Get that advice immediately after you've been injured. It's your health, your future – and it's your right.