Construction Workers Exposed to COVID-19 on the Job
Construction workers in New York City are facing COVID-19 exposure, as stated in an article in the New York Times. While most of the city remains indoors pursuant to the Governor's executive order, construction, which is deemed an essential industry, is still going full steam ahead. Men and women who are working side-by-side, sharing portable toilets, and crowding into service elevators are facing a high risk of coronavirus exposure.
Why the High Risk of Exposure for Construction Workers?
While others have stayed at home during the pandemic, construction workers have continued reporting to work and performing the duties for which they were hired. Even under normal circumstances, a construction site is not a sanitary place to work. Running water is not usually available for handwashing.
Construction workers share portable toilets, often with no soap or sanitizer. They also share tools and work in close proximity to each other. Although some construction workers wear masks, others may not be equipped with a mask, due to short supply.
Another risk factor in construction is the constantly changing workforce. Subcontractors and workers come and go, from one job site to the next. This increases the number of people coming into contact with each other, thereby greatly increasing the risk of exposure to the virus.
How Bad Is Coronavirus Exposure for NYC Construction Workers?
According to the New York Times article, construction laborers walked off the jobsite when work on the Hard Rock Hotel in Manhattan continued, even after several workers had tested positive for the virus. Workers doing construction on an apartment building in Brooklyn, who were using the same masks every day, were ordered back to work even after a coworker contracted COVID-19. Construction workers building a luxury condominium tower on the Upper East Side have been required to continue working in a confined environment without the necessary sanitation and safety protocols in place.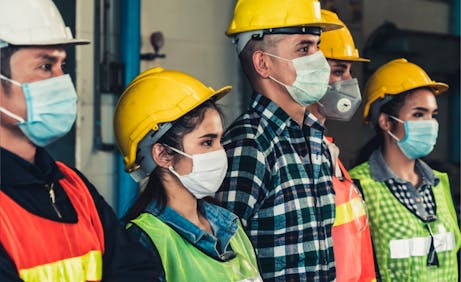 Some Construction Worksites in New York Are Taking Precautions
The New York Times reports that Facebook planned to halt construction on an office renovation that was in progress when a worker tested positive for COVID-19. The infected worker would have to be cleared by a doctor before being allowed back to work.
Construction managers at the Legoland New York Resort in Goshen have stated they are taking extra precautions to protect their workers. This includes eliminating shared lunch areas, encouraging physical distancing among workers, and splitting into two shifts, with an hour for disinfection between shifts. The plan also includes taking workers' temperatures before allowing them onto the jobsite.
What Are Your Legal Options After COVID-19 Exposure in Construction Work?
If you have or your loved one has contracted the virus as a worker on a construction site, your best course of action is to speak with a lawyer as soon as possible. Our experienced construction accident attorneys in New York at The Law Offices of Michael S. Lamonsoff, PLLC continue to serve our clients remotely until we can return to our offices. We can advise you of your options under the law in a telephone or virtual consultation.