New Ruling States New York City Can Be Held Liable For Accidents On Poorly Designed Streets
In December 2016, the New York State Court of Appeals, this state's highest court, determined that municipalities including New York City can be held liable for traffic accidents and injuries stemming from their failure to improve streets with a history of frequent traffic accidents and injuries.
The story behind the court's ruling begins with a traffic crash that took place back in 2004, when Louis Pascarella struck 12-year-old Anthony Turturro as he rode a bike on Gerritsen Avenue in Brooklyn. Pascarella pled guilty to assault. Anthony Turturro was put in a coma. As an adult today, Turturro suffers from diminished mental capacity and motor function.
A civil trial jury awarded Turturro and his team of motor vehicle attorneys $20 million, finding the city 40 percent responsible for the crash. The city appealed, and the case made its way to the New York State Court of Appeals, which last month upheld the trial jury's findings with a 6-to-1 decision in favor of Turturro.
At the original trial, the Turturro family's attorneys demonstrated that in the years before the crash, residents routinely asked city officials to find a way to calm traffic on Gerritsen. The Court of Appeals determined that the city was partly liable because officials were repeatedly warned by Brooklyn residents about drivers speeding on Gerritsen – but didn't bother to make any changes.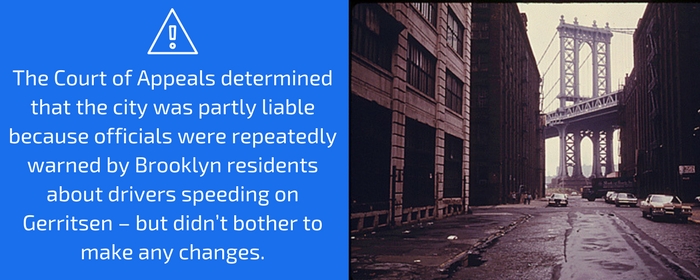 The plaintiff contended that despite years of numerous complaints, the Department of Transportation (DOT) didn't do enough to remediate the underlying conditions that led to Turturro – and others – being injured.
Although the DOT conducted some traffic studies along Gerritsen in the years after the Turturro accident, court records show that speeding along the wide-open avenue was never studied, and that the city declined to follow up on the speeding issue.
Here's a key excerpt from the decision written by Justice Eugene Fahey:
"Plaintiffs' expert testified that it was known among traffic engineers that straight, wide roads with little interference from pedestrians and other vehicles, such as Gerritsen Avenue, encourage speeding because drivers feel more comfortable on roadways with those characteristics. He testified that traffic calming measures deter speeding because they cause drivers to be more cautious, and that such measures are known to reduce the overall speed on roadways."
HOW DANGEROUS HAS GERRITSEN AVENUE BEEN?
Traffic crashes have killed four people on Gerritsen Avenue since 2007, including a driver in 2015 who crashed through a gate and a retaining wall, landing in a creek. In July 2016, a drunk driver killed a 17-year-old bicyclist close to the location of the collision that injured Turturro. The Department of Transportation responded with a plan for a two-way protected bike lane and concrete pedestrian islands. In the fall of 2016. the city began installing pedestrian islands and a protected bike lane along Gerritsen.
Speaking for Transportation Alternatives, a group that promotes bicycling, walking, and public transit, Paul Steely White said the ruling should prompt officials to "make a greater investment in street safety redesigns" in the next city budget. White believes, "This ruling from New York's highest court puts an end to the notion that traffic safety improvements should be subject to debate and contingent on unanimous local opinion."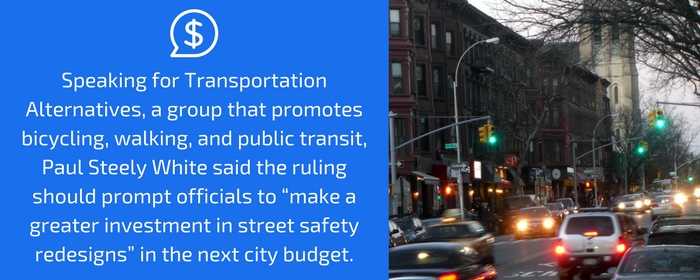 The legal team at the Law Offices of New York City personal injury attorney Michael S. Lamonsoff issued this statement: "New York City is one of the busiest cities in terms of pedestrian and bicycle traffic. Any ruling that would seek to strengthen protections for pedestrians and bicyclists is something we embrace. The public at large only stands to benefit from added responsibility from the city."
WILL THE COURT RULING IMPACT THE CITY'S "VISION ZERO" PLAN?
Apparently, however, the Court of Appeals decision will have no effect on Mayor de Blasio's "Vision Zero" plan to make New York City's streets safer. "The City is firmly committed to Vision Zero investments in street redesigns and enforcement that save lives," said de Blasio spokesperson Austin Finan.
"No legal decision will change that." Vision Zero, an approach that was first developed in Sweden, is based on the notion that zero deaths and injuries should be the ultimate goal of traffic safety efforts.
A street's design, as well as temporary situations like road construction, can be responsible for traffic accidents that cause severe injuries. Conditions that may be caused by a state or local government agency's negligence may include poor visibility, inefficient or insufficient storm drainage, misleading or inadequate road signs, and potholes or other physical damage to the road itself.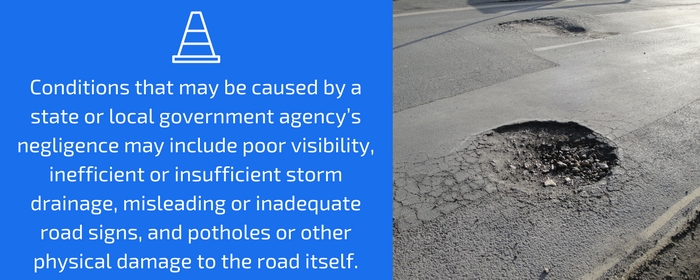 As taxpayers, we assume that roads and highways will be safely designed and adequately maintained. Every party responsible for the design, construction, and maintenance of a street has an obligation to ensure that the street will be safe under normal driving conditions. Unfortunately, governments and contractors sometimes cut corners and make miscalculations regarding road construction.
Water and oil, narrow bridges, blind curves, improper road grading, shoulder drop-offs, and other hazards can cause tragic accidents and catastrophic injuries. It usually takes a tragedy, or several, before hazardous streets are repaired or redesigned. Research conducted in 2009 speculates that across the United States, poor road conditions may be a factor in as many as half of all traffic accidents.
HOW IS LIABILITY FOR ACCIDENTS DETERMINED?
In some accidents on roads with poor conditions, a motorist may be partially liable for his or her own injuries. Motorists should always be alert to potholes, puddles, and other hazards. However, those who are responsible to keep roadways safe may also be at least partially liable for traffic accidents on those roadways.
State, county, and city governments, transportation departments, construction companies, engineering firms, and other contractors and subcontractors may be scrutinized for liability after an accident with injuries.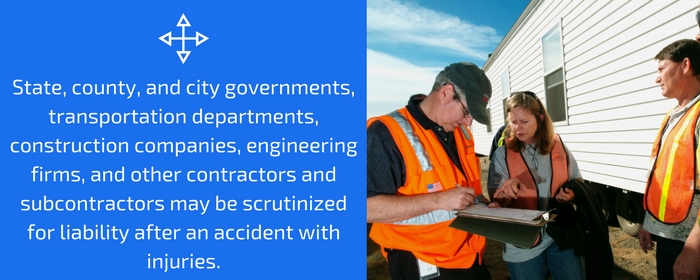 Even if another vehicle crashes into yours, road conditions may be the underlying cause of the collision. When potholes are left unfilled, a curve is improperly graded, or stop signs are obscured, the department or agency responsible may be held accountable when an injury occurs as the result of that department's or agency's negligence. However, only an experienced personal injury lawyer will be familiar with the filing requirements and deadlines for suing a New York government agency or contractor.
Anyone who is injured in New York City or anywhere in the state of New York because of poor road conditions should speak with an experienced New York City personal injury attorney who can assess the conditions that led to the accident and identify the responsible party. Victims injured by negligence are entitled to complete compensation for their medical treatment and related expenses from the party that is genuinely responsible for the accident and injuries.