What Is A Bifurcated Trial And How Can It Affect Your Construction Accident Case?
Millions of people across the United States go to work five or more days a week at over a quarter of a million construction sites.
These laborers routinely work near excavations, scaffolding, exposed electrical wiring, and a variety of other construction-related dangers.
On scaffolding alone, every year about 4,500 construction workers are injured in the United States.
Electrocution, falling, being crushed by equipment, and being buried alive are just some of the risks that millions of construction workers face every day. This is where a New York construction accident law firm can help.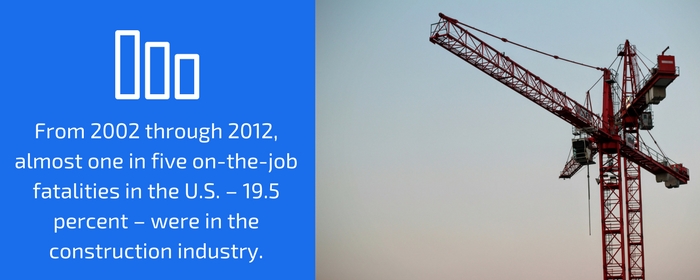 How hazardous is construction? From 2002 through 2012, almost one in five on-the-job fatalities in the U.S. – 19.5 percent – were in the construction industry.
Over just the last three years, the unprecedented expansion of New York City's skyline has resulted in a rising number of construction-related injuries and fatalities, according to a recent report from the New York Committee for Occupational Safety & Health (NYCOSH).
The annual report clearly demonstrates that construction work in New York City has grown increasingly dangerous in recent years.
Insufficient safety practices, poor training, dangerous construction site conditions, and outdated or flawed safety equipment are just some of the reasons that construction-related accidents and fatalities are on the rise in both the city and state of New York.
DOESN'T WORKERS' COMPENSATION COVER CONSTRUCTION INJURIES?
If you are a construction worker in New York and you are injured on the job, you are probably covered by workers' compensation, but if your injury is serious, long-term, or permanently disabling, you're going to need more than the workers' compensation system will provide.
When a party other than the employer is liable for injuries, an injured construction worker may pursue a third-party personal injury claim.
Third parties who might have liability for a construction-related injury could conceivably include the manufacturers of defective safety equipment, negligent equipment operators, negligent contractors or property owners, or others.
While a construction injury can be severe or even permanently disabling, it's also going to be legally complicated.
Construction in New York is regulated by an often-confusing combination of federal and state laws, county and municipal regulations and ordinances, and a long list of OSHA (Occupational Safety and Health Administration) requirements.
The U.S. Department of Labor also enforces over 180 regulations governing construction site safety requirements, activities, and accidents.
If you're injured doing construction in New York, you are very quickly going to need the advice and services of a top personal injury attorney.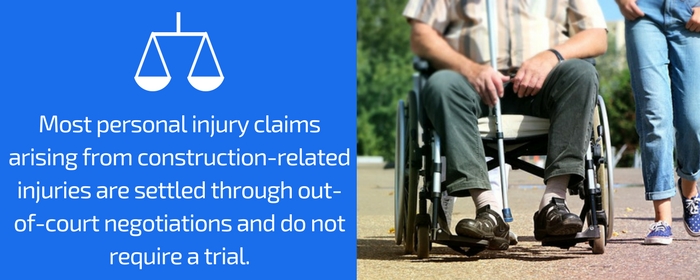 Most personal injury claims arising from construction-related injuries are settled through out-of-court negotiations and do not require a trial.
That's why, when a construction worker is injured anywhere in the five boroughs, it's important to work with a New York construction accident lawyer who is not only an experienced litigator but also a skilled negotiator.
In the rare event that a construction worker's personal injury claim cannot be resolved through negotiations outside of the courtroom, the claim may or may not turn into what the law calls a "bifurcated" trial.
That will depend on the county in New York where the lawsuit is filed.
WHAT ARE THE TWO TYPES OF PERSONAL INJURY TRIALS IN NEW YORK?
Personal injury trials in the state of New York are conducted in one of two ways. In some New York counties, a "unified" personal injury trial determines all of the issues in the case in one continuous proceeding. Liability and damages are decided by the same jury at the same time. However, in other New York counties, a personal injury trial will be a "bifurcated" trial that is conducted in two separate and distinct phases.
"Bifurcation" simply means "the division of something into two branches or parts."
In a bifurcated personal injury trial, the first phase is the liability phase.
In this phase, a jury simply decides if the defendant is liable and should be accountable for the plaintiff's damages.
Because this single question is all that the jury will consider, jurors hear no details about the plaintiff's injuries or damages in the liability phase.
That way, the jury cannot be unduly influenced by the severity or extent of the plaintiff's alleged injuries.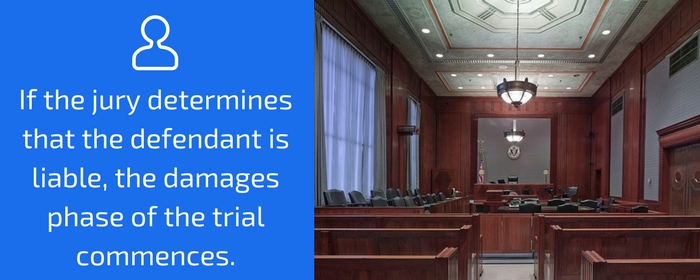 If the jury determines that the defendant is liable, the damages phase of the trial commences. Here, both sides may introduce testimony and evidence to determine the value of the damages.
A New York construction accident lawyer will show the extent of the plaintiff's injury, pain, and suffering and will additionally explain what the injury has cost the plaintiff in medical bills and missed work days.
Jurors then decide on the amount of compensation to award the plaintiff. Bifurcated personal injury trials are common in the New York City area.
IF YOU ARE INJURED, IS A BIFURCATED TRIAL OR A UNIFIED TRIAL BETTER?
Is a bifurcated trial or a unified trial better for an injured New York construction worker?
As a general rule of thumb, when a defendant is found liable in the first phase of a bifurcated personal injury trial, that defendant will be more likely to offer an acceptable settlement to avoid the risk of a jury awarding an even larger settlement in the damages phase of the trial.
Of course, every case is different, and there is never any way to predict what a panel of jurors will do in any particular personal injury trial.
In the New York City area, here is the breakdown regarding which counties conduct unified personal injury trials and which counties instead conduct bifurcated trials.
New York County (that is, Manhattan) and Bronx County require unified trials. Bifurcated personal injury trials are conducted in these counties: Queens, Rockland, Nassau, Suffolk, Putnam, Richmond (Staten Island), Orange, Westchester, and Dutchess.
In Brooklyn – that is, Kings County – personal injury trials are bifurcated unless New York City is the defendant, in which case the trial is unified.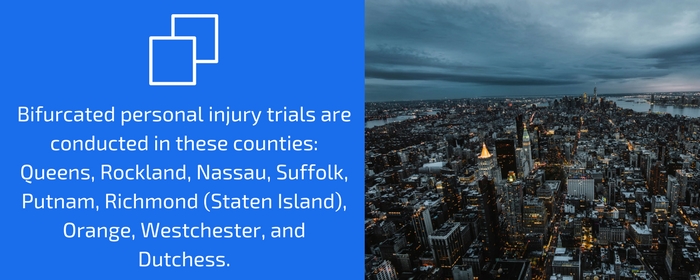 Accidents at New York construction sites too often cause traumatic brain injuries, severe spinal cord injuries, amputations, and other injuries that may require a lifetime of care and treatment.
For those kinds of injuries, workers' compensation can help, but it's not going to be sufficient over a lifetime.
And even injuries that will eventually heal can mean colossal medical expenses, weeks or months of lost wages, and excruciating pain and physical suffering.
Injured construction workers in New York City and adjacent jurisdictions should immediately consult an experienced New York construction accident lawyer after sustaining any on-the-job injury.