Bicycle Accidents in New York City On The Rise
With the New York Times announcing a "Surge in Biking to Avoid Crowded Trains in N.Y.C." and Grist suggesting our city's "bicycling boom" might just be the silver lining of the Coronavirus, one thing is certain: whatever your stance on the current pandemic and the spike in new legislation that has followed in its wake, these are trying and stressful times. Riders are concerned, wired and distracted. Whether bikers are heading out for a day's exercise or heading in to work as one of our frontline heroes, sheroes and essential personnel, biking in New York now calls for paying more attention than ever.
With this, the NYC Department of Transportation is reporting an increase of cycling on all East River bridges of more than 50% from March 1st - March 10th when compared to this same period last year.
The increase in traffic and stress has also meant injuries to cyclists in New York City have seen a significant spike over the last month.
According to the NYPD, cyclist injuries were up +43 percent between 9 March and 15 March: 80 injuries over 56 for the same week last year; +24.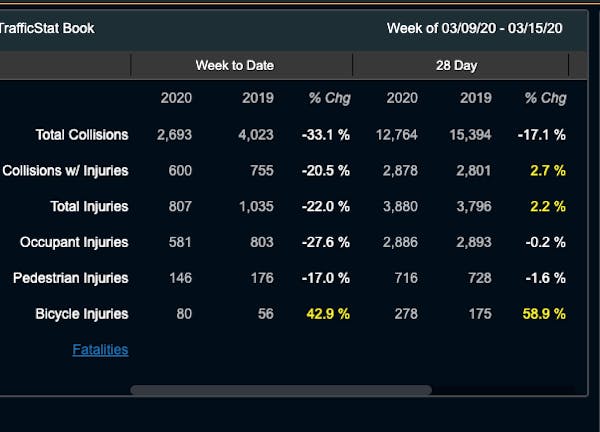 The rise in cyclist injuries comes despite the number of people on the road overall decreasing as more and more New Yorkers work from home (or are newly unemployed) and are staying put inside their houses.
What to do if you find yourself in a bicycle accident:
SEEK MEDICAL ATTENTION
Your first priority following a bicycle accident is to ensure you receive prompt medical attention for your safety and well-being.
TAKE PHOTOGRAPHS
Where possible, use your smartphone camera to take as many pictures and videos of the accident scene as possible. Include any broken parts from the car and your bicycle. Photograph skid marks, street signs, guardrails, or other objects damaged during the collision. Also take pictures of your injuries and any torn or bloodied clothing.
Don't make your injuries worse by trying to collect evidence after the crash. If you're badly hurt, ask someone else to take pictures of the scene.

GET AN ACCIDENT REPORT
When the police arrive, politely insist that a report be made. This police report will protect your rights and may be necessary to help ensure your compensation for the accident. An accident report will provide a record of the facts surrounding the accident. This report will also include the names and contact information of people involved in the incident.
The report is also useful in referring back to accidents that occurred so long ago that memories have faded and will serve as an official record that can be referred to in the case of disputes between you and other parties.
CONSULT AN ATTORNEY
Our experienced accident lawyers will obtain the police reports immediately to determine the allegations of fault. Additionally, we will take the statements of witnesses quickly before their memories and sympathy fade as time passes.

If you have been hurt while riding a bicycle, you need an experienced and effective personal injury lawyer to help you pursue damages for all your losses. At the Law Offices of Michael S. Lamonsoff, PLLC., our top-rated accident attorneys have the skill, knowledge, experience, and resources to help you get the compensation that you need.