Car Accidents In Construction Zones
You already know that driving in New York means driving through construction zones. Thousands in our state drive in construction zones every day. Traffic in New York's construction zones poses a genuine risk to drivers, their passengers, and construction workers.
Are traffic accidents in construction zones preventable? What can you do if you are injured by a negligent driver in a traffic collision in a construction zone? Can a construction company or a government agency have any liability for a vehicle accident in a construction zone? Can a NYC construction accident law firm help?
And do the courts – or the auto insurance companies – handle construction zone accidents differently?
WHAT IS A DRIVER'S OBLIGATION IN A CONSTRUCTION ZONE?
For drivers, construction zones are often a huge inconvenience, but ongoing road construction and repair is essential for keeping the roads in good and safe condition. Drivers are thus obligated to take additional safety measures and precautions when driving in construction zones. This applies to construction workers in NYC as well.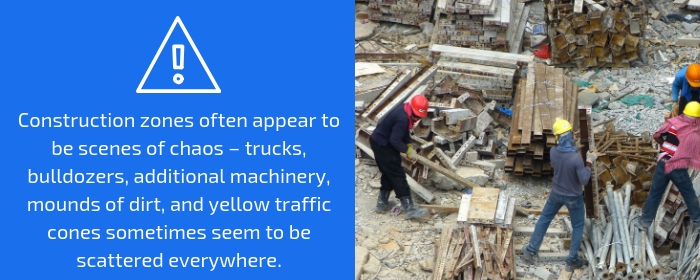 Construction zones often appear to be scenes of chaos – trucks, bulldozers, additional machinery, mounds of dirt, and yellow traffic cones sometimes seem to be scattered everywhere.
WHAT ARE THE CAUSES OF TRAFFIC CRASHES IN CONSTRUCTION ZONES?
For several reasons, a disproportionate number of serious traffic accidents with injuries happen in construction zones. What are the chief causes of traffic collisions in construction zones?
1. Construction materials: Road construction materials must be removed from the roads when the construction is finished. In construction zones, a driver suddenly braking or blowing a tire out to avoid an obstacle can create a chain reaction multi-vehicle accident.
2. Flying debris: Debris and dust gets "kicked up" at construction sites by jackhammers and other tools, reducing visibility and making cautious driving imperative. Larger pieces of debris can strike windows and windshields, sometimes causing serious accidents.
3. Merging into fewer lanes: A reduced number of lanes can mean a large number of vehicles merging and slowing at the same time. If just one motorist is speeding, driving recklessly, or failing to pay attention, the result can be catastrophic.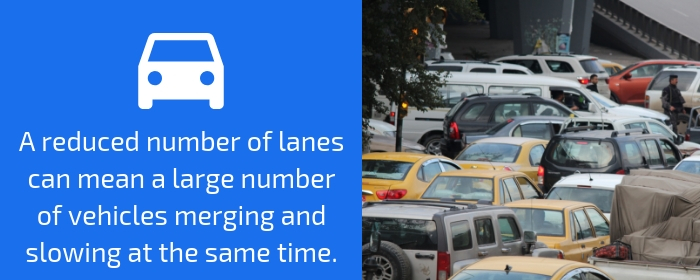 4. Potholes: Instead of repairing potholes, the vehicles and tools used for road construction sometimes create potholes. Potholes can damage a vehicle's suspension and alignment. In the worst cases, striking a pothole can cause a driver to lose control of a vehicle.
5. Vehicles and equipment: The vehicles and equipment used by construction crews add to the congestion in a road construction zone, and when equipment on construction vehicles hasn't been secured properly, it can fall on the roadway or even onto another vehicle.
Construction zones also often create unexpected and confusing detours for drivers. Alert, cautious, and defensive driving is absolutely necessary to avoid an accident in a construction zone.
WHAT ARE YOUR RIGHTS IF YOU'RE INJURED BY SOMEONE'S NEGLIGENCE?
Anyone who is injured by another person's negligence in this state is entitled under the law to full compensation for medical expenses, lost wages, pain, suffering, and more – if you can, in fact, prove that you were injured because someone else was negligent.
If you are injured in a traffic accident in a New York construction zone because another driver was negligent, discuss your legal rights and options – which may include a personal injury lawsuit – with an experienced New York construction accident attorney as quickly as possible.
Negligent drivers – whether they are reckless, intoxicated, or distracted – are responsible for most traffic collisions, but in a construction zone, construction companies and government agencies also have a legal obligation to keep the roadway passable and safe.
WHAT IS A ROAD CONSTRUCTION COMPANY'S OBLIGATION?
Strict guidelines for construction zones require warning signs to be posted and barricades to be erected to keep drivers and their passengers safe. Road construction workers must ensure that the widest vehicles can pass safely through a construction zone.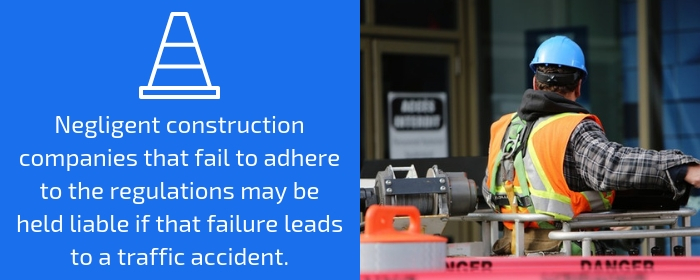 Negligent construction companies that fail to adhere to the regulations may be held liable if that failure leads to a traffic accident. Because it holds the ultimate responsibility for roadways and road construction, the government itself may also, in some accident cases, have liability.
IF YOU ARE INJURED BY NEGLIGENCE ON A CONSTRUCTION JOB SITE, WHAT ARE YOUR PRIORITIES?
If you are injured in a traffic crash in a construction zone in New York, you have two immediate priorities:
1. Seek medical attention at once. Even if you don't think you've been injured, have a medical exam within 24 hours of any traffic accident to check for latent or hard-to-detect injuries.
2. If you're injured, your next priority is arranging a consultation with a qualified construction injury attorney. Construction accident lawyers in New York provide accident victims with a free, no-obligation first consultation and case review, so it costs victims nothing to learn more about their rights.
WHAT ABOUT WORKERS WHO ARE INJURED IN NYC CONSTRUCTION ZONES?
If you are employed to work in a construction zone and you are injured there, you will probably qualify for New York's workers' compensation benefits, but you may have other options as well.
If a third party – such as a negligent motorist – caused your construction injury or injuries, you may be able to file a legal action separately from your worker's compensation claim.
Anyone who is injured in a construction zone or at a construction site should seek a construction accident lawyer's advice regarding the best course of action.
CAN YOU FILE A CONSTRUCTION INJURY LAWSUIT AGAINST THE GOVERNMENT?
If you were injured in a construction zone traffic crash due to the negligence of a local or state government agency, you will need to take some preliminary steps before you can proceed with a personal injury lawsuit against the government.
A qualified New York construction accident attorney can guide you through every step of the legal process and will fight aggressively for the compensation and justice that a victim of negligence needs and deserves.
New York has established demanding safety standards for road construction, but it's up to drivers, construction firms, and construction workers to prevent accidents and injuries.
WHAT SHOULD DRIVERS WATCH FOR IN CONSTRUCTION ZONES?
When you drive in a construction zone, if lanes are merging, don't wait to merge until the last possible moment. Drive as slowly as necessary to stay safe. Bad weather in a construction zone makes it even more imperative to drive with caution.
Safety in a construction zone is everyone's responsibility and obligation. If someone overlooks that responsibility, and if you are injured as a result, you are entitled to compensation, and a good accident attorney will fight for that compensation on your behalf.
If you have been injured by another person's negligence, or if you are injured by someone's negligence in the future, you must obtain – immediately – legal help from a construction accident law firm in New York. Your health and your future may depend on it.