Top 4 Hazardous Substances On NYC Construction Sites
We were all shocked about the unfortunate steam pipe explosion that happened in the Flatiron District last week. The asbestos that was detected in the steam from the pipe is what continues the concern behind this incident. Many New Yorkers are questioning health risks that could arise from this asbestos, as well as other hazardous substances used around the city.
Asbestos was commonly used to insulate and fireproof materials until it was banned in the 1970's, but there are many other substances that are used frequently, especially for construction in New York City.
As construction accident lawyers, we know that construction work is some of the most dangerous work there is. Everyone knows that construction workers are frequently hurt or killed in falls, crushed or injured by equipment, and at risk for burn and electrical injuries.
What you may not know about is the danger that construction workers face from exposure to dangerous chemicals and substances.
AS A CONSTRUCTION WORKER, WHAT ARE YOUR RIGHTS IF YOU GET SICK?
If you are a construction worker in New York and you become ill due to the toxic chemicals you've been exposed to at a construction site, you may be able to qualify to receive workers' compensation benefits.
However, if someone other than your employer had a role in making you ill – a negligent property owner, for example, or a manufacturer of defective safety equipment – speak at once with an experienced New York construction accident attorney.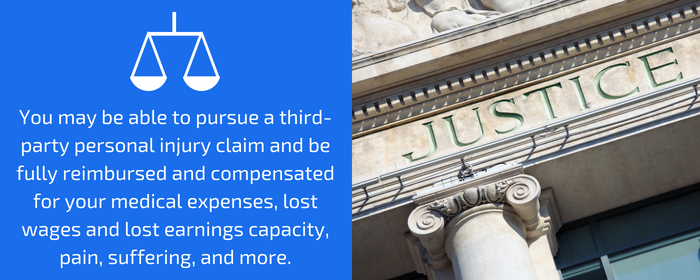 You may be able to pursue a third-party personal injury claim in addition to your Workers' Compensation claim and be fully reimbursed and compensated for your medical expenses, lost wages and lost earnings capacity, pain, suffering, and more.
An initial legal consultation and case review with an experienced construction accident attorney will not cost you anything, and in fact, if you choose to take legal action, you'll pay no attorney fees until a settlement or verdict is obtained on your behalf.
WHAT HARMFUL SUBSTANCES ARE COMMON AT CONSTRUCTION SITES?
Fumes, dust, and gases that can be harmful to your health are common at construction sites. The Bureau of Labor Statistics reports that in 2014, at least 2,000 construction workers in the U.S. reported skin and lung diseases related to on-the-job chemical exposure.
The real numbers are probably much higher.
Before any construction project begins, identifying and assessing any chemicals that may already be on the job site is imperative. Soil and water should be tested. If there's lead paint or asbestos, for example, it needs to be safely removed.
The first step in decreasing the number of workers affected by hazardous conditions on the job site is to identify the most common hazardous substances. Those substances are:
1. dust
2. mold
3. solvents
4. artificial mineral fibers
HOW DANGEROUS IS DUST?
Dust is everywhere on construction sites, and while a brief exposure to dust may not hurt you, repeated inhalation causes a variety of diseases and lung problems.
Usually, three types of dust are found on construction sites:
1. Wood dust is generated by sawing and sanding wood. Wood dust can cause serious damage to the lungs.
2. Lower toxicity dust comes from drywall, marble, and other materials that are commonly used in construction. Lower toxicity dust can also cause serious lung damage.
3. Silica dust is the most dangerous dust on a construction site.
HOW CAN YOU PROTECT YOURSELF FROM DUST INHALATION?
The best way for construction workers to protect themselves from dust inhalation is to deal with dust "as you go."
Try to vacuum the dust as you work, and try to keep it damp so that the dust doesn't become airborne. Try to avoid enclosed or small spaces where dust can fill up quicker and become harder to control.
Smaller or fine dust particles are invisible. Fine dust particles may penetrate deeply into the lungs. Ultrafine dust particles may be absorbed directly into the bloodstream.
HOW DOES INHALING DUST DAMAGE YOUR HEALTH?
The type and size of a dust particle determines its toxicity, but any dust on a construction site is dangerous if a construction worker is repeatedly exposed.
Low levels of dust – such as you would expect around the house or on the street – are not generally dangerous for most people, but anyone who is exposed to high levels of dust may suffer serious health problems.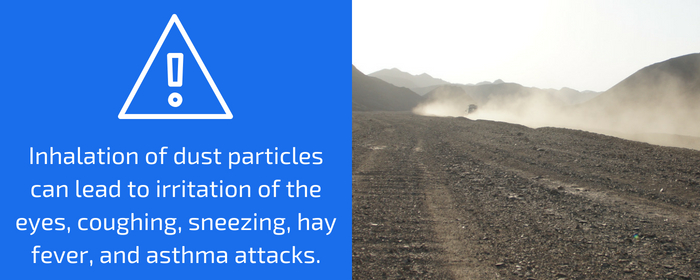 Inhalation of dust particles can lead to irritation of the eyes, coughing, sneezing, hay fever, and asthma attacks.
When ultrafine silica particles are inhaled, they may embed deeply into the tiny alveolar ducts and sacs in the lungs. There, the lungs cannot clear out the dust by mucous or coughing.
WHAT DANGERS ARE POSTED BY SILICA DUST PARTICLES?
Even a brief exposure to silica dust particles can lead to lung cancer or silicosis, a lung disease that inflames and scars the lungs.
The American Lung Association tells us that with "acute silicosis, you may experience fever and sharp chest pain along with breathing difficulty. These symptoms can come on suddenly."
However, with chronic silicosis, you may only have an abnormal chest X-ray in the beginning and then slowly develop breathing difficulty. Bronchitis-like symptoms may occur.
Over time with chronic silicosis, you may see the indications of chronic lung disease: swelling in the legs and a bluish discoloration of the lips.
Because chronic silicosis is slow to develop, its symptoms and signs may not appear for years after the exposure to silica dust.
HOW DANGEROUS IS MOLD?
Repeated exposure to mold can cause serious health problems. Mold is commonly found on construction sites and can cause permanent damage with repeated exposures.
A mold is a fungus that grows in the form of multicellular filaments called "hyphae." Molds usually have a "fuzzy" appearance.
Mold can appear in damp indoor environments when moisture is trapped in buildings or other structures.
Mold can lead to a variety of health problems if the microscopic airborne reproductive spores are inhaled by construction workers or by the occupants of a building.
WHAT HEALTH PROBLEMS CAN BE CAUSED BY MOLD?
Mold can trigger allergies, asthma, and a number of other respiratory problems. Exposure over a long duration can pose severe and even life-threatening health risks.
Fungal growth requires cellulose, so the use of building materials that do not contain cellulose is an effective method of preventing subsequent fungal growth.
Construction workers must use personal protective gear – safety masks or respirators, gloves, and goggles – to protect the eyes, lungs, and skin from any contact with mold.
In some cases, the complete removal of any "moldy" materials may be necessary, provided that the materials are not part of the load-bearing structure.
HOW DANGEROUS ARE SOLVENTS?
If you are a construction worker, what do you need to know about solvents?
1. Solvents can pose serious health dangers to construction workers.
2. Solvents are found in cleaning fluids, paints, and adhesives.
3. Solvents can damage the skin as well as the lungs.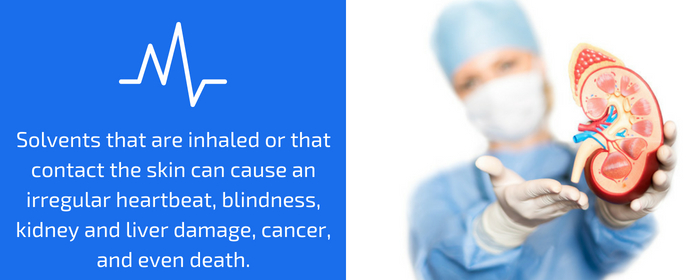 Solvents that are inhaled or that contact the skin can cause an irregular heartbeat, blindness, kidney and liver damage, cancer, and even death. Other symptoms can include dizziness, nausea, headaches, and nose, eye, and throat irritation.
PRECISELY HOW CAN SOLVENTS HURT YOU?
According to the Occupational Health and Safety Administration (OSHA):
"The principal health effects most typically associated with organic solvent exposure include nervous system damage (central and peripheral), kidney and liver damage, adverse reproductive effects such as sperm changes and infertility, skin lesions, and cancer."
OSHA's website explains that solvents "can also cause death from acute exposure leading to depression of the brain's respiratory center … and/or cardiac arrhythmias."
HOW CAN WORKERS AVOID SOLVENT-RELATED HEALTH PROBLEMS?
Construction workers must be exceedingly cautious whenever they are working with solvents.
Use masks or respirators, gloves, and goggles. Keep solvents away from the skin and wash thoroughly after working with solvents.
Always work with solvents only in spaces with plenty of fresh air and ventilation.
HOW DANGEROUS ARE ARTIFICIAL MINERAL FIBERS?
Artificial mineral fibers are common on construction sites and are typically made of glass, fiberglass, mineral wool, ceramics and other substances.
These man-made mineral fibers are produced using inorganic materials and are widely used as thermal and acoustic insulation.
WHAT DISEASES MAY BE LINKED TO MAN-MADE MINERAL FIBERS?
Studies have demonstrated an increased incidence of lung cancer in rats and mesotheliomas in hamsters following exposure to airborne artificial mineral fibers.
These fibers cause extreme irritation when they come into contact with the eyes, lungs, or skin, the fibers can cause permanent damage.
According to the National Center for Biotechnology Information (NCBI), "Approximately three million workers in the United States are estimated to be exposed to silica, man-made mineral fibers, and asbestos. The lung is the primary target organ of concern."
IS MESOTHELIOMA STILL A HEALTH THREAT?
Asbestos is the only known cause of mesothelioma, but despite a drop in asbestos use since the 1970s, about three thousand mesothelioma cases are still reported every year in the United States.
The initial symptoms of mesothelioma include coughing and spitting up blood, shortness of breath, and severe chest pains.
If you are a construction worker, be smart if you handle artificial chemical fibers. Use the best available personal protective safety equipment when you work with these materials.
WHAT IS ESSENTIAL FOR THE SAFETY OF CONSTRUCTION WORKERS?
It's imperative for construction workers to be aware of the potential risks posed by any hazardous substance they work with or encounter. Comprehensive safety training and the right safety equipment are essential.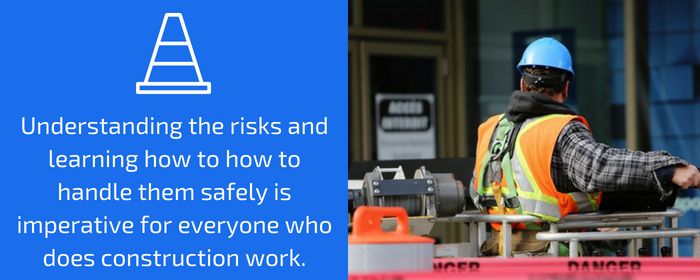 Dangerous substances seem to be everywhere in the 21st century, but the risks these substances pose is heightened on construction sites. Understanding the risks and learning how to how to handle them safely is imperative for everyone who does construction work.
WHAT ARE YOUR PRIORITIES IF A SUBSTANCE MAKES YOU SICK?
Nevertheless, if you are a New York construction worker and you become ill because you were exposed to dangerous chemicals on a construction site, you'll need to take advantage of your rights. That means you must:
1. Seek medical treatment as soon as you realize that you're sick.
2. File at once for the workers' comp benefits that you are entitled to.
3. Discuss your legal rights and options immediately with a skilled New York construction accident attorney.
The illnesses that are caused by hazardous substances can be deadly. Take no chances.
It cannot be stated too strongly: If you're sick because you've been exposed to a hazardous substance while doing construction work in New York, you must get the medical and legal help you need, and you must get that help now.