New York Lawyers Fighting for Essential Workers; Electricians Injured on the Job
As a result of the Coronavirus pandemic, the Governor issued the "New York on PAUSE" Executive Order 202.6, that mandated that certain workers that the law called "essential workers" must continue to work regardless of the outbreak or the function they perform. Electricians mandated by this law were not subject to the in-person restriction.
Electricians in New York, whether they are in the Local Union No. 3 IBEW or not, have one of the most dangerous occupations in New York City. Electrician electrocutions are listed by the U.S. Occupational Safety and Health Administration (OSHA) as one of the "Fatal Four" hazards most likely to cause serious injury or death to workers. The danger to electricians is that they are often exposed to energized circuits, open wires, improper personal equipment, insecure working conditions which increase the risk for electrical injury. This is why, if you or a loved one are an electrician injured during this trying time, it is crucial that you contact an experienced essential electrician injury lawyer in NYC.
Why did the "New York on PAUSE" Executive Order 202.6 mandate that Electricians be specifically designated as "Essential Workers"?
The State Government's rationale: Ever since it was discovered, electricity has ruled the world. In a modern society, electricity runs everything important in our lives. Electricity has the power to run things when it works smoothly, but it can also burn things and kill people if misused. So, naturally, when it malfunctions, somebody has to fix it. To be more precise, somebody who knows what they are doing has to do it. This is where electricians come into place and why they are considered to be "essential workers" to our existence and function. Nowadays, more than ever, with the pandemic continuing to spread across the globe, it is crucial for everyone to remain safe and for things to be running as smoothly as possible.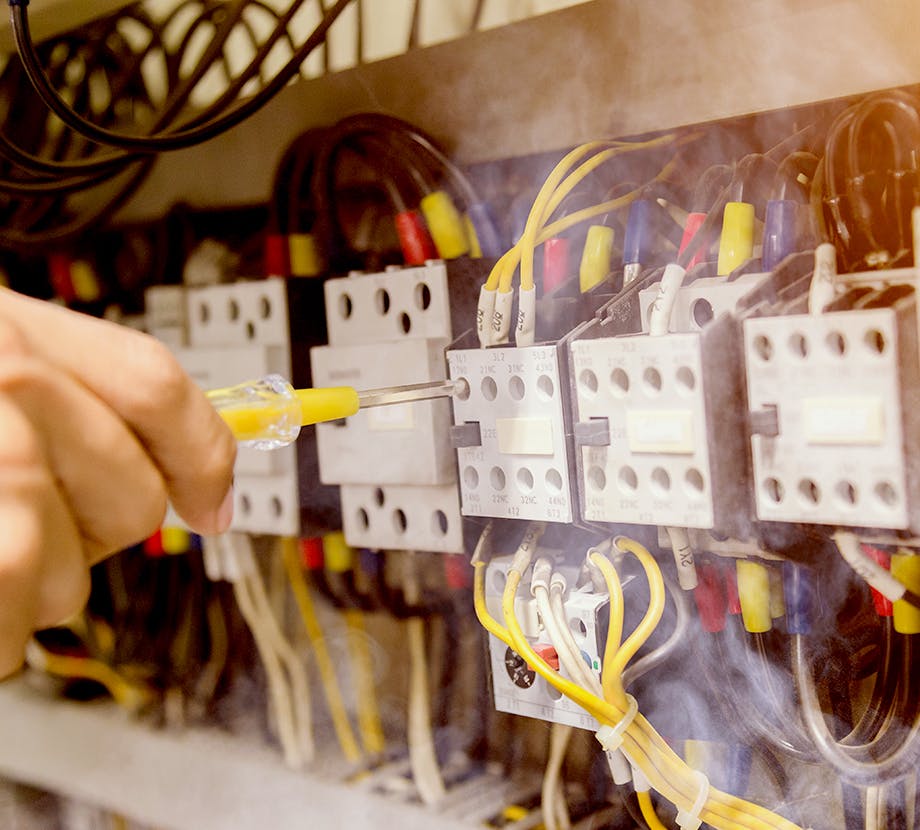 The Looming Risk for Electricians Working During This Pandemic
In New York, there are very specific regulations designed to ensure the safety of essential workers, like electricians, as they are employed with or around power lines.
It is the responsibility of contractors, property owners, supervisors and other individuals to enforce these regulations.
When they fail to do so, they become liable for any injuries that result from their negligence. Now because of the virus and fear of exposure, those responsible for the safety of these essential workers may choose speed over safety. Indeed, electricians who are concerned for their own health may do so as well. Of course, this will make their jobs even more dangerous and injuries can result.
Electrocutions
Electrocutions can cause a number of extensive injuries such as serious burns, respiratory distress and organ failure.
Other injuries may include cardiac arrest, broken bones or other injuries that may have been suffered as the result of a fall. An electrical shock or electrocution will often occur when construction workers are on ladders or scaffolds.
Electrical shock can then directly result in a fall that causes further additional injuries. Cardiac arrest, nerve damage, and severe disfigurement from burns are also a huge risk.
Essential workers who survive electrocution may never be the same. They may not be able to resume normal daily activities, return to work, or even have full function of certain bodily systems or extremities. Other times they may be severely disfigured due to burns from the electrocution.
The Four Main Types of Electrocution Injuries
Experts have divided up electrocution injuries down into four main categories by the source of the charge:
Lighting Injuries:

usually surface-level or external and they're caused by low duration, high voltage charges, like in a lightning strike.

Flash Injuries:

only affects the skin of the victim and doesn't cause the damage to any deeper layers.

Flame Injuries:

when electric charge causes the clothing or material in contract with the victim to catch fire, it could cause this type of injury.

True Electrical Injuries:

this type of injury happens when the victim becomes part of the electrical circuit, where the electricity can flow from one side of their body and out through another.
Additional Common Injuries Caused by Electrocution: skin burns, seizures, headaches, unconsciousness, tingling or numbness, muscle pain and spasm, broken bones, trouble breathing, heart attack.
Common Causes of Electrocution Injuries: exposure on worksite, high-power lines, faulty machinery, contact with exposed wiring, faulty appliances.
Contact us for help with your electrician accident claim
No matter the cause, if the injuries of the electrician were the result of someone else's reckless or negligent actions, you may be able to file a lawsuit in order to secure the compensation you need to cover any medical bills or damages you may have incurred.
If you or a loved one were an essential worker injured by electrocution while on the job, you should contact an electrocution attorney in NYC as soon as possible.
This is where a top-rated New York personal injury lawyer can help. At the Law Offices of Michael S. Lamonsoff, PLLC, we have helped many essential workers obtain record-high verdicts and settlements in construction accident cases, including electrocution accidents. We represent Local 3 Electrical Employers in claims before the Joint Industry Board. Contact our office today for a complete evaluation of your case from top New York electrocution lawyers.
The Law Offices of Michael S. Lamonsoff and its electrician injury lawyers in NYC. understand electrocution cases and are aggressive in litigating cases for injured essential workers. It is important for you to have a personal injury attorney who is dedicated to fighting for your cause.
Contact Us for Help with Your Essential Worker Accident Claim
If you or someone that you love is an essential worker who has been injured in an accident, the attorneys at The Law Offices of Michael S. Lamonsoff, PLLC are skilled in all of the issues and nuances that have arisen in these types of cases because of COVID-19. We will immediately move to preserve and protect your rights to compensation. Contact the attorneys at the Law Offices of Michael S. Lamonsoff, PLLC, to find out what your rights are and let us take the necessary action on your behalf. We litigate every case aggressively, so that you can concentrate on recovery.
WE ARE OPEN FOR BUSINESS! CLICK HERE FOR A FREE VIRTUAL CONSULTATION FROM THE COMFORT OF YOUR HOME BY TELEPHONE OR COMPUTER.