The individuals working at heights on New York construction sites have an increased risk of serious or fatal injury. In fact, construction injuries and fatalities from falls on a site account for 25% of the construction accidents in New York.
As the population booms, we build things higher and higher, from elevators to buildings to bridges and everything in between. Working on a high-rise construction project virtually ensures that you will be working up in the air at some point.
You may find yourself on a ladder, scaffolding, or even on an upper level that lacks walls and guard rails. Elevator shafts and open holes on floors under construction can add to the risk. For these reasons, owners, developers and contractors are supposed to follow Federal and New York laws and safety regulations directed specifically at high height jobs. Unfortunately, these safety features can be expensive, and those responsible may negligently choose to risk the lives of their workers over providing for their safety.
In New York, workers are protected by substantial Labor Laws that enable them to bring personal injury lawsuits against the property owners, developers, general contractors and others who were responsible for providing adequate safety protection equipment and training. Attorneys with the Law Offices of Michael S. Lamonsoff, PLLC, have spent the last decades fighting aggressively on behalf of workers injured in falls, working tirelessly to obtain top settlements and verdicts on their behalf.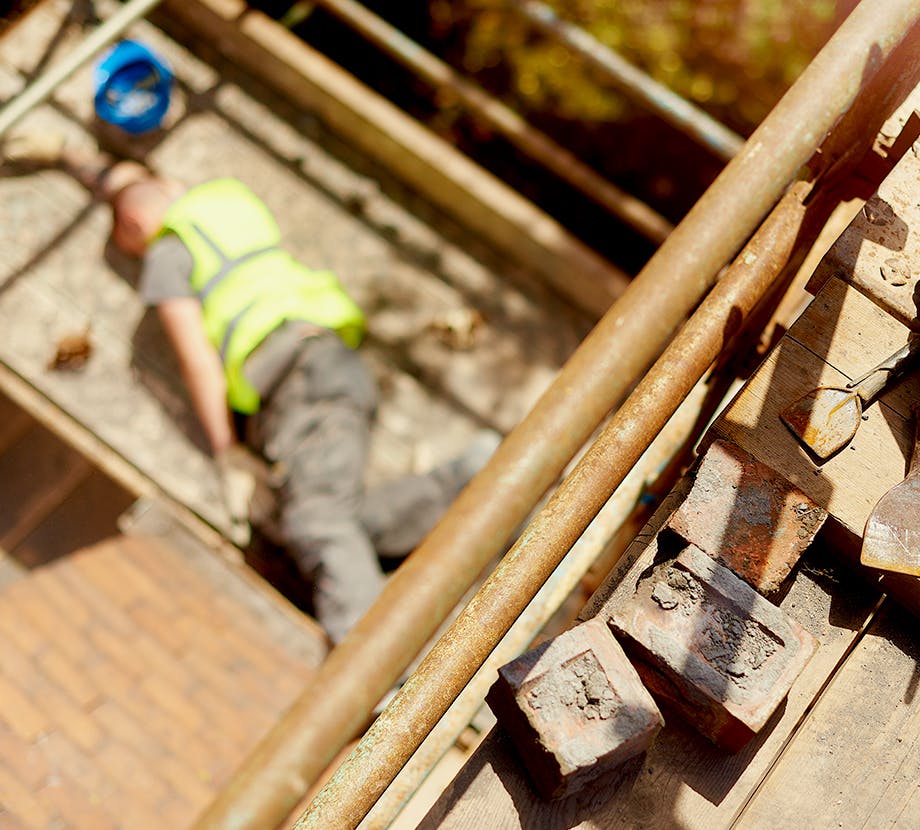 What causes a
construction accident fall?
Any number of things can cause someone who is working at heights to lose footing and fall. Inclement weather and a lack of fall protection training play a big role. A lack of safety precautions, such as guard rails on high floors, can also be contributing factors.
Workers can fall through a hole or opening in an unfinished floor; they can fall off of ladders or scaffolding, and even out of hoist buckets. Falls from heights are considered one of the 'fatal four' dangers in the construction industry.
Select results from recent
construction accident cases:
$6,500,000 settlement

awarded to a union construction worker who fell from an unsecured ladder which resulted in a leg fracture and spinal injuries.

$3,100,000 awarded

to a union construction worker injured in a fall. Our client, a 27-year-old Local 731 union laborer, was pouring cement for the conversion of a hospital into luxury residential apartments in Manhattan when he stepped into an exposed opening causing his entire body to impact the ground. As a result of the incident, he suffered shoulder, neck and back injuries requiring conservative treatment, numerous injections and ultimately surgeries to his shoulder and cervical spine. During the course of litigation, the defendants requested that we attend a mediation. We appeared and presented our case in front of an agreed upon neutral Mediator. The mediation went on for hours and the defendants presented us with their last offer of $750,000.00. We advised our client to reject the offer. He agreed, and we walked out of the mediation having rejected the offer on behalf of our client. Thereafter, we continued to aggressively litigate the case. On the eve of trial, a second mediation was held at the request of the defendants. Jury selection was to commence on 11/14/2019 in Queens Supreme Court. On November 4, 2019, just ten days prior to jury selection, our firm obtained a $3,100,000 settlement at the mediation.

$3,000,000 obtained

for a laborer who was injured when he fell from an 18 foot ladder that was not secured properly.

$2,800,000 settlement

for an iron worker who was caused to slip and fall on a construction site resulting in significant lower back injuries.

$2,350,000 awarded

to a construction laborer that sustained serious injuries when he fell into an unprotected hole at a jobsite. In New York, why do the
laws favor the employee?
New York Labor Law section 240, also known as the Scaffold Law, is very protective over falling workers in the construction industry. Those responsible for establishing and supervising the worksite are required to provide certain safety gear to and /or take specific precautions for employees working at heights. Usually accidents happen either when that equipment fails, or when the employer fails to provide it all together.
Unfortunately, there are still many people and/or companies that will cut corners in order to save money and in some instances that can result in serious or fatal injury.
What if I am partially
to blame for my accident?
Even if you were partially to blame for your accident you will be able to recover substantial damages.
The owner of the property, general contractor and other supervisors are responsible for providing a safe working environment, and clearly failed to do so, making them liable.
The attorneys at The Law Offices of Michael S. Lamonsoff, PLLC, thoroughly understand New York labor laws and have extensive experience in obtaining relief for workers from construction site accidents. You can be sure that they will fight relentlessly to make certain that those responsible for your injuries are made to pay.
Why do I need a construction accident attorney to pursue a claim after I sustain injuries from working at heights?
These types of cases have a tendency to get very complex. People often do not want to take responsibility for their part in someone else's accident. The experienced attorneys at the Law Offices of Michael S. Lamonsoff, PLLC, at decades of experience in working through the legal jargon and redtape to get to the results that you need. Using cutting edge and objective experts, they will be able to demolish the defenses offered by the insurance company experts – "guns for hire," who have been discredited over and over.
Call our office for experienced legal advice as soon as you are able to; this will help preserve your rights to financial compensation. No amount of compensation can repay you for the serious injuries you have suffered and the turmoil that your family has endured, but they can help ease the financial burden.
My husband is a construction worker and was injured while on the job. We were referred to Michael and retaining him was a wonderful decision.
Michael advised us not to accept several inadequate offers that were presented to us. He knew what my husband's case was worth, and he didn't want him to settle for any less than his injury deserved.
Shortly before the case was scheduled to go to trial, an offer was made that even Michael knew we couldn't refuse, and my husband accepted.
Even through my husband's hardest times, working with Michael made things easier. He reassured us the whole way that we were in good hands, and he stayed true to his words. He didn't just treat my husband as a client, he genuinely cared about his health and future.
Contact us for help with
your construction fall claim
The Law Offices of Michael S. Lamonsoff and its construction accident attorneys understand all types of construction accident cases, including those which involve falling on a construction site, and they are aggressive in litigating cases for those injured.
If you have been involved in a construction accident, contact the Law Offices of Michael S. Lamonsoff for a free consultation.
Contact our office at 212- 962-1020 for a FREE CONSULTATION any time.
Prior results do not guarantee a similar outcome. The information on this website is for general information purposes only. Nothing on this site should be taken as legal advice for any individual case or situation. This information is not intended to create, and receipt or viewing does not constitute, an attorney-client relationship.