The aftermath of a motorcycle accident can reveal an injured rider and, possibly, a passenger. The bike rider and passenger's only protection are their helmets and clothing. The frequency of serious injury and death in motorcycle accidents continues to increase. According to the Insurance Information Institute, the number of injured motorcyclists went up from 88,000 in 2013 to 92,000 in 2014, a 4.5% increase.
As a team of New York motor vehicle attorneys, we can tell you that motorcyclists are four times more likely to be hurt in an accident than people traveling by car, and more than 30 times more likely to die in a crash than occupants of other types of motor vehicles. Furthermore, injuries sustained in a motorcycle accident are likely to be far more serious.
New York's prohibitive laws regarding injury thresholds that apply to car accidents do not apply to motorcycle accidents. This means you can bring a claim for injuries you have sustained in a motorcycle accident without limitations based upon the severity of your injuries. Just as in car accidents, however, the negligence of another driver or entity must be proven for an award to be considered.
How we can help
motorcycle injury victims
We take care of all matters necessary to help you get the financial recovery you need and deserve. Our attorneys litigate all types of injury claims involving motorcycles and motorcyclists, including:
Claims arising out of a collision between a motorcycle and another vehicle, from crashes caused by failure to obey traffic signals or traffic laws to accidents caused by failure to pay appropriate attention to other motorists.
Claims concerning a wrongful death.
Claims in which a motorcycle accident resulted from dangerous conditions on the roadway, such as potholes, poor drainage, gravel, or road construction debris.
Claims stemming from dangerous or defective parts or components on a motorcycle.
Claims involving single-bike accidents, including so-called "phantom vehicle" accidents where damage or injury is caused without making physical contact.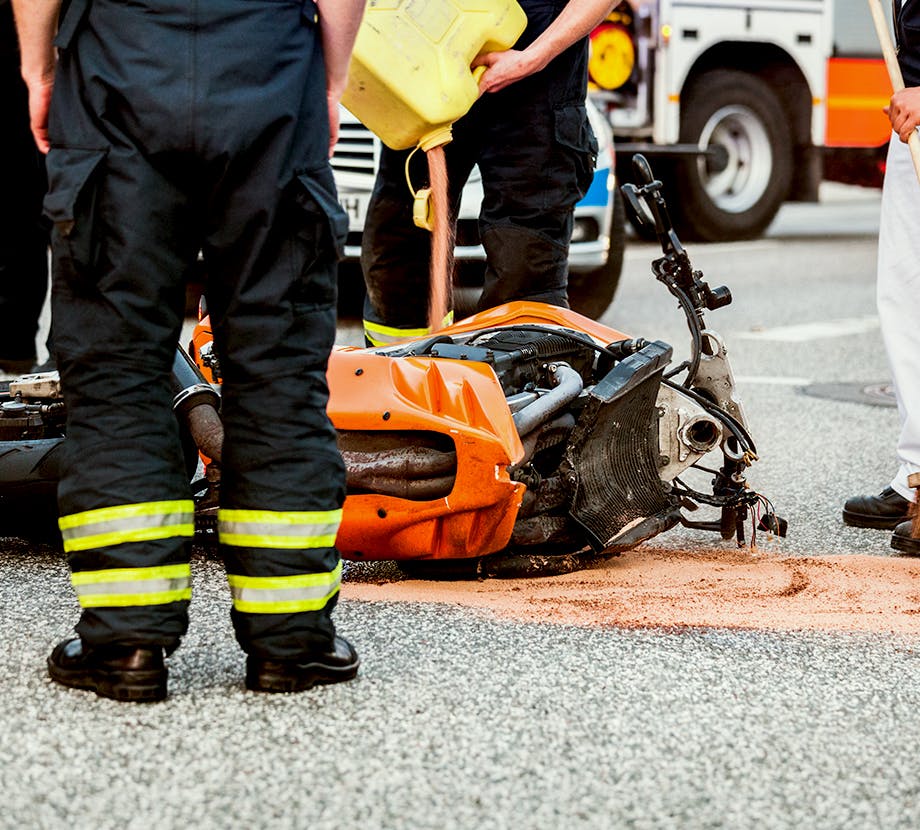 Injuries that can result
from motorcycle accidents
Buying the proper motorcycle accessories and safety gear can greatly reduce injuries that may result from an accident. Wearing a helmet not approved by the Department of Transportation (DOT) can affect the awarded amount in a case involving a head injury.
The loss of income, as well as cumulative medical bills over a lifetime, can total millions of dollars. All this is in addition to pain and suffering, rehabilitation, and occupational retraining.
We can help you seek damages for all types of injuries, including road rash or burns, broken bones, amputation or loss of limbs, and spinal cord or traumatic brain injury. Spine and brain injuries can result in paralysis, diminished motor skills and cognitive abilities, and even death. Some of the serious head injuries from a motorcycle accident include:
Concussion – The bruising of brain tissue caused by impact at high speed may result in headaches, nausea, dizziness, memory loss, and impaired coordination. Most concussion victims recover in time.
Diffuse Axonal Injury – Severe, high-speed impact can cause a rotation of the brain within the skull. Motorcycle accidents are frequent, often fatal, causes of diffuse axonal injury. This type of injury is usually widespread and inoperable, leading to temporary or permanent impairment.
Hematoma – Blood clotting between the brain and skull (epidural area) or surrounding the brain (subdural area) are the effects of hematoma. Some symptoms do not manifest for days. Immediate surgery is required when hematoma is discovered.
Contrecoup – This is an injury caused by the brain striking the side of the skull opposite from the point of impact. Contrecoup is a common injury in motorcycle crashes. Helmets offer little protection against this type of injury, which may be inflicted by high-speed tumbling.
If you are involved in a motorcycle accident, dial 911 immediately and get medical help. Do not decide for yourself the severity of your injuries; shock can disguise injuries by masking pain. Take as many pictures of the scene as possible. Provide a full report to the police, unless EMS transports you before you have the opportunity to do so. Do not give any statement regarding the accident to insurance investigators; their main objective is to save the insurance company money, regardless of what they tell you.
Simple steps to remain safe
and avoid motorcycle accidents
Ride with the assumption that you and your motorcycle are invisible to other motor vehicle drivers.
Leave plenty of space in front, back and to the sides from other vehicles.
Anticipate trouble situations and know what to do when you see them.
Beware of motorists turning left in front of you at intersections, as this is a leading cause of motorcycle accidents.
Slow down as your motorcycle enters an intersection. If necessary, be prepared to make an evasive maneuver.
Never drink or take drugs before riding a motorcycle.
Don't ride if you are on medication that makes you sleepy.
Avoid riding at night, especially late Saturday and early Sunday when drunk drivers may be on the road.
Don't try to keep up with your friends who may be more experienced. Know your limits.
Beware of taking curves you can't see around. A parked truck or a patch of sand may be awaiting you.
Do not give in to road rage and try to get even with another rider.
If someone is tailgating you, either speed up to open more space or pull over to let them pass.
Do not throw objects on the road behind you to warn a tailgater to back off.
Take a motorcycle safety course to learn what to look for to avoid accidents.
Wear protective clothing and accessories, such as jackets, gloves, and a helmet.
Beware of riding your motorcycle into sun glare.
Contact our New York
motorcycle accident law firm today
Once you are able to do so, contact an experienced New York motorcycle injury attorney, even if you are still in the hospital. It is important not to let too much time pass, as memories fade and witnesses become harder to find.
An experienced motorcycle accident attorney will conduct a thorough investigation to determine the exact cause of the crash and who was at fault. An accident reconstruction specialist may be brought in if necessary.
The personal injury attorneys at the Law Offices of Michael S. Lamonsoff have the expertise and resources required to determine the true cause of the accident and to uncover any contributable negligence. Our attorneys will fight aggressively to win you the maximum award possible by settlement or verdict. If you have been involved in a motorcycle accident, contact a NYC motorcycle accident lawyer at the Law Offices of Michael S. Lamonsoff for a free consultation.